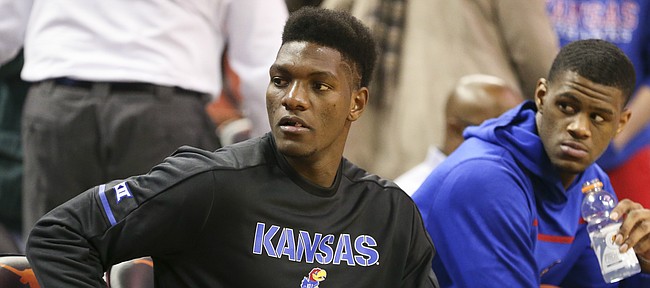 The uncertainty surrounding the status of freshman forwards Silvio De Sousa and Billy Preston goes much deeper than not having the two big men on game days.
It's also hurting the Jayhawks in practice.
Yes, both players, who are still waiting word from the NCAA about their status for the remainder of the season, are practicing on a daily basis with the Jayhawks. But that does not mean good things or produce good results.
Saturday night, after his team's hard-fought, 88-84 road victory over TCU, Kansas coach Bill Self explained the predicament.
"We've got modes," Self said. "So we can play with two bigs or we can play with one big and we haven't practiced playing with two bigs at all this year until this past week when we thought maybe we'd have another big or two. So we're a little confused."
The hope, of course, was that Self and company either would learn that De Sousa had been certified as an amateur or that Preston had done enough, both in terms of sitting out and providing information to be fully cleared in the situation regarding his vehicle. Heck, hearing something about both would have been nice, too. But for yet another week, nothing came.
"We were expecting something," a frustrated Self said after the TCU victory. "I thought we'd at least get a direction, even if it's not positive. We got nothing. We got absolutely nothing."
Preston, as you surely know, is still waiting word from the NCAA on whether the information gathered by KU regarding a compliance issue with a vehicle he was driving at the start of the season is sufficient enough to allow him to play. Preston has missed all 15 KU games so far this season. As the Jayhawks approach the mid-way point, things appear to be entering do-or-die territory.
"We're at the mercy of other people," Self said. "If it's not this week... Yeah, it's got to be. You'd think there'd be a positive or negative thing one way or another but there hasn't been."
As for De Sousa, the Jayhawks also are waiting on the NCAA to clear his situation, though the Angola native who joined the Jayhawks at semester after graduating early from IMG Academy is not waiting to be cleared, merely certified, which has been made a little more difficult by the timing of the holidays and the challenge of gathering the necessary details about his amateur status from his native country.
Regardless of what the outcome is on either player, Self said Saturday that the Jayhawks may be nearing the point where they no longer have time to wait around.
"I'll be honest with you," Self said. "It's confusing to us as a staff and I know it's confusing the players because you go into it thinking you're going to play these guys and they get 50 or 70 percent of the reps in practice and you don't end up using them. That's frustrating, but that's just the way it is.
"Hopefully we'll have some feedback one way or another, positive or negative, soon and see what the outcome is. If we knew what we were dealing with it'd be a lot better but we don't really know what we're dealing with from a timing standpoint."
---
More news and notes from Kansas vs. TCU
---