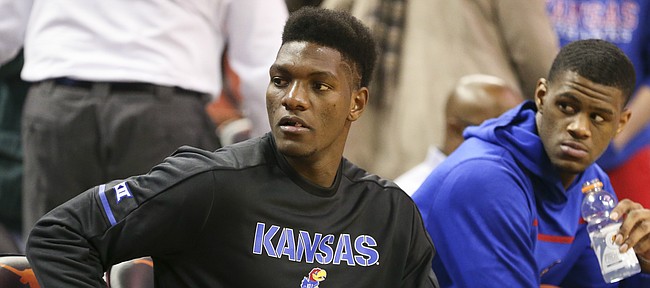 Had Silvio De Sousa's path to college basketball mirrored the ones of so many American-born players who grow up playing in AAU tournaments, the Kansas freshman's waiting game with the NCAA likely would be over by now.
However, as KU head coach Bill Self explained Thursday, because De Sousa's introduction to the game came in his home country of Angola, gathering all the paperwork necessary to clear his amateur status gets a bit more complicated.
Every college athlete's amateurism is examined before he or she can participate. In De Sousa's case that involves looking at the club teams he played for in Africa prior to moving to the U.S. and playing high school basketball at IMG Academy, in Florida.
"Did he ever play in this tournament? Pros played in that tournament. Were there pros on your team?" Self outlined of possible questions that pop up in such a process. "You have to have written things to prove that he's an amateur, he wasn't a professional playing, all that stuff."
The actual distance between here and Angola, Self added, has provided more hurdles, with the seven-hour time difference.
"Getting everybody over there to see what you want to do as their priority sometimes isn't the easiest thing to get done. It's not that easy doing that if you're calling somebody from the same town here in the States sometimes," Self said. "We're kind of at the mercy of some other people getting the information to us, so that we can be sure and give complete information to the NCAA on that. But if he wasn't an African kid, yeah, it would be done. It's a little bit more hoop-jumping."
De Sousa didn't arrive in Lawrence until Dec. 26, and the NCAA offices were closed for the holidays until Jan. 2.
"There's been a lot of different things going on, because they have to give us the questions they need answered," Self said.
Once KU receives the go-ahead to play the 6-foot-9 De Sousa, Self thinks it could take the backup big "three or four weeks" to get comfortable.
"Let's call it like it is. Can he help us in short spurts in the next week? Maybe," Self offered. "I think he might can in the next week. But in the next four weeks when we get to February, I would think that would be as close to a full team as we will have this year one way or another. When we get to February 1, our team will be probably as close as what it's going to be. If Billy (Preston, also awaiting clearance from the NCAA) is or if he isn't, when Silvio is or whatnot, at least we'll be a team that can play together. Right now there would be no way Silvio could fit in, be comfortable and help us right now."