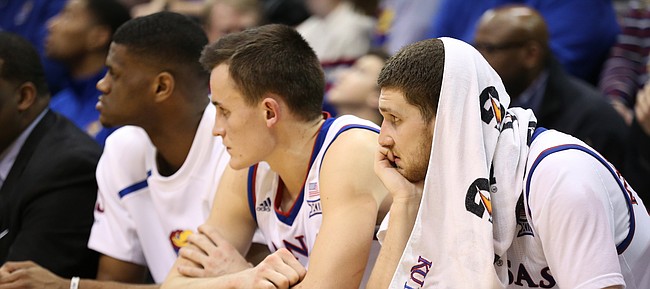 Less than an hour after KU's 21-point victory over Stanford in Sacramento just before Christmas, Kansas coach Bill Self offered a brutally honest but hopeful assessment of where his team stood entering conference play.
Two games and 12 days later, many of the same things Self was concerned about then appear to be legitimate problems now for this Kansas team, which fell to No. 18 Texas Tech, 85-73, on Tuesday night at Allen Fieldhouse. The Jayhawks also dropped to 1-1 in Big 12 play for the first time since the 2005-06 season.
Consider a comparison of comments made nearly two weeks apart as an example of KU's inability to evolve thus far.
Photo Gallery
Kansas basketball v. Texas Tech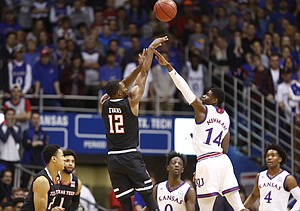 View a gallery of images from Tuesday's game between the Jayhawks and Red Raiders at Allen Fieldhouse.
"We're going to be a team, unfortunately, that needs to make shots to probably win big games," Self said then, before adding that KU's defense was "average at best" and the Jayhawks were "not a great rebounding team." "Our perimeter shooting should be enough to carry us some games, but we're just not a grind-it-out team yet. But if we get a little bigger, maybe we can become that."
Added Self Tuesday night after KU's third loss and second so far this season at Allen Fieldhouse: "When you have to make shots to play good because you're a pretty team or a finesse team, that's a formula for getting beat when you play against tough teams. I hate to say this, it's going to be hard to win if we don't shoot better, obviously. But that's not what turns coaches on. So you miss a shot. What do you do after the ball's shot?"
Too often this season the answer to that question, which is critical to the brand of Bill Self basketball, has left the KU coach cringing on the sideline or grabbing his head in frustration.
As was the case Tuesday, the Jayhawks are regularly getting outhustled, outmuscled and even outsmarted in both wins and losses.
Nowhere did that show up more than on the glass Tuesday night, when the Red Raiders outrebounded Kansas, 44-29 and 18-8 on the offensive glass. In its last two games, KU has given up a 36 combined offensive rebounds to Texas and Texas Tech.
"I don't care how small you are, tough teams and competitive guys don't allow that to happen," Self said.
The question now is not necessarily why those things happened, but rather what the 10th-ranked and sure-to-fall Jayhawks (11-3 overall, 1-1 Big 12) can do to fix their issues.
In order to get them fixed for good, KU is going to have to figure out a recipe that's better than just making more shots.
"I'm not sure we were a lot better at Texas in some of these areas," Self said. "But we just made so many shots, it didn't matter."
Self had no problem pinpointing parts of the game in which he would like to see immediate improvement, steps that would allow the Jayhawks to make the jump to becoming a tougher team.
"Honestly, I'm concerned about everything," he said. "I didn't see that much juice or that much intensity or guys rebounding the ball above the rim, you know, playing with reckless abandon. I didn't see any of that. ... We're fairly athletic when we're turned up, but we didn't even come close to even jumping for balls. Their wings, their guards, obviously outplayed our guards."
In short, play more like Texas Tech did.
"I don't want to take anything away from Arizona State and Kentucky," Self said. "But I'm not sure (Texas Tech is) not the best team we've played this season. They've got 10 guys and they're interchangeable and they guard and they like each other and they play for each other. (Texas Tech coach Chris Beard has) done a great job. A great job."
Kansas will look to get back on track at 8:15 p.m. Saturday night at No. 16 TCU.
---
More news and notes from Kansas vs. Texas Tech
---