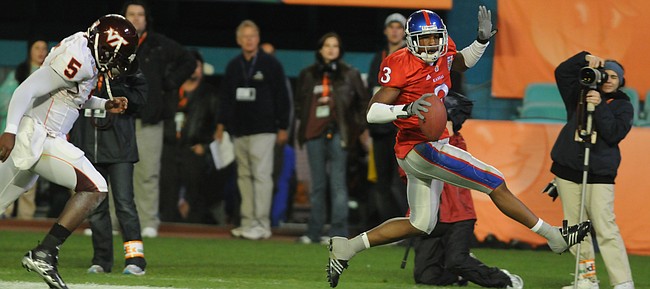 The way former University of Kansas football coach Mark Mangino tells the story, he and his wife, Mary Jane, attended a function about a decade ago, during the downtime between the end of the regular season and the Jayhawks' upcoming bowl game.
It was there that they bumped into ESPN college football studio host and play-by-play announcer Chris Fowler, who approached the Manginos to say hello and discuss KU's next matchup.
"Coach, I think you did a heck of a job. You've got a great team," Mangino related of the interaction with Fowler. "You can't beat Virginia Tech."
Such an anecdote rings comical now, with the 10-year anniversary of the Jayhawks' Jan. 3, 2008, Orange Bowl victory coming up on Wednesday. At the time, though, Mangino and his players simply welcomed the doubters.
"I said, 'OK.' I wasn't that mad, because everybody told me that," Mangino shared during his visit to Lawrence four months ago. "But for my wife to hear that … She said, 'You know, I used to like him.'"
The no-nonsense KU coach made a point to hand-deliver every perceived slight he experienced or caught wind of with his prideful players during the weeks-long buildup to their Miami meeting with the ACC champion Hokies.
"We could've filled up a whole room with the bulletin board. It could've been wallpaper," Mangino joked. "'These guys are calling you bums. You got no chance.'"
The disbelief among the rest of the college football universe at times seemed to grow, even as KU accumulated more wins during the 2007 season, in part because the Big 12 had 11 teams and not all of them faced each other.
"Everybody said we didn't play Oklahoma or Texas. And I've always said lucky them," Mangino asserted. "That was our best team. So we played that card pretty hard, and it worked out."
A show for the cynics
The extent to which the Jayhawks used skepticism as fuel hasn't escaped the game's MVP, even 10 years later.
Aqib Talib, who returned to KU this past September along with Mangino and other Orange Bowl champions to be enshrined in the Kansas Athletics Hall of Fame, recalled the team winning its first 11 games and still turning on the TV or going online to hear or read the same line of questions: "Is these Jayhawks for real?"
By the end of a 24-21 Kansas victory over Virginia Tech, the Jayhawks' rambunctious cornerback had the platform to voice his answer on the matter, and famously said during the national broadcast: "I guess they got to say we played somebody now."
Looking back on that moment, Talib saw it as the team's moment of truth.
"We kind of went and controlled that whole game," Talib said. "We kind of dominated those guys, really, man."
The Jayhawks felt that way because they enjoyed a seven-point or double-digit lead the majority of the first half and led by 10 a good chunk of the fourth quarter.
Of course, Talib paved the way for it all with his 60-yard interception return for a touchdown a little less than 10 minutes into the preeminent win in program history.
"I think that kind of sparked that energy, sparked that belief that they're Virginia Tech, but, look, we did the same work they did and we out here," Talib said. "To make a play like that early in the game, that definitely instilled that confidence in us that, yeah, we for real. It was huge."
Mangino identified Talib's pick-six as one of four crucial components to beating Virginia Tech.
The second, according to the coach, was a fake-punt call in the third quarter. Running back Brandon McAnderson took the snap and threw to punt-team gunner Micah Brown for a gain of 22 yards — though Mangino fondly remembered the play actually had been drawn up for McAnderson to throw to the opposite side of the field.
"I told B-Mac, 'You're good with me, man. As long as we got a first down,'" Mangino recounted.
The next significant play for No. 8 KU against No. 5 Virginia Tech also came on special teams. The Jayhawks led 17-14 in the third quarter when Hokies kicker Jed Dunlevy had a chance to tie the game with a 25-yard field goal. Instead, linebacker Joe Mortensen raced into the backfield to knock the kick out of the air.
"I think the blocked field goal was a key," Mangino said.
The other wasn't as much a moment or play as an adjustment. Mangino remembered Virginia Tech running the ball "down our throat" early on. However, defensive coordinator Bill Young and his staff found ways to bolster KU's run defense enough to pull off a win.
Memorable Jayhawks
While Talib and fellow Kansas starting corner Chris Harris, who also intercepted a pass in the Orange Bowl triumph, went on to become the biggest names, replicating that success in the NFL as Super Bowl 50-winners with Denver, numerous other Jayhawks played just as significant roles for the 2007 team, which finished 12-1 and ranked No. 7 in the final AP poll.
When reciting his favorite players to watch from that extraordinary roster, Talib began with the quarterback.
"Definitely Todd Reesing, man. He was our spark plug, man — we called him 'Sparky,' T-O-double-trouble. We had 25 nicknames for him," Talib revealed of Reesing, who passed for 3,486 yards and 33 touchdowns that season. "Nothing would've went without him. We wouldn't have been Orange Bowl champions without Todd Reesing, man."
Next, Talib credited offensive tackle Anthony Collins, who, like Talib, had his name added to KU's Memorial Stadium Ring of Honor in 2017.
"He was another one of our energy sources on offense," Talib said of the Outland Trophy finalist, "was a super-confident guy. He made that energy, that confidence spread throughout the offense."
While Talib said "a ton" of other Jayhawks also stood out, one of his most-loved teammates was defensive tackle James McClinton.
"He made plays every game, on the run, on the pass, on everything, man," Talib remembered. "He was a freak of nature on that defensive line."
Mangino also fondly reminisced about the unheralded members of the team, such as tight end Derek Fine, center Ryan Cantrell and defensive end Russell Brorsen. The coach said those and other KU upperclassmen "had to get kicked around and humiliated" in the seasons leading up to their historic run.
"By the time they were juniors and seniors they were sick of it," Mangino imparted, "and they were going to do something about it."
Lasting legacy
Though the players and coaches who made the Orange Bowl feat possible would move on — KU forced Mangino to resign following the 2009 season — with their careers and lives, their on-field accomplishments from a decade ago still resonate for them and those who follow the program, which has gone 15-81 since Mangino's departure.
Talib has since become a pro-bowl cornerback and won a Super Bowl, but he values his final game at KU nearly as much as winning on football's biggest stage with the Broncos.
"Seeing where we came from," Talib began, referencing KU's 7-5 2005 season and 6-6 mark in 2006 during his first two college seasons, "and being able to be one of the top programs in the nation, that felt like being in the NFL and being one of the top teams in football all year and playing in that big game."
Mangino wouldn't tell his players at the time, but around the midway point of the 2007 season, when the Jayhawks were still unbeaten, he began to realize what an exceptional squad he was coaching.
"But you don't let the players know that. You keep that tunnel vision," Mangino recounted.
The second half of the schedule would include wins at Colorado, Texas A & M and Oklahoma State, as well as a 76-39 trouncing of Nebraska, in Lawrence. KU's lone blemish on the year came at Arrowhead Stadium, in a Border War with rival Missouri. The No. 3 Tigers prevailed, 36-28, versus the No. 2 Jayhawks. Although Kansas didn't get a crack at Oklahoma in the Big 12 title game because of the setback, the Orange Bowl turned out to be quite the consolation prize.
"I didn't tell them they were special until the locker room in Miami, after the game," Mangino divulged.
Even so, Talib said KU's winningest coach (50-48, in eight seasons) found other ways long before their greatest achievement to galvanize the players and ultimately make an Orange Bowl win possible.
"It was just that belief, man. We went through the offseason and Coach Mangino did a great job making us believe that we were doing the same work as Alabama, we're doing the same work as Florida State, we're doing the same work as USC," Talib chronicled. "So why can't we be in those guys' shoes?"