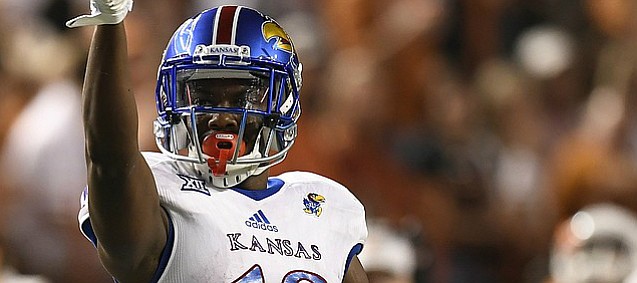 Recruiting generates more excitement, but college football is all about how players develop, not how many stars they have next to their names in high school.
Kansas wide receiver Evan Fairs came out of Fulshear High in Foster, Texas, with a two-star rating from Rivals. Halfway into his KU career, Fairs shapes up as the second-brightest potential star among the 14 high school players in KU's recruiting Class of 2016, ranking behind only running back Khalil Herbert, a fellow two-star prospect.
After making one catch as a freshman, Fairs ranked third on the team in receptions (24) and receiving yards (335), behind Steven Sims and tight end Ben Johnson, in both categories, and led the team with 14 yards per catch.
Fairs shared feedback he took to heart to bring a more productive attitude into his sophomore season.
"Coach Beaty said my freshman year I wasn't very consistent in practices," Fairs said. "I would come in Monday have a great practice, then I'd come in on Tuesday and have an OK practice and then on Wednesday a bad practice. He would just say, 'I need to see more consistency out of you so I can trust you in the game.' This year I took that into consideration and I've been able to play every practice like it's my last."
Fairs said the Beaty chat wasn't the only motivational factor that fueled him throughout his sophomore season.
"I thought about my family," Fairs said. "I have a lot of big shoes to fill. My father played in the NFL. My sister's a professional volleyball player. I just felt like I was a disappointment to my family, so I had to step up to the plate and be what I was supposed to be."
Fairs is showing it's not how you start a career, rather how you finish it. The same can be said for any one football game, and nobody knows that better than his father, Eric Fairs, who once was on the wrong end of the greatest comeback in NFL history.
Eric Fairs played linebacker for the Houston Oilers team that lost to the Buffalo Bills, 41-38, in a Jan. 3, 1993 playoff game the Oilers led, 35-3, early in the third quarter. The Bills reeled off four touchdowns in the third quarter and ended up forcing overtime. The Oilers won the coin toss, but the Bills won the game on Steve Christie's 32-yard field goal.
"He told me they were hyped in the locker room (at the half), ready to have champagne poured on them after the game and they came out and they lost it," Evan Fairs said. "That's probably the story he tells me most."
Eric Fairs played six seasons with the Houston Oilers and one with the Atlanta Falcons and is now a custom-home builder in the Houston area. Eric said his father offers a special feature in the homes he builds.
"He has a closet, a private door, a panic room, it looks like a shelf and when you push it in, there's a panic room. You don't know it's there. It's just like part of a wall," Evan said. "If you push it there's a little private room behind it. It's a secret room."
Fairs might as well have been hiding in it at the beginning of his freshman season. But Jason Phillips, then receivers coach at Kansas, told Fairs that plans had changed, and in advance of the fifth game of the 2016 season, Phillips made a three-way call with Fairs and his parents.
"He said, 'We need your son to play. He's been looking good in practice and we'd like him to play. Is that OK with you?' I wanted to play to get on the field and get the jitters out of the way," Fairs said.
Phillips, who was not retained on the coaching staff at Oregon State after a coaching change there, was responsible for recruiting Fairs to Kansas.
Fairs originally committed to Maryland, recruited there by 16-year NFL veteran wide receiver Keenan McCardell.
"We had a real close relationship, and I was talking to him and he told me he got fired," Fairs said. "I asked him where I should go. I told him all my offers (including Illinois). He said, 'Jason Phillips, I know that man personally. He's a really good coach. He knows what he's doing.' That's why I committed to Kansas, so I could get coaching from him."
Beaty shuffled his coaching staff, Phillips went to Oregon State, and Doug Meacham was hired as offensive coordinator and wide receivers coach.
"Coach Meacham always says there are no 50-50 balls," Fairs said. "The ball's up in the air. We have to go get it."
At 6-foot-3, Fairs is better equipped to do so than many receivers. He showed a knack for doing that, although like the rest of KU's receivers he was not immune to dropping easier catches than the ones he pulled down in traffic.
His first big game came in a loss at Ohio, where he caught three passes for 77 yards. If not for a catch being called back by a penalty, Fairs would have had his first 100-yard game and first touchdown that week.
He had to wait until the loss at Texas (104 yards on seven receptions) for his 100-yard reception game and the loss at Oklahoma State for his first touchdown, a 33-yard catch from Peyton Bender on which he twisted his body in mid-air and managed to stay in bounds in the front, right corner of the end zone.
His first college TD reception was in an impressive one. Halfway through his career, he has shown enough promise to suggest it will be far from his last.