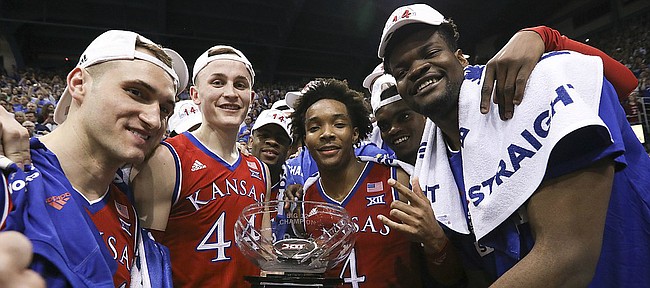 There were plenty of key moments, big shots and momentum-changing buckets during Monday's Big Monday showdown with visiting Texas at Allen Fieldhouse.
After a scrap-it-out, 80-70 victory that gave sixth-ranked Kansas its 18th outright Big 12 title in 22 seasons, however, the only moment that really mattered was when the 14 glistening Big 12 championship trophies were lined up on the east side of James Naismith Court.
Such a scene has become commonplace around this time of year at Allen Fieldhouse, though they might have had to add a table or two during the past few seasons.
And with Texas big man Mo Bamba sidelined with a toe injury, the Jayhawks (24-6 overall, 13-4 Big 12) made darn sure that the tradition would continue, scoring a whopping 52 points in the paint and controlling the game from start to finish.
Appropriately, it was the three KU seniors who got things off on the right note.
Photo Gallery
Kansas basketball v. Texas (senior night)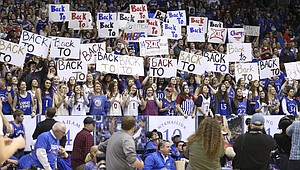 View a gallery of images from the Jayhawks' Monday night game against the Longhorns on Senior Night at Allen Fieldhouse.
Devonte' Graham, Svi Mykhailiuk and Clay Young, who started the first game of his career in place of Lagerald Vick, factored in on the Jayhawks' first 11 points and 23 of their first 27 to help the Jayhawks build a 27-13 lead that never was truly threatened. Texas trimmed the lead to six at one point in the second half, but Graham and Mykhailiuk, along with sophomore center Udoka Azubuike, refused to let the Longhorns get any closer.
With Bamba out of the way, Azubuike dominated down low, scoring 20 points on 10-of-11 shooting, and added eight rebounds and five blocks to his big night.
At one point in the second half, the Longhorns (17-13, 7-10) became so preoccupied with stopping Azubuike that they doubled him in the post and did not come off of him even after he flipped a quick pass to Marcus Garrett under the basket.
Garrett, who finished with 11 points, four rebounds, three assists and three steals and was the unsung hero of Senior Night, had time to bobble the ball, gather himself and still go up for the uncontested layup while two Texas defenders stayed glued to Azubuike along the baseline.
In the end, though, it was the 27 combined points, 13 combined assists and championship-or-bust leadership of Graham and Mykhailiuk that led the Jayhawks to Monday's victory and yet another Big 12 title.
"They say a team is only as good as your seniors," said KU coach Bill Self while introducing the guests of honor. "Well, there's a reason why we're league champs. We've got great seniors."
That was on display all night. From Mykhailiuk's silky smooth 7-of-11 shooting night, including three more 3-pointers, to Graham's classic line that included more assists (11) than points (10), the dynamic duo did its thing one more time in front of the Allen Fieldhouse fans and their families, saving the best for last with their mix of comedy and raw emotion during their senior speeches.
"I'm really thankful and blessed to be a part of this program, this university, and it's great to make history with this group," Mykhailiuk said.
From there, he thanked his family and broke down, bending over at the waist with tears in his eyes while telling a story of his father going to practices with his old team back home to feel close to his son, who was becoming a star in America.
"I don't know if we've coached a sweeter kid or a young man who has improved as much as him," Self said of the player who inspired one sign that read "Svinior Night." "And it's been so fun to watch him during his senior year when he actually believed that he was the baddest man on the floor."
And then there was Graham, making good on his prediction that he would in fact cry, breaking down three or four different times during his speech.
The first time came when he thanked Self.
"Coach Self, I don't even know where to start, man," Graham said. "Everybody talks about how I'm such a good leader (towel goes over his head, head tips back, tears flow freely), man this dude has done so much for me in my career here. I want you to know I just love you. … I'm a good leader because of you."
During this exchange, Self let his emotions be shown, too, smiling, voice cracking and tearing up at various parts of Graham's speech.
The second time came at the end — just as he had promised, saving his family for last.
"To my mom, my grandma and my sister, I love you all to death," Graham said.
Graham going last was probably about as fitting as his home finale. Sure, he hit a couple of 3-pointers, and, yeah, his fancy drop pass to Mitch Lightfoot in transition for an easy dunk wowed the crowd.
But both Self and Graham summed up what he has meant to KU and what KU has meant to him during those brief moments on the floor.
"People talk all the time about stats, how many did you get tonight, what's your shooting percentage, how many rebounds did you get," Self began. "This dude, there's only one stat that matters and that's that your team has more points than your opponent."
Added Graham, in his final words, before heading back to the locker room: "To all the fans, for all the tweets and all the Snapchats, I love you all to death. Thank you for an amazing four years. Rock Chalk."
---
---
---
---
More news and notes from Kansas vs. Texas
---