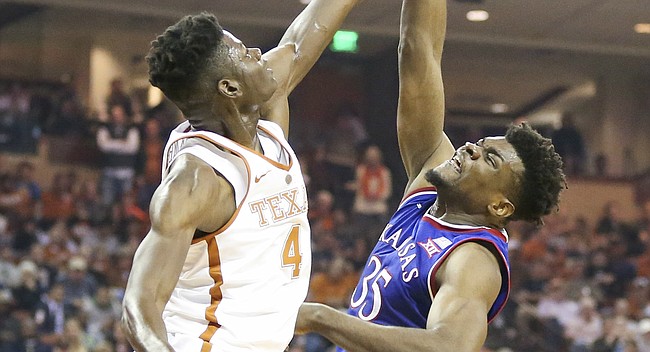 No. 8 Kansas Jayhawks (23-6 overall, 12-4 Big 12) vs. Texas Longhorns (17-12 overall, 7-9 Big 12)
Time: 8 p.m. | Location: Allen Fieldhouse, Lawrence, Kansas
TV: ESPN | Radio: IMG Jayhawk Radio Network
Log on to KUsports.com for our live game blog coverage and follow the KUsports.com staff on Twitter: @KUSports @mctait @TomKeeganLJW @bentonasmith @nightengalejr @chasenscott & @nickkrug
Keys for Kansas
1. Embrace the emotion
Senior Night is always a special deal at Allen Fieldhouse, but it also can be a bit of a distraction, with all of that emotion and added attention on something other than the game at hand.
Rather than sweat what that could mean or the problems it could create, this Kansas team should embrace it. And there's little doubt that they will.
With senior Devonte' Graham serving as this team's leader in every way imaginable all season long, the Jayhawks, both on the bench and in the stands, figure to follow Graham's lead one final time inside Allen Fieldhouse during what seems likely to be quite a love fest.
From KU coach Bill Self's perspective, the best part about having a player like that leading the charge — any night, really, but particularly on this night — is that there is absolutely no chance that Graham lets the senior celebration and emotion of returning home to celebrate another conference title with the home fans take priority over objective No. 1.
"It'll be a special night with those guys," Self said of honoring Graham, Svi Mykhailiuk and Clay Young. "But it won't be near as special if we don't take care of business and win."
2. Go out with a bang
It's been an unusual season inside Allen Fieldhouse, where the Jayhawks have lost three times for the first time since the late 1990s.
But Kansas has been terrific at home of late and has one more chance to put a pleasant and permanent memory in the minds of its fans before closing the book on the 2017-18 home schedule.
Playing with the kind of emotion and energy that they showed against Oklahoma last Monday, and West Virginia down the stretch a couple of days before that, certainly figures to give Kansas a good chance at victory against a tough Texas team looking to bolster its case for inclusion in the NCAA Tournament, but also to make the KU faithful forget about those losses to Arizona State, Texas Tech and Oklahoma State.
Beyond the motivation of finishing their home season off on the right note, the Jayhawks also will have the added incentive of avoiding becoming the first team since the 1988-89 squad to drop four games inside Allen Fieldhouse.
3. Push transition
The Longhorns have lost four of their last six games and have averaged just 64 points per loss in those four setbacks, including a miserable 48-point night in a loss at Kansas State last week.
Add to that the fact that the Jayhawks got the best of Texas in the Big 12 opener way back in December by pushing the tempo and putting pressure on Texas' defense and it's easy to see how a similar recipe could do wonders in this one.
In December, every time the Longhorns hit a big shot or appeared to be poised to cut further into KU's lead, the Jayhawks raced up the floor and hit them with a momentum-killing shot — often one of those 17 3-pointers Kansas drained in the first meeting — that ended the run and deflated UT's spirits.
That same recipe was in place on Saturday in Lubbock, Texas, where Kansas looked to run and gun as fast as possible after every Texas Tech miss in KU's two-point road victory.
Everyone knows what transition buckets and high point totals can do to the environment at Allen Fieldhouse. And you can bet the Jayhawks will be looking to jump all over the Longhorns early by racing out to fast-breaks as often as possible in an attempt to get easy buckets and get the home fans going.
Mega Matchup
KU center Udoka Azubuike vs. Texas center Mo Bamba
Despite his team trailing by double digits for a lot of the game, Bamba, in many ways, dominated the first meeting between the Jayhawks and Longhorns, finishing with 22 points, 15 rebounds and eight blocks in the six-point KU victory.
Numbers like those this time around likely would give the Longhorns a better than good chance of spoiling KU's Senior Night. But this time around, Bamba will be facing an opponent who has grown a ton since the last time they played in Azubuike.
In that one, Azubuike recorded a double-double of his own, tallying 13 points and grabbing 13 rebounds, but he shot just 6-of-11 from the floor — an off night by the standards of a player who routinely has shot 75 percent or better this season — and clearly was bothered by Bamba's length, athleticism and activity level at times.
Bamba's abiilty to control the paint forced Kansas to settle for shots from the outside. And if the Jayhawks had not been scorching hot from 3-point range, it might have been a different outcome.
So it should surprise no one if Kansas attempts to play through Azubuike early to see if he can get Bamba on his heels with his bigger body and greater power while possibly taking him out of the game because of foul trouble, as well.
Jayhawk Pulse
With a share of the Big 12 title already clinched, the Jayhawks figure to hit the floor for their fourth Big Monday game of the 2017-18 season with free minds and the least amount of pressure they've felt in months.
But even with that being said, there's still something to play for and it has a lot more to do with what happens after the game than it does during it.
After all, no basketball program in the Big 12 Conference knows how to throw a party quite like Kansas. And if the Jayhawks knock off Texas tonight, therein clinching the NCAA-record 14th consecutive conference title outright, it figures to set off a heck of a scene inside Allen Fieldhouse, with trophies galore, a handful of senior speeches and lots of laughs, smiles and lasting memories.
Self has always appreciated Senior Night, even during those years when the lone seniors have been players who did not play as much or record as many impressive stats. But it's clear that he's looking forward to this one as much as any and will have his team ultra focused to make sure it sends Graham and Mykhailiuk out on a positive note as well.
"I can't believe anything will top these two this year," Self said. "Our fans have all seen them grow up, just like guys in the past on any Senior Night. But I know these two hold a special place in our fans' hearts."
Probable Starters
No. 8 Kansas
G – Devonte' Graham, 6-2, 185, Sr.
G – Malik Newman, 6-3, 190, Soph.
G – Svi Mykhailiuk, 6-8, 205, Sr.
G – Clay Young, 6-5, 205, Sr.
C – Udoka Azubuike, 7-0, 280, Soph.
Texas
G – Matt Coleman, 6-2, 180, Fr.
G – Jase Ferbes, 6-5, 190, Fr.
G – Kerwin Roach Jr., 6-4, 180, Jr.
F – Dylan Osetkowski, 6-9, 245, Jr.
C – Mo Bamba, 6-11, 225, Fr.