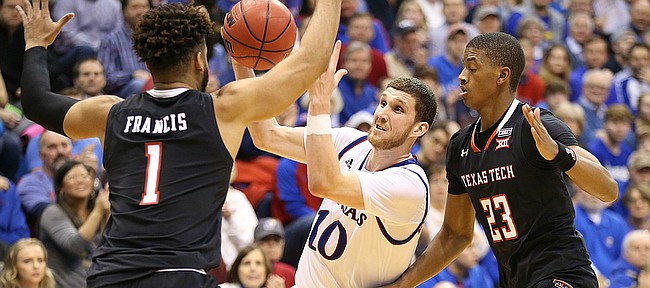 No. 8 Kansas Jayhawks (22-6 overall, 11-4 Big 12) vs. No. 6 Texas Tech Red Raiders (22-6 overall, 10-5 Big 12)
Time: 3:15 p.m. | Location: United Supermarkets Arena, Lubbock, Texas
TV: ESPN | Radio: IMG Jayhawk Radio Network
Log on to KUsports.com for our live game blog coverage and follow the KUsports.com staff on Twitter: @KUSports @mctait @TomKeeganLJW @bentonasmith @nightengalejr @chasenscott and @nickkrug
Keys for Kansas
1. Simply put, compete
It's not often that a team walks into Allen Fieldhouse and whips the Jayhawks in just about every aspect of the game, but that was exactly what happened the last time these two teams met back in January.
Not only did the Red Raiders win by double digits, but they also punked KU in a couple of key stats, the most notable being the 18 offensive rebounds they got that led to 12 more field goal attempts for Tech.
Overall, Texas Tech outrebounded Kansas by 15 in that first meeting, and head coach Bill Self has talked a lot about how Texas Tech just flat-out played harder and wanted it more.
"Physically, we were just whipped," Self said this week.
That can't be the case in this one if the Jayhawks hope to survive. And given the payback factor along with the idea that the Jayhawks are playing to clinch a share of the Big 12 title — on the road, no less — this group should be plenty fired up to give a better effort than it did in January.
"They beat us at home and I would say we're pretty angry about that and are just trying to get them back," said KU senior Svi Mykhailiuk.
2. Offense vs. defense
Although Texas Tech has been known to have some impressive offensive games and Kansas has been known for spurts of solid defense, this matchup sure has the look of KU's explosive offense against Texas Tech's stingy defense.
The stats certainly back that up.
Kansas enters this one second in the Big 12 in offensive efficiency (113), second in effective field goal percentage (55), second in 3-point percentage (37.8) and first in 2-point percentage (53.7).
Texas Tech's defense, meanwhile, ranks in the top four in the conference in all of those categories, including first in defensive efficiency (97.6), which puts them third in the country.
The Red Raiders also rank second in effective field goal defense at 48.5 percent, ninth in the nation; third in 2-point percentage defense (47); and fourth in 3-point percentage defense (34.2).
In fact, the last time these two teams met, Kansas shot 23 percent from 3-point range, making just 6 of 26 3-point attempts in an 85-73 loss in Lawrence.
Wait, there's more. Texas Tech, which won the turnover battle in the first meeting (15-10), also ranks first in the Big 12 in forcing turnovers (21.6 percent of possessions) while KU is the best in the conference at protecting the ball, giving it away just 16 percent of the time.
3. Vick must stay engaged
The first Kansas-Texas Tech meeting this season also marked the beginning of Lagerald Vick's midseason slump.
After tearing up the nonconference schedule and dropping 21 points in a win over Texas in the Big 12 opener, Vick was held to two rebounds and two points on 1-of-9 shooting in 34 minutes in the surprising loss to Texas Tech.
That sparked a streak of eight straight games in which Vick failed to score more than 10 points, dropping his average from 17.4 points per game in KU's first 13 contests to 13.4 through 21 games.
From a pure numbers perspective, if Vick had hit his season averages as they stood on that day, the Jayhawks likely would have won the game. He didn't. And, worse than that, he did not even make himself a factor in any way, shape or form.
The last few games — starting with KU's road win at Iowa State on Feb. 13 — have marked a rebirth for Vick, who is averaging 15.3 points in his last three games and also has added 15 rebounds and six assists during that time while shooting 53 percent from the floor.
His increased energy, effort and intensity has played a huge role in KU's past couple of victories and has helped this team look much more like the team it was in November and December than the team that dropped two Big 12 home games during the middle of the season.
Mega Matchup
KU point guard Devonte' Graham vs. Texas Tech point guard Keenan Evans
Graham is an awfully nice guy, but he also is a fierce competitor. So don't expect for second that he will feel bad for Tech's ailing point guard and go easy on him.
If anything, Graham is probably more likely to attack Evans now than he would have been before given the fact that Evans is playing at less than 100 percent because of an injured toe and could be somewhat of a liability if he's guarding Graham.
There's always the chance that the Red Raiders will try to put Evans on someone else, but whether that's Graham, Malik Newman or even Marcus Garrett, the Jayhawks should attack Evans off the dribble and try to get easy baskets, trips to the free-throw line or open shots for teammates as a result.
Even injured, however, Evans is still one of the top players in the conference and is as competitive as anyone. So although the banged-up toe might prevent him from playing the way he normally does — keeping him from attacking and getting to the free-throw line, where he ranks second in the Big 12 is probably the most noteworthy limitation — it's highly likely that Evans will tweak his game to allow him to battle, therein making him harder to guard in some ways.
Oklahoma's Trae Young is still very much in the mix, but this head-to-head battle of two of the country's best point guards could go a long way toward deciding the Big 12 Player of the Year race.
Jayhawk Pulse
For the second weekend in a row, ESPN's "College GameDay" will be in the building when the Jayhawks tip it off in Lubbock today.
This time, however, it will be the opposing team's fans who are worked into a frenzy by the all-day affair. Although that figures to make United Supermarkets Arena an amazing atmosphere for what easily could go down as the game of the year in the Big 12, Self and the Jayhawks are excited about the big-game vibe that will be present.
"Oh, God yeah," Self said. "You work all year long to play in games like this."
Having said that, Self said he knows — Evans injury or not — that his team is going to have to play one of its best games of the year if it wants to emerge with a stranglehold on the Big 12 race.
"We're happy to have a game lead," Self said. "But we know, the way it's set up, Tech still controls their own destiny to win the league. If they win out, the worst they could do is tie. And the reality of it is, if we don't play well we bring other teams into play. Not only Texas Tech, West Virginia, but K-State's in the game."
A win, however, clinches at least a share of an NCAA record 14th consecutive Big 12 regular-season title for Kansas and sets up a scenario in which the Jayhawks can clinch the title outright on Senior Night on Monday vs. Texas.
Probable Starters
No. 8 Kansas
G – Devonte' Graham, 6-2, 185, Sr.
G – Malik Newman, 6-3, 190, Soph.
G – Svi Mykhailiuk, 6-8, 205, Sr.
G – Lagerald Vick, 6-5, 175, Jr.
C – Udoka Azubuike, 7-0, 280, Soph.
No. 6 Texas Tech
G – Keenan Evans, 6-3, 190, Sr.
G – Jarrett Culver, 6-5, 190, Fr.
G – Zhaire Smith, 6-5, 195, Fr.
F – Justin Gray, 6-6, 210, Sr.
F – Norense Odiase, 6-9, 245, Jr.
More like this story on KUsports.com