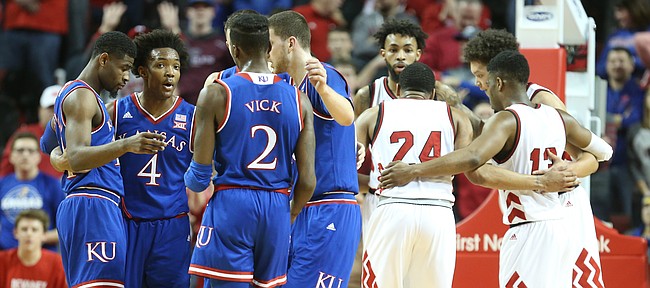 Kansas has just nine eligible scholarship players on its basketball roster this season, but even with that small number, the roster spans the globe.
The melting-pot Jayhawks feature players from four different countries: Angola (Silvio De Sousa), Nigeria (Udoka Azubuike), Ukraine (Svi Mykhailiuk) and the United States.
The six American-born scholarship players spent the majority of their years before coming to Kansas in six different states: Arizona (Mitch Lightfoot), Mississippi (Malik Newman), North Carolina (Devonte' Graham), Tennessee (Lagerald Vick), Texas (Marcus Garrett) and Washington (Sam Cunliffe).
The roster stretches as far west as Seattle (122.3 degrees W), as far east as Cherkasy, Ukraine (26.6 degrees E), as far north as Cherkasy (49.0 N) and as far south as Luanda, Angola (8.8 S).
The geographic center of the roster is 29.2 N, 63.6 W, somewhere in the middle of the North Atlantic Ocean. Fittingly, the closest hometown on the roster to that is Raleigh, N.C. (35.8 N, 78.6 W), home of senior point guard Graham.
On the court, KU revolves around its point guard, who sets up teammates by making the defense collapse with his drives, and by serving well-timed, well-placed lobs and post feeds. He leads the team in minutes, (37.2), scoring (17.6), assists (7.2), steals (1.7), 3-pointers (3.0) and assists-to-turnover ratio (2.7).
With Graham on the floor, Kansas is the best team in the Big 12 and leads Texas Tech by one game in the standings. Without him, everything falls apart. That's why Kansas coach Bill Self played him 40 minutes in 10 consecutive games.
As has been well-documented, Graham is the second consecutive senior superstar guard for Kansas, who comes from ACC country and initially was ignored by the basketball powerhouses in his backyard. He originally signed with Appalachian State, instead went to a prep school for a year, blew up and made his way to Kansas. A year earlier, Frank Mason III, from Petersburg, Va., similarly was ignored, committed to Towson, was dropped because he failed a high school class, went to prep school for a year and was discovered by Kansas.
Graham has the perfect personality to make a melting-pot roster coalesce because he's the ultimate people person. He has that gift of making all in his company feel comfortable and welcome. He relates well to people from varied backgrounds, brightens everyone's day and seems to get a charge out of easing the stress level of new teammates dropped into unfamiliar surroundings.
It's no surprise that Graham and Mykhailiuk quickly developed into best of friends. After all, who was more in need of a friend than a 16-year-old student-athlete who didn't speak much English and had been used to playing a different brand of basketball?
During boot camp leading up to Graham's freshman season, former Navy Seals put the Jayhawks through a series of exercises to determine the identity of the player who possessed the most natural leadership qualities. Graham earned the honor before playing a game. That roster featured four McDonald's All-Americans (Cliff Alexander, Perry Ellis, Kelly Oubre and Wayne Selden Jr). Mason wasn't considered to compete in that All-Star game, but as a senior, swept the three major awards given to the nation's top college basketball player.
"From talking, from ownership, from coaching others, he is doing it all," Self said recently of Graham. "He has shown as much leadership this year to me as what anybody we've had here do. He's Aaron Miles, but he's getting 17 a game."
Only Jacque Vaughn (7.68 in 1994-95) and Miles (7.33 in 2003-04, 7.2 in 04-05) have averaged more assists in a season than Graham's current mark (7.18). At his current assist average, Graham would need to play 11 more games, 39 total, to produce the 78 assists needed to break the single-season Kansas record of 278, set by Cedric Hunter. Reaching the title game of the Big 12 tournament and then the Final Four in San Antonio would get the job done.
Numbers are nice and it's enjoyable to bend and twist them, but teammates won't ever need to see them to know all the ways Graham has assisted them during their stays in Lawrence.
More like this story on KUsports.com