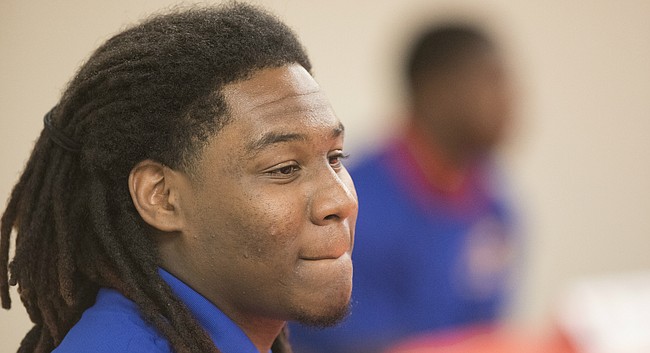 When defensive tackle Charles "Codey" Cole decided to sign with the Kansas football program, he didn't know whether a key Jayhawk who plays the same position, Daniel Wise, would still be around by the time he arrived in Lawrence for the spring semester.
Although some players in Cole's position might have rooted for Wise leaving KU early to enter the NFL draft, leaving more vacancies on the defensive line in the process, the new Jayhawk was glad KU's star lineman returned for the 2018 season. The 6-foot-3 transfer from Butler Community College plans to pick Wise's brain as much as he can.
"That's my biggest thing. I want to learn," Cole said. "I want to be a student of the game before anything."
Wise, a versatile 6-3, 290-pound lineman headed into his redshirt senior season at Kansas, is an ideal mentor for Cole. The 280-pound junior hopes to prove to KU coaches he, too, can move around on the D-line and produce at various positions, just like Wise.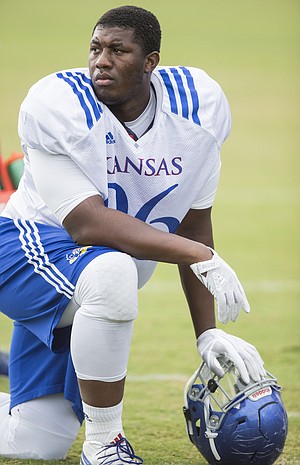 "All my life, I have played every spot on the D-line," said Cole, whose college career began at Division II Tiffin.
As a freshman in 2016, Cole played nose guard, defensive tackle and defensive end, accumulating 22 tackles and 5.0 tackles for loss, plus two forced fumbles in the process.
He kept bouncing from spot to spot at Butler, as well, where he became a 3-star JUCO prospect as a sophomore, contributing 19 tackles, 3.0 tackles for loss and a pass breakup.
Once Cole got to KU, defensive line coach Jesse Williams informed the Ypsilanti, Mich., native he needs to learn all four positions to maximize his impact and help the unit's depth.
"Because you never know what you may need that week," Cole said. "You may have to go to a big lineup and move me to end. You never know. You may go with a little lineup and I go back inside."
Wise has gone through such shifts when possible, but all that goes into pulling off that adaptability is just one aspect of the veteran's arsenal Cole hopes to replicate. The pupil has worked out with Wise plenty since moving to Lawrence.
"He taught me things I didn't know anything about already. That's just a blessing right there. His work ethic is loud by itself," Cole said, "with what he does on and off the field."
The former junior college lineman knows he has a lot of work to put in, but Cole hopes before his career at Kansas concludes people will watch him play and at least see a little bit of Wise in him.
"Definitely, I could see myself doing a lot of things that he (does). Now, do we play the same? I don't know," Cole said with a chuckle. "We'll have to see when the pads get on. I'm just excited to be here, and I'm blessed to be here."