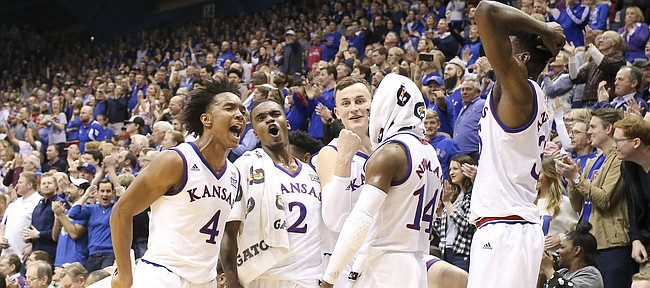 The stage is set. The game is here.
And thanks to Oklahoma State's upset victory over No. 6 Texas Tech Wednesday night in Stillwater, Okla., the 8th-ranked Kansas Jayhawks will take a one-game lead into their showdown with the Red Raiders on Saturday in Lubbock, Texas.
But don't think for a second that the Jayhawks (22-6 overall, 11-4 Big 12) or head coach Bill Self will be looking to relax now that they have their cushion back.
In fact, Saturday's clash of the top two teams in the Big 12 standings might actually be bigger now than it was before. The reason?
Instead of just playing for the lead in the conference race with two games to go, the Jayhawks now will be playing to clinch a share of an NCAA record 14th consecutive Big 12 Conference regular season title.
That makes Saturday's game by far the biggest thing on KU's plate and the Jayhawks are not even considering looking past that.
"We don't care about two weeks from now," Self said. "We care about Saturday. And we'll play to win on Saturday and then we'll play to win on Monday (vs. Texas) and then we'll play to win the next Saturday (at Oklahoma State), regardless of the situation."
The mere thought of taking it easy in any one of those games was baffling to Self.
"If somebody's injured, you're not going to play them now because you don't want to risk postseason," said Self, seemingly stating the obvious. "But why would you work all year long and spend so much time drilling, conditioning, lifting and then you get to the teeth of the season and say, 'Well, let's prepare for three weeks from now,' when this counts a lot also.
"It's not as important as the third season (the NCAA Tournament), but it's pretty darn important to these guys."
One of the biggest factors heading into Saturday's game is the health of Texas Tech star Keenan Evans. After missing the second half of Tech's loss at Baylor last weekend because of a toe injury, Evans started on Wednesday night but played just 25 minutes and scored two points while making one of the seven shots he attempted.
If he remains bothered by the toe, it's hard to see him matching up well with KU point guard Devonte' Graham, one of three players — along with Evans and Oklahoma sensation Trae Young — who has been talked about as a Big 12 Player of the Year candidate.
Regardless of who is or is not on the floor for the Red Raiders on Saturday, the Jayhawks will be fielding an awfully confident bunch. And Graham said KU's late-season confidence is a direct result of the way their head coach conducts business.
"I think just because of coach and just the pressure he puts on us in practice," said Graham when asked why KU always seems to play its best basketball down the stretch. "Just watching film on our mistakes. Because you can't see it when you're playing. And then when we watch film and slow it down and we see how bad we look, it makes you get those reps and makes you just keep getting better."
One area where Self believes this particular Kansas team still can get better is on the defensive end. But even he has been impressed by his team's past two victories over West Virginia and Oklahoma, which featured some of the best basketball and most intensity this team has displayed all season.
"I think we've played the last 47 minutes pretty good," Self admitted. "But we're a better basketball team than we were three weeks ago. I do believe that. And we're going to have to be really good on Saturday to go down and have a chance to win a huge game. … It will be a good game. I think that we'll be excited to be there. (ESPN's College) GameDay (will be there) and the place will be jumping. Hopefully we can have a maturity about ourselves this week and figure out how to defend and score some points against probably the most sound team in our league."