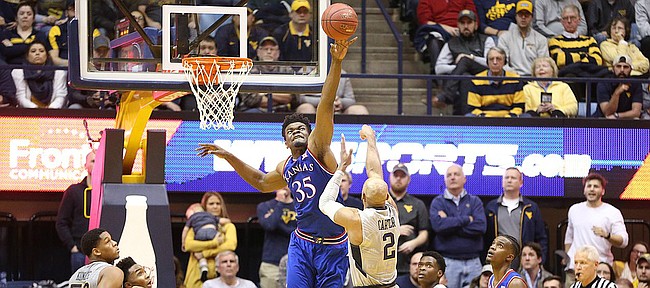 No. 13 Kansas Jayhawks (20-6 overall, 9-4 Big 12) vs. No. 20 West Virginia Mountaineers (19-7 overall, 8-5 Big 12)
Time: 5:15 p.m. | Location: Allen Fieldhouse, Lawrence, Kansas
TV: ESPN | Radio: IMG Jayhawk Radio Network
Log on to KUsports.com for our live game blog coverage and follow the KUsports.com staff on Twitter: @KUSports @mctait @TomKeeganLJW @bentonasmith @nightengalejr @chasenscott & @nickkrug
Keys for Kansas
1. Big minutes for Azubuike
In the first meeting between these two teams, the KU big man played just 20 minutes before fouling out and was far and away the biggest factor in the game.
The Jayhawks need him to stay on the floor in order for that to be the case in the rematch.
In those 20 minutes, Azubuike tallied 10 points, nine rebounds and a block while making all five of his shot attempts and providing the kind of offensive presence that WVU big man Sagaba Konate simply could not handle.
It's one thing for Konate to block dunk attempts and shots by smaller players — which he did five times in KU's 71-66 win in Morgantown — but it's something completely different to ask the 6-foot-8, 260-pound sophomore to try to contain a man who is both taller and heavier close to the basket.
The Jayhawks were plus-20 with Azubuike on the floor at WVU Coliseum. And they have been making a strong effort to both keep him in the game and force the ball to him in the post during the past couple of weeks.
One of the biggest determining factors in whether that strategy works or not is Azubuike's ability to stay out of foul trouble. Because, when he does, he's often too much for any opposing defense to handle.
2. Protect the ball
Perhaps it's just the product of senior point guard Devonte' Graham having the ball in his hands the majority of the time.
Or maybe the rest of Graham's teammates have learned how to value possessions, as well. Either way, Kansas leads the Big 12 Conference in protecting the ball, turning it over on just 16.3 percent of its possessions.
That number includes just 13 turnovers in the win at West Virginia back in January, a night in which KU actually won the turnover battle by three.
West Virginia, meanwhile, is third in the Big 12 in creating turnovers, at 21.4 percent of opponents' possessions in Big 12 play (and 24.8 percent in all games, which ranks them second nationally), which, obviously, is a product of that vaunted WVU press.
Clearly, it's important for Kansas to be strong with the ball and look to attack the press rather than playing passive and right into it. And few players know that better than Graham. But taking care of the ball against the Mountaineers is not a simple task that can be left up to just one player. All five guys on the floor have to be locked in on what's happening or things can get ugly in a hurry.
WVU has been on the wrong end of the turnover equation just three times all season and the Mountaineers are 1-2 in those three games.
For the season, the Mountaineers have forced 462 turnovers while committing just 304.
3. Tap into emotion
They may not always show it on the floor — outside of Devonte' Graham and, occasionally, Udoka Azubuike — but this Kansas team seems to be at its best when it's riding a wave of emotion and playing on instinct more than instruction.
That could be good news for Saturday's showdown with West Virginia, provided the Jayhawks can tap into it.
With Cole Aldrich set to have his No. 45 jersey retired at halftime and members of the 2008 national championship squad back in town for a 10-year anniversary celebration, there should be no shortage of extra motivation floating around Allen Fieldhouse.
The last time that happened, during the weekend celebration of 120 years of Kansas basketball, the Jayhawks dropped a home game to Oklahoma State and talked after the loss about the disappointment of letting down all of those former players.
Add that to the reasons to be motivated for this one and watch to see if this group that's still trying to find itself fully can tap into the adrenaline and energy that no doubt will be in Lawrence for the next few days.
Mega Matchup
West Virginia offensive rebounds vs. Kansas defensive rebounds
As has been the case almost all season, rebounding will be a major key for the Jayhawks. And that becomes an even bigger story in this one, when the Jayhawks will be facing the Big 12's best offensive rebounding team, which ranks fourth in the country in that category.
West Virginia enters this one getting 36.9 percent of its own misses in conference games and 37.3 percent of all of its games this season.
In the first meeting between these two, the Jayhawks did a fabulous job of competing on the glass and were only out-rebounded by three, 38-35. The way things have gone this season, that's as good as a win for Kansas.
KU, which ranks dead last in the Big 12 in giving up 35.6 percent of misses to opponents, did give up 14 offensive boards to West Virginia (37.8 percent) back in January, but held its own well enough elsewhere to make that advantage minimal.
It helped tremendously that the Mountaineers made just 18.5 percent of their 3-point attempts in the KU victory, compared to a rather middle-of-the-road 34.8 percent mark for Kansas.
Regardless of how many shots are missed or who is missing them, Kansas will have to compete on the glass again in order to have a shot.
Jayhawk Pulse
With just five games remaining in Big 12 play and the Jayhawks sitting a game behind Texas Tech for first place and a game ahead of West Virginia for second, it's time to start looking at the next few games as the start of the final push toward a league title.
In many ways, this one seems like an elimination game. It's hard to see Kansas winning its 14th consecutive Big 12 title if it loses this one, especially if Texas Tech wins at Baylor. And it's virtually impossible to envision West Virginia still winning the conference if it drops this one and falls three games behind Tech and two back of Kansas.
So the stakes will be high. ESPN's "College GameDay" atmosphere will be crazy. And both teams will be well aware of what they need to do long before they tip this one off.
Kansas teams in the past have looked at moments like these as opportunities. Will this team look at things the same way? KU coach Bill Self certainly hopes so and hopes his team will be ultra-focused on what's immediately in front of them and not what still may come.
"I don't think we need to play with desperation," Self said this week. "I think we need to play with urgency, purpose and focus, that stuff. It's a long season. I don't think you start playing with desperation in February. I could be wrong. I don't think that's the way you want to play it. That makes people tight. Our guys should be focusing on enjoying each other, having fun, playing for each other, not worrying about being the 14th year in a row. They don't need to worry about that. They need to focus in on getting better, worrying about trying to win one for themselves this year, not worrying about trying to carry on a tradition for others."
Probable Starters
No. 13 Kansas
G – Devonte' Graham, 6-2, 185, Sr.
G – Malik Newman, 6-3, 190, Soph.
G – Svi Mykhailiuk, 6-8, 205, Sr.
G – Lagerald Vick, 6-5, 175, Jr.
C – Udoka Azubuike, 7-0, 280, Soph.
No. 20 West Virginia
G – Daxter Miles Jr., 6-3, 200, Sr.
G – Jevon Carter, 6-2, 205, Sr.
F – Wesley Harris, 6-8, 200, Soph.
F – Esa Ahmad, 6-8, 230, Jr.
C – Sagaba Konate, 6-8, 260, Soph.