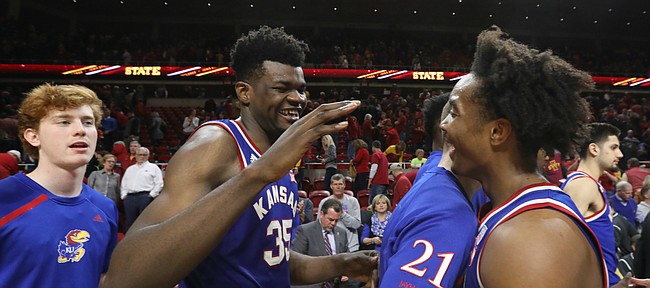 If Kansas basketball coach Bill Self trusted another player enough to put the basketball and game in his hands, Devonte' Graham wouldn't have a streak of nine consecutive 40-minute outings.
Graham not only brings the ball up the court, sets up teammates and shoots his team out of scoring droughts, he usually guards the opponent's best perimeter player. He leads the team in scoring (17.5), assists (7.2), steals (1.7), head-fakes and smiles.
Self talked Thursday about other ways Graham leads the Jayhawks.
"This is not a knock to our other guys," Self said, "I don't know if I've ever been around a team where a guy gets less help."
He said that he didn't mean help in terms of basketball plays, adding, "I'm not putting down anybody."
He specified the ways that he meant Graham is on his own: "From talking, from ownership, from coaching others. He is doing it all. He has shown as much leadership this year to me as what anybody we've had here do. He's Aaron Miles, but he's getting 17 a game. That's how I look at it."
No matter how full his plate, when things don't go well, Graham looks first in the mirror and asks what he can do better. When he's stumped for an answer, he seeks counsel elsewhere.
Kansas had just lost back-to-back games to Pac-12 schools Washington and Arizona State in early December when Graham reached into KU's past for answers. He sought advice from former Kansas All-American Sherron Collins, who resides in Lawrence and sits with Wayne Simien behind the KU bench at home games.
"That's my guy, I talk to him a lot, just talking about what he can help me with, what I need to do, when I need to be aggressive," Graham said of Collins. "He's definitely been helping me out since I've been here."
Graham and Collins have different games, frames and personalities, different means of coming at the leadership aspect of playing point guard for Self, a coach who masterfully camouflages his relentless intensity with charm and humor.
Graham shared what advice Collins gave him after the back-to-back losses.
"I just remember him telling me you might have to get on some guys," Graham said. "He knew that wasn't my personality. He didn't say I would have to fight somebody, but in other words: You might have to jack somebody up, get them on the same page as you, just tell them what they need to do because I've been here the longest and I know what it takes and at the time they didn't really know what it takes to win."
Graham has mixed in some tough, direct talk to go with the positive energy he uses to try to inspire teammates. It's all on him.
"If you look at it," Self said, "Malik (Newman) doesn't speak, Svi (Mykhailiuk) doesn't speak, Lagerald (Vick) doesn't speak, (Udoka Azubuike) doesn't speak (on the court)."
As a result, Self said, "It's Devonte's personality that's basically getting us through the intangible things. Doesn't mean he's always going to play well, but from an intangible standpoint, he's as good as we've ever had here."
Graham tried to say his teammates talk more than the coach thinks, but he couldn't quite say it with a straight face.
"I think this is one of the quietest teams that I've been on, in large part because it's a lot of guys who really don't know what coach is looking for, a lot of first-year guys who have come in, (need to) figure out their role, and figure out coach and what he likes, when to talk," Graham said.
Scorer, passer, defender, vocal leader, interpreter.
"I understand it from their point, so I just try to be as vocal as I can, talk, encourage, just do all the little things," Graham said.
Then the Graham spoke up for teammates, but nobody believed what he said.
"They talk," he said. "They talk a lot. Coach might not hear them. They definitely might whisper sometimes."