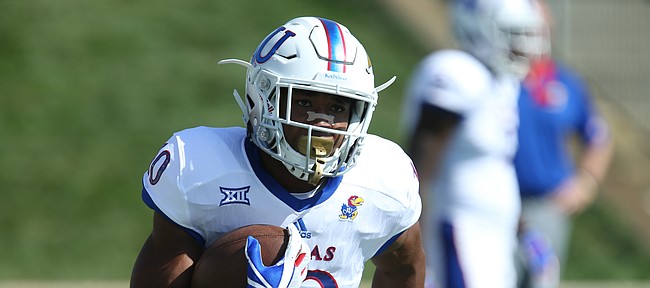 Now in his second year with the University of Kansas football program, running back Khalil Herbert spent some of his formative years attending Marjory Stonemason Douglas High School, in Parkland, Fla., site of a deadly shooting on Wednesday.
Although Herbert graduated from American Heritage High, roughly 17 miles away, he spent three years before that as a student at Douglas.
Herbert stated his shock over the mass shooting, which left 17 dead, on social media. An interview request through KU media relations was declined as Herbert didn't feel comfortable speaking on the fatal events.
"Please pray for my hometown," Herbert wrote in an Instagram post. "Prayers out for all the victims and their families, everyone connected and affected by what happened today. This is home. I have no words. I still can't believe this happened right in my backyard. (T)his is where I grew up, where I learned to really play football, my city, man… (T)his needs to stop. I just can't believe this. Just doesn't make any sense. Doesn't even seem real."
On Twitter, Herbert wrote that he is at "an utter loss for words."
A football coach at Douglas, Aaron Feis, who also worked at the high school as a security guard, was killed while shielding students from the gunman, according to various reports.
KU football coach David Beaty was one of many within the profession to weigh in on the tragic shooting.
"Our thoughts go out to all of those impacted by the tragedy at Douglas High School in Florida," Beaty posted on Twitter. "We are praying for peace for you and your families."