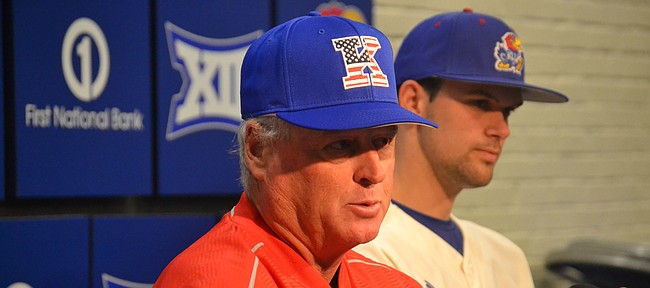 Ritch Price's KU baseball squad was picked to finish sixth in the Big 12, but he's setting his sights a little higher.
"This team has a chance to finish in the top four," Price said at KU baseball's media day. "I expect to play in June. This team — the three or four teams we had in the top 25 — this team is good enough to do that. That's our expectation."
While five Big 12 teams — the five above KU in the preseason poll — were ranked in the recent NCBWA Top 35 Preseason poll, the KU coach, and his players, were more than optimistic about the future.
"I can guarantee you we're going to surprise a lot of people this year," said left-hander Taylor Turski.
The formula? Pitching. Experience. Toughness.
Starting with the rotation, Price said he has high hopes for a group that will see the Friday-Saturday-Sunday starters return for the first time in his tenure.
Jackson Goddard, an All-Big 12 honorable mention as a sophomore, will pitch Fridays for the Jayhawks, with fellow right-hander Ryan Zeferjahn taking Sundays.
In between, Turski is expected to give the Jayhawks a change of pace coming off a season where he posted a 3.51 ERA and earned All-Big 12 honorable mention honors.
"Obviously we've got Goddard going on Friday, who (can throw) 94-96, and then you've got me, a little lefty that's a lot more crafty but can be sneaky at the same time," Turski said. "It's a pretty good mix of guys."
To hear it from Price, that may be putting it lightly.
"If they pitch up to their ability," Price said, "it will be the best pitching staff I've had."
That extends to the bullpen as well, which is full of veteran arms — a theme of sorts of the roster.
The only starter position player gone from KU, Price said, is shortstop Matt McLaughlin, who signed with the Rockies following last season. For that reason, Price was happy to start the season at home and to stay there for a while.
The Jayhawks open with 11 consecutive home games, the most of any squad in the history of the program. They'll play 33 home games on the season, the most at home in nearly three decades.
"I wanted these guys to stay at home. I wanted to play in the cold weather (to) be prepared for the start of Big 12 (play), and I wanted us to get off to a really good start," Price said. "If I had a young team, I'd want to take them on the road. I think with an experienced team, I'd like them to have a comfort zone, get off to a good start."
Not that they couldn't handle it otherwise.
Price, who said he likes the blend of "speed and power" of the offense, said he's been pleased with the progression his team has made in physicality and in the weight room.
Price mentioned Rudy Karre and Devin Foyle, both of whom started all 58 games for Kansas last season, as players he's sees as adding to the toughness of the staff. He also included transfer Brendt Citta, who will join the team as an outfielder after sitting out due to redshirt rules.
"Oh I can't wait," Citta said. "That year was probably the longest of my life."
At the very least, Citta's toughness shouldn't be called into question — at least after a story he shared at media day.
One question to Price involved players responding to getting hit by pitches and how it can reveal toughness. Asked about the worst hit-by-pitch he ever felt, Citta needed to only look a few feet to his left to identify the culprit.
During a practice last year, Citta recalled, he took a 96 mph pitch to the head courtesy of Goddard. Goddard brushed it off, Citta said, since it's something that happens from time to time.
As for Citta?
"I turned and it hit me in the side of the head," Citta said. "Honestly, I expected it to hurt more. … It wasn't that bad."