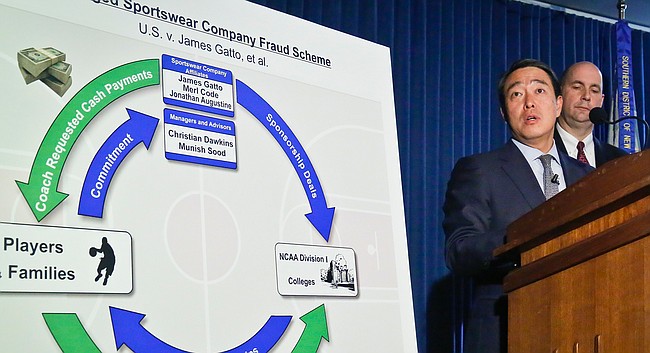 An unnamed source who has been briefed on the details of an FBI probe into corruption in college basketball told Yahoo Sports that far more than four assistant coaches arrested in September have cause for concern.
"When this all comes out, Hall of Fame coaches should be scared, lottery picks won't be eligible to play and almost half of the 16 teams the NCAA showed on its initial NCAA tournament show this weekend should worry about their appearance being vacated," Yahoo's source said.
Kansas was one of those 16 schools, projected as a No. 2 seed in the West Region and No. 6 overall. But when reached via telephone Thursday night, KU coach Bill Self, who had labeled the initial arrests as part of "a dark week" for the sport, told the Journal-World that his view had not changed on what all of this meant for college basketball.
"I just read the article," Self told the Journal-World late Thursday. "And I know that there were some generalities and some unnamed sources and that is certainly a concern for all coaches. It's a concern for anybody that cares about our sport and who's associated with our sport. And that's nothing new. I said that when this all first surfaced back in September, that I was concerned about our sport. I do know I'm more concerned for the sport than I am for the University of Kansas.
"I don't know any more than I have read. And I don't think other coaches know more than what they've read. Based on that, it's hard to have definitive comments on exactly where this is because nobody knows."
During the first wave of arrests back in September, the FBI made it clear that the investigation remained ongoing.
"Anybody involved with our sport knew that this was not something that was going to be over when the initial reports came out in late September," Self said. "At some point this was going to resurface and be talked about."
Just how long that conversation will linger this time and what it ultimately will lead to remains up in the air. But the recent Yahoo report paints a gloomy picture.
According to the story written by Pete Thamel, "multiple sources told Yahoo Sports that the material obtained threatens the fundamental structure and integrity of the sport, as there's potentially as many as 50 college basketball programs that could end up compromised in some way."
Thamel's report also suggests that "multiple sources who've been briefed on the case and are familiar with the material obtained by feds told Yahoo Sports that the impact on the sport will be substantial and relentless."
One important distinction between the initial fallout in September and this latest information is the difference in what's at stake.
Last fall, the FBI levied criminal charges against 10 people associated with college basketball, including assistant coaches, shoe company executives and agents. This time, after what the Yahoo Sports source said included 330 days, 4,000 intercepted calls and thousands of documents and bank records, it's NCAA violations that are being called into question.
Asked if he was concerned that the status of former KU freshman Billy Preston, a former McDonald's All-American who left Kansas without playing a single game to pursue professional opportunities overseas, could in some way be a part of all this, Self was adamant it did not.
"Billy's situation was strictly a reinstatement case," he said. "We brought it to the NCAA's attention. We were hoping to get an answer in a time frame that would allow him to play this year. We did not get that and the family reached the point where they felt they needed to move on. We respected that decision, even though we were disappointed, but when Billy left to go play overseas the NCAA closed the book on his reinstatement case."
In a separate story, published Wednesday, ESPN.com's Mark Schlabach wrote that the potential for further action by both the FBI and the NCAA came from, "information included in wiretap conversations from the defendants and financial records, e-mails and cell phone records seized from NBA agent Andy Miller."
Schlabach also quoted a source as saying, "It's not the mid-major programs who were trying to buy players to get to the top. It's the teams that are already there."
Self, Syracuse's Jim Boeheim, Kentucky's John Calipari, Michigan State's Tom Izzo, Duke's Mike Krzyzewski and North Carolina's Roy Williams are the six active NCAA men's basketball coaches in the Naismith Memorial Basketball Hall of Fame. Four of the six programs appeared in the NCAA Selection Committee's sneak peek at the top 16 seeds in this year's NCAA Tournament bracket last weekend.