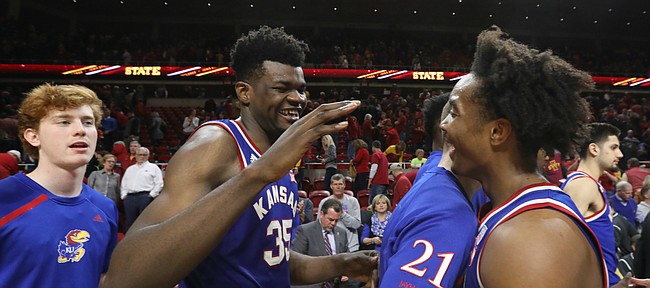 AMES, IOWA — Iowa State's Solomon Young went up for a short baseline jumper, and Kansas center Udoka Azubuike went up with him and made contact. The whistle blew, and 21 seconds into the second half, Azubuike picked up his third foul.
He stole a glance toward the bench, figuring he would see Mitch Lightfoot being summoned to replace him. Lightfoot remained seated.
"I thought (Kansas coach Bill Self) was going to take me out, to be honest with you, but he kept me in the game," Azubuike said afterward. "He trusted me. He told me, 'You're going to have to play with your head and your feet,' so that's what I did."
He went to town is what Azubuike did, scoring 12 of his team-high 19 points in the second half to lead Kansas past Iowa State, 83-77, Tuesday night in front of 14,384 spectators in Hilton Coliseum. (Kansas won the first game vs. ISU, by a nearly identical score, 83-78, in Allen Fieldhouse).
Azubuike's three rebounds and three blocked shots all came in the second half, when he played 15 of his 22 minutes.
Photo Gallery
Kansas basketball v. Iowa State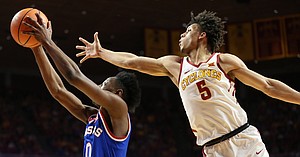 View a gallery of images from Tuesday night's game between the Jayhawks and Cyclones at Hilton Coliseum.
Most college basketball coaches almost automatically bring a key player to the bench if he picks up his second foul in the first half, and do the same when he gets whistled for his third early in the second half.
Self wasn't in the mood to see anything less than his best lineup on the floor, so he gambled on his ever-improving big man. Azubuike was eager to reward his coach's trust in him and knew he had to pull off a challenging juggling act to do so. He needed to play aggressively without picking up a quick fourth foul.
Azubuike pulled it off, fighting hard to establish position close to the hoop at the offensive end.
Lagerald Vick and Azubuike combined to score KU's first 15 points of the second half, Vick's coming on a trio of 3-pointers and Azubuike's as a result of sure hands, sound footwork and a soft touch close to the basket on a variety of shots.
He scored on three consecutive possessions, each time growing KU's lead from single to double digits.
"We saw how much better we are with him in the game because we can play through him in the post," Self said. "I thought he played really well."
Azubuike didn't pick up his fourth foul until 1:58 remained in the game and Kansas led by nine.
The lead had grown to 13 points with 4:46 after Azubuike asserted himself at both ends with back-to-back dunks and a couple of blocked shots.
KU's guards repeatedly looked for the big man late in the game with lobs that he flushed easily.
"Lobs look like they're really fancy and hard plays," Self said. "It's probably the easiest pass a human being can make because you can throw it anywhere, and if a guy is big and athletic, he can go catch it. And all you need is just a little space to be open."
Self would like to see his players take advantage of Azubuike more with alley-oops because he is so reliable at converting them.
"We haven't done a good job of throwing it, but we did tonight," Self said. "That's an effective offensive play for us and I think a lot of teams. If you have a guy as big as Dok who can jump, he's such a big target to see. You just have to kind of throw it up there."
Azubuike has developed into an offensive force. When all four shooters surrounding him are in a groove, it makes it tougher to double him. It becomes easier when freshman Marcus Garrett — a strong defender, but not a shooter — is in the lineup.
"That's a big release off the four guards who are on the court with him, knowing whenever we need a big basket, we can go in to the big fella," sophomore guard Malik Newman said.
The guards can return the favor to their center by not putting him in jeopardy of picking up fouls.
"He got called for four fouls tonight and two of them were just because somebody else can't guard their man and he has to come help, and that's so frustrating," Self said. "He only had one bad foul tonight."
Self gambled a little in trusting that his only bona fide center could continue becoming a force without drawing whistles, and it paid off in a big way. Smart play by the coach whose team remained one game behind first-place Texas Tech in the Big 12 standings with five games remaining.
---
---
---
---
---