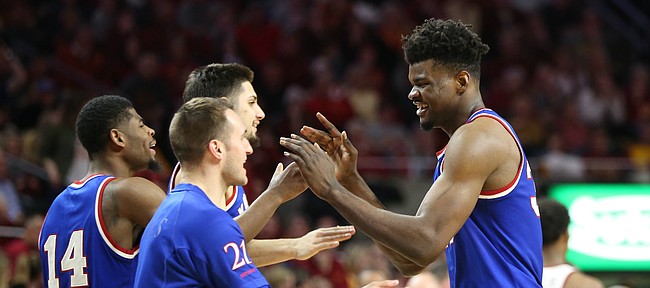 AMES, IOWA — On Monday afternoon, Kansas basketball coach Bill Self said he knew what his struggling Jayhawks needed to be successful again.
On Tuesday night, his team proved him right.
With Lagerald Vick and Malik Newman both back in the starting lineup, the KU starters played the lion's share of the minutes in Hilton Coliseum (162 of 200), scoring all but eight points to lead Kansas to a tough, 83-77 road victory over Iowa State.
The fact that Newman (17 points on 6-of-10 shooting) and Vick (16 points also on 6-of-10 shooting) played arguably their best games of the Big 12 season was more than a bonus.
Both were must-have efforts that made up for rough shooting nights by seniors Svi Mykhailiuk and Devonte' Graham, who combined to shoot 6 of 26 from the floor in the Kansas victory.
Photo Gallery
Kansas basketball v. Iowa State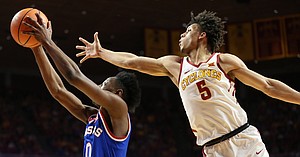 View a gallery of images from Tuesday night's game between the Jayhawks and Cyclones at Hilton Coliseum.
All five starters cracked double digits in scoring in this one — Udoka Azubuike, in 22 minutes, dropped in 19 points on 9-of-10 shooting, and Svi Mykhailiuk tallied 10 in 36 minutes — but KU's leading scorer finished fourth in Tuesday night's final box score. Asked how it felt to pick up some of the slack for Graham's off night, Newman spoke with the pride of a veteran.
"Devonte', he's been great for us this season," Newman said of the KU senior who played his ninth consecutive 40-minute game on Tuesday. "We rely on him to do a lot of things, so for him to go 3 for 16 tonight and us be able to put him on our backs for a change and not have him carry us and come out with a 'W,' it's just big. It just speaks to how good our team can actually be when everything's clicking and we've got great attitudes."
Improved attitudes were what led to Newman and Vick being back in the starting lineup on Tuesday night. Self never has been one to make too much of who starts a game, but it was clear on Tuesday that it meant something to watch his two hot-and-cold scorers deliver on game night what they had brought in practice of late.
"I actually thought they tried to guard and their energy level was better," Self said.
Added Graham: "I think they did a good job of responding to (Self's recent criticisms) today. But it's a continuous grind and you have to do it in practice each and every day, and definitely in a game. But today, they definitely responded."
The lasting image of this one might very well have been Newman shushing the Iowa State student section with one finger over his mouth after draining a jumper that hit the bottom of the net as the shot clock expired and put 13th-ranked KU (20-6 overall, 9-4 Big 12) up 81-72 with 46 seconds to play.
Newman could not have known it at the time, but that bucket, which proved to give Kansas more than enough to emerge victorious, almost became a mere footnote in the final minute, as Iowa State (13-12, 4-9) trimmed a KU lead that was as large as 13 points with 4:46 to play down to as few as four in the game's final 30 seconds. This was thanks largely to a handful of missed free throws by Graham and Vick.
Asked if he expected ISU to make that kind of push late, Self said, "probably," before adding, "I didn't expect us to play like we've never been coached a day this year for sure. I didn't expect Devonte' to miss three out of four (free throws), and Lagerald's a good free-throw shooter and misses a front end. It wasn't that we turned it over. It's just that we just didn't make our free throws."
Kansas was far from perfect in the first half, and from the start, the game had that grind-it-out feel that KU's recent home win over TCU had.
But after an ugly start that produced a bunch of fouls and some serious frustration from the bench for Self, the Jayhawks settled in and started to battle.
It wasn't that the basketball got much prettier. But the effort did, and KU's play-hard mentality started producing.
"I just thought we played so poorly to start the game," Self admitted. "I mean, awful. We were lucky that the game was close when they had us down six or so early. We're lucky it wasn't 12 or 14."
At one point, after falling behind 17-11 early, the Jayhawks ripped off a 10-2 run to take a 21-19 lead. That run eventually grew to 16-4, and Kansas built a 6-point lead (27-21) before Iowa State responded to recapture a 1-point lead of its own.
With Silvio De Sousa on the floor for the final 2:44 of the first half — and Sam Cunliffe for the final 1:13 — the Jayhawks outscored the Cyclones, 12-6, in the final few minutes of the first half to take a 39-34 lead into the locker room.
In just under three minutes, De Sousa scored three points and grabbed three rebounds, two on the offensive end for a plus-four on the stat sheet.
That set the tone for the second half in which Kansas never trailed and Vick and Newman played with more confidence by the minute.
Self called Vick's three 3-pointers during the early portion of the second half "the biggest stretch of the game," and Iowa State never was able to find its rhythm while playing from behind.
Kansas did, however, and remained one game back of Texas Tech in the Big 12 standings with five games remaining.
One strong game certainly does not mean everything that has ailed the Jayhawks during recent weeks is fixed. But it did serve as a positive sign that Newman and Vick both get it and that the KU chemistry is coming back.
"If you've studied our team, when we've played our best, our five best players have been playing well," Self said. "So we need to get our five best players playing well."
Tuesday night was certainly a step in that direction. Next up, a rematch with West Virginia at 5 p.m. Saturday at Allen Fieldhouse, where ESPN's "College GameDay" will set up camp for the day.
---
---
---
---
---