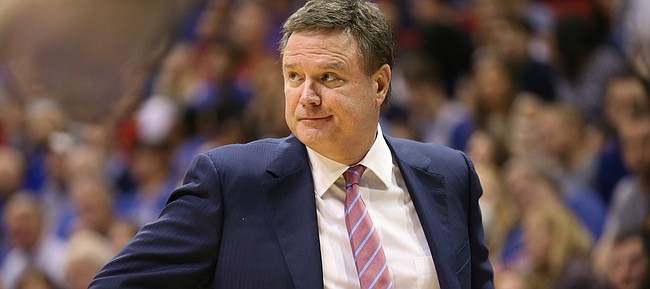 Kansas basketball coach Bill Self is smart enough to sense what's happening with KU's beloved fan base, even though he has spent very little time interacting with them of late and spends basically no time on social media sites and message boards where thousands of Jayhawk fans are happy to let their feelings be known.
Following Roy Williams, coaching at one of the country's true blue-blood programs and being entrusted as the current caretaker of a product that has produced names such as Naismith, Allen, Chamberlain and Manning has a way of providing you with that sixth sense of sorts.
But while the fan base is up in arms about the way these Jayhawks have played of late — losers of three of their last six games and now ranked No. 13 in the nation — Self is operating with the same kind of cool, calm and collected demeanor that has resulted in 13 consecutive Big 12 titles and a spot in the Naismith Memorial Basketball Hall of Fame.
"Whether our fans (panic) or not, hey, welcome to the real world," Self said Monday when asked if he thought his players experienced the same kind of panic that KU fans are currently going through. "I mean, good God. Hey, Duke feels the same way. North Carolina feels the same way. That's life.
"This is what's unbelievable to me with our fan base, because I love them and they're great. But for 13 years we've got a T-Shirt whenever we win the league. I mean, it was that big a deal and we got a T-Shirt. And now that we're a game behind, it's the heavens are falling. I certainly understand that and I get that. And we deserve to be a game behind because we haven't played well enough to be better.
"If this is how they're feeling, then they should understand that they should appreciate all the emotions that fans have to go through. Because it's going to be a struggle this year. It doesn't mean it's over, but it's definitely going to be a struggle and we probably need them more than we ever have needed them and they've got to rally around that, as well."
Asked if he liked the late-season sneak peek at the NCAA Tournament bracket, which was unveiled on Sunday, Self made it clear that he had spent very little time thinking or talking about it.
"I saw something that we were a 2 seed in Purdue's region," he said. "I don't even know when that was done. … From a fan base standpoint, that would be awful to be a 2 seed. Now, from my standpoint, I don't think we deserve that. I don't. I think that we need to play well from this point forward to be in that conversation and we haven't done that yet."
Svi's OK
Self said Monday that the shiner that may or may not have affected guard Svi Mykhailiuk during last weekend's loss to Baylor did not have any lasting impact on the senior sharp shooter.
"Svi's fine," Self said. "We did X-rays and stuff when we got back and there was absolutely no structural damage. But what happens when you get hit in the eye is you can't stop the eye from watering. And he said, 'Coach, every time I ran and bounced it was blurry the whole time.' It messed with his head. Now, he's got to be tougher to play through that, but I would think that would probably mess with anybody that bases their game on being a marksman and was probably a little blurry shooting the ball."
No lineup decision
After changing his starting lineup in each of the past two games — Mitch Lightfoot in place of Lagerald Vick last week against TCU and Lightfoot and Marcus Garrett in place of Vick and Newman versus Baylor — Self said before Monday's practice that he was unsure who would start Tuesday night at Iowa State.
"I haven't really decided yet," Self said Monday afternoon. "I know what we need to do to win, at least in my opinion. Now how do we get that? … We'll see how today goes."
Vick bouncing back
After spending the past two games coming off the bench instead of starting — yet still playing 30 and 32 minutes in those games — Self said junior guard Lagerald Vick has started to show more of the effort and urgency that was missing and led to the decision to bench him.
"I really feel like Lagerald's attitude, in my opinion, has been very good," Self said. "It's just, you know, he didn't make shots and sometimes when you don't make shots it doesn't look like you play as well or (against Baylor) when you tip in a ball for the other team or you get a rebound and you throw it out of bounds... It was a good pass, Devonte' just happened to turn his head at the wrong time. So he (Vick) just hasn't caught any breaks, but I feel like he's on an uptick."