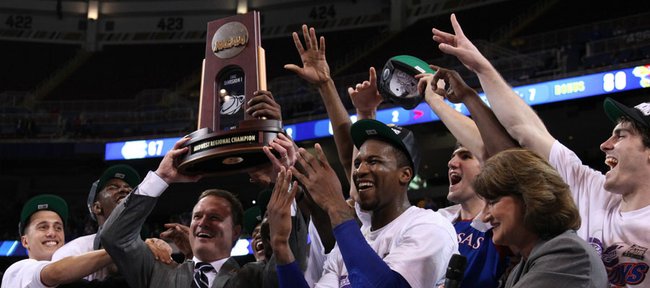 Unless and until the NCAA, its affiliated television networks and all media covering college basketball denounce and distance themselves from the dreaded Rating Percentage Index, or RPI, rankings, March Madness seeding won't approach anything that resembles fair.
The RPI places far too much emphasis on a team's schedule and too little on how teams perform in games. And every time you hear that a school had such and such record against top 50 schools, the top 50 referenced is the deeply flawed RPI rankings.
When the actual NCAA tournament bracket is released, fill out your sheet and advance teams based on how they rank in the RPI. Then do the same for the Associated Press poll, Kenpom.com and Sagarin Predictor. What you will find is that the AP poll wins and RPI finishes last.
Yet, for some reason, when humans assemble the brackets, they fall back on computers, falsely assuming machines to have more intelligence than the humans who vote.
It's such a surrender mentality. If only Rod Serling were here to warn us about how that sort of thinking puts us on the fast track to extinction.
Anyway, as a means of creating Selection Sunday buzz, CBS held its mock selection show Sunday, revealing its projected No. 1, 2, 3 and 4 seeds.
Consider the curious case for Michigan State (24-3, fresh off a victory over Purdue, riding an eight-game winning streak) appearing as a No. 3 seed. The justification: The Spartans have just two top 50 victories.
That shocked me, since I give no credibility whatsoever to RPI and, therefore, never look at it. In the far superior Sagarin rankings, Michigan State is 9-5 vs. top 50 schools.
I point that out to show the huge disparity in computer rankings. But the truth is, common sense trumps all machine-generated attempts at fairness.
Michigan State (24-3) has not lost to a team that doesn't appear in the top 20 in the current AP poll.
The Spartans blasted North Carolina by 18 points, torched a decent Notre Dame team by the same margin and abused a so-so Maryland squad by 30 points the first time, and then six points on the road.
At worst, Michigan State, ranked No. 4 in the AP poll, should be a 2 seed.
And then, there is the curious case of Kansas as a No. 2 seed and Texas Tech as a No. 3.
The Red Raiders hold a one-game lead on Kansas in the Big 12 and beat the Jayhawks by a dozen points in Allen Fieldhouse.
Humans can figure out that to this point, Tech has had a better season than KU. But too many humans prefer to trust computers.
(Once humans decide virtual reality is superior to reality in all areas, public and private, it will mark the beginning of the end of the species, not to mention bars.)
Texas Tech has an average scoring margin of plus-6 in the Big 12, compared to plus-0.9 for Kansas. But Kansas played a tougher, nonconference schedule and, therefore, has a higher RPI (seven, five spots ahead of Tech) and has fared better on the road than the Red Raiders, who have not lost at home. The committee is putting a premium on road victories this season.
As long as the RPI subtly remains the crutch used by those with Selection Sunday influence, Kansas never will be seeded worse than it deserves. There will be years where KU has the misfortune of being dropped in a loaded bracket, but an unfair seeding never will be a problem because it always plays a strong schedule.
In some years, Kansas gets a higher seed than it deserves, which leads to the misconception that the Jayhawks underachieve in the tournament, because they have been to just two Final Fours in 14 finished seasons under Bill Self. Never mind that KU has made it to seven Elite Eights, or 50 percent of the time. Some will always feel that if a school is seeded No. 1, it by definition underachieves if it doesn't advance to the Final Four.