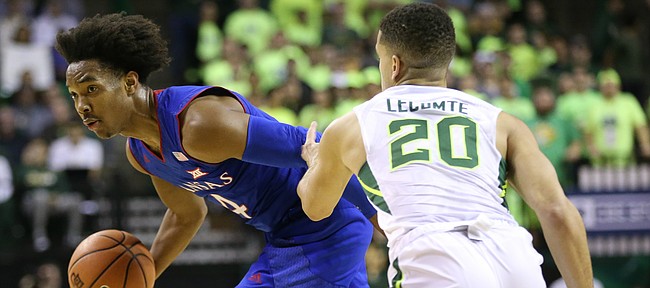 Asked for a "big picture" assessment of his Kansas basketball team following Saturday's disheartening, 80-64 loss at Baylor, KU coach Bill Self wasted no time getting to the point.
"I don't think we're playing very well," Self said. "We were obviously better three weeks ago than we're playing right now. But every team goes through ebbs and flows."
That was not the only time in the 30-minute long postgame meeting with the media in Waco, Texas, that those words were uttered.
"Every team has ebbs and flows," said KU senior Svi Mykhailiuk, almost certainly echoing words he had heard from Self at some point this season. "You know, we just have to figure it out."
Photo Gallery
Kansas basketball v. Baylor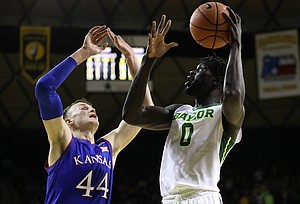 View a gallery of images from Saturday's game between the Jayhawks and Bears in Waco, Texas.
Like repeating Self's words, saying that might be easier than doing it for these Jayhawks.
Losers of three of their last six games, the Jayhawks enter the final six games of the Big 12 schedule in second place in the conference standings, one game behind Texas Tech.
With a head-to-head matchup with the Red Raiders still on the schedule — Feb. 24 in Lubbock, Texas — the Jayhawks are far from out of it and the quest to capture Big 12 title No. 14 in a row is still in play. But getting to that night when they trot out all of those trophies onto the Allen Fieldhouse floor won't come easy and will require much better performances than the Jayhawks have delivered of late.
"We just have to regroup," said senior Devonte' Graham, the only Jayhawk who played well against the Bears. "One game at a time. We've got to work on getting better, being tougher on the glass. Like I said, shots will fall. We're not worried about that. Everything with us is just defensively and being aggressive."
Self has made it clear, both this season and throughout his time at Kansas, that mistakes born from great effort can and will be tolerated. It's those other mistakes, born between the ears, that are harder to stomach. And that was another popular topic after the Baylor loss.
"We cut the lead to two and we just had a mental breakdown after that," sophomore guard Malik Newman said. "We were right there. We fought all the way back. We were in the game. We just had a mental breakdown at the wrong time."
Added Graham: "We fought hard to come back and then kind of gave it away with some mental mistakes late."
Tinkering with the starting lineup before each of the past two games — first plugging in Mitch Lightfoot for Lagerald Vick and, against Baylor, going with Marcus Garrett in favor of Newman — was Self's latest attempt to inject some energy into his roster and it resulted in KU's worst loss of the season (16 points) and lowest point total to date (64).
Where the Jayhawks go from here is anyone's guess, but Self made it clear he knows where they can't go.
"We just don't have enough margin for error to have three or four guys really into it and turned up and emotionally and physically ready and then maybe have one or two (who aren't) at their best," he said. "We have to be pretty good as a unit each and every night and tonight we weren't. I thought Baylor was a lot better than us."
Added Mykhailiuk: "We're definitely not playing good right now. We need to get better at everything. We let people score, we give up rebounds, Dok got in foul trouble in the first half, Mitch fouled out. We've got to figure out how to play smarter."
He then paused and finished his assessment.
"We just have to guard," he said. "It doesn't matter what we're doing offensively. We just have to guard."
---
More news and notes from Kansas vs. TCU
---