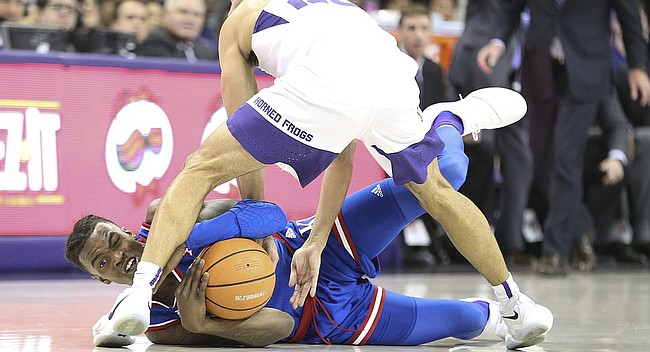 Kansas had started showing up as a No. 1 seed in various NCAA tournament projections until Oklahoma State knocked off the Jayhawks in Saturday's stunner.
My first thought after seeing Kansas topple from a perch that seemed like a bit of a stretch anyway was that it increases the chances of KU playing in Omaha, site of the Midwest Region, since Purdue is the most likely No. 1 seed in the Midwest region.
My second thought was a question: Given the way this unconventional season has gone for the Jayhawks, is playing closer to home an advantage anyway?
Probably not.
Kansas is 10-4 at home, 5-1 on the road, 3-0 at neutral sites. Since the regular-season game at Sprint Center is part of the KU season-ticket package, the NCAA considers it a home game. Iowa State (8-4) is the only other Big 12 school with that many losses at home.
Playing at home or close to it isn't the advantage it once was, perhaps because the crowd subconsciously holds the Jayhawks to the standard of past Bill Self teams. This squad isn't going to win that irrelevant comparison. It only has to be better than its opposition that day.
The spectators in Allen Fieldhouse don't have much experience at watching their team play from behind and are more accustomed to watching them blow out the competition. When KU goes on one of its famous spurts and piles up easy buckets in transition, the crowd goes wild, the players feed off that, their adrenaline flows faster. Those moments used to be the rule, not the exception.
When the game is tight and the spectators grow nervous, the players can feed off of that as well and they play with tension without even knowing that's what they're doing.
Barring an unforeseen collapse from Kansas, playing the first two games in Wichita seems a safe assumption. It would be nice for season-ticket holders who can get their hands on seats to have the short drive to Omaha for the regional round, but it wouldn't necessarily hurt the team to travel to one of the other three regional sites (Boston, Atlanta, Los Angeles).
Kansas has four games remaining in Allen Fieldhouse, starting with TCU tonight and continuing with West Virginia (Feb. 17), Oklahoma (Feb. 19) and Texas (Feb. 26). The Jayhawks must win out at home to avoid becoming the first KU team since 1988-89, Roy Williams' first season, to lose four games in Allen Fieldhouse.
Oops, there I go, comparing this Kansas team to its predecessors. It's not fair. It is, however, only natural.
More like this story on KUsports.com