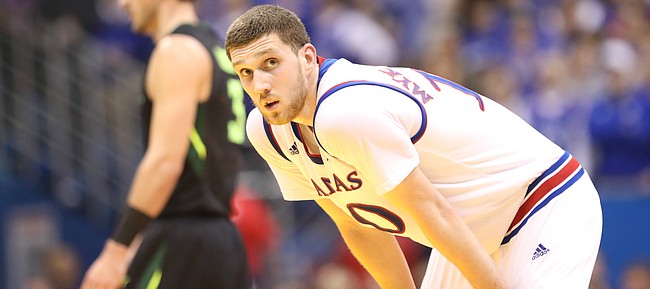 Thanks to a home loss to Oklahoma State on Saturday which negated the gains from a big road win over Kansas State earlier in the week, the Kansas men's basketball team fell three spots, from No. 7 to No. 10, in the latest Associated Press Top 25, released Monday.
The Jayhawks (18-5 overall, 7-3 Big 12) flip-flopped spots with Texas Tech, the team with which KU is now tied atop the Big 12 standings with eight games to play in the conference season.
The Red Raiders, who improved to 19-4 overall and 7-3 in Big 12 play with big wins over Texas and TCU last week, jumped from No. 10 to No. 7 and now are the highest-ranked team in the Big 12 Conference.
Kansas and Texas Tech do not play again until Feb. 24, in Lubbock, Texas, so there's no telling whether the two still will be tied at the top when that matchup takes place. Texas Tech knocked off Kansas in Allen Fieldhouse, 85-73, in early January.
Up next for the Red Raiders in the five games before the rematch with Kansas: vs. Iowa State, at Kansas State, vs. Oklahoma, at Baylor and at Oklahoma State.
Up next for Kansas in the next 18 days: vs. TCU on Tuesday night, at Baylor, at Iowa State, vs. West Virginia and vs. Oklahoma.
Tough sledding for both programs. And it's important to remember that Oklahoma (No. 17 in this week's poll, down from No. 12) and West Virginia (No. 19 in this week's poll, down from No. 15) are both just one game back of Kansas and Texas Tech in the Big 12 race. WVU and OU will face off tonight in a Big Monday game in Norman, Oklahoma.
Here's a look at this week's complete AP Top 25
1 – Villanova (48), 22-1
2 – Virginia (16), 22-1
3 – Purdue (1), 23-2
4 – Michigan State, 22-3
5 – Xavier, 21-3
6 – Cincinnati, 21-2
7 – Texas Tech, 19-4
8 – Auburn, 21-2
9 – Duke, 19-4
10 – Kansas, 18-5
11 – Saint Mary's, 23-2
12 – Gonzaga, 21-4
13 – Arizona, 19-5
14 – Ohio State, 20-5
15 – Tennessee, 17-5
16 – Clemson, 19-4
17 – Oklahoma, 16-6
18 – Rhode Island, 19-3
19 – West Virginia, 17-6
20 – Michigan, 19-6
21 – North Carolina, 17-7
22 – Wichita State, 17-5
23 – Nevada, 20-4
24 – Kentucky, 17-6
25 – Miami, Fla., 17-5
More like this story on KUsports.com