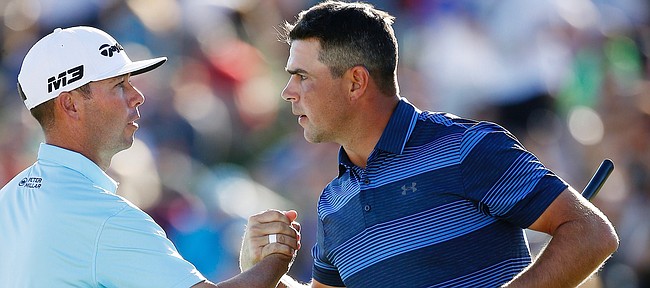 The best round of his Web.com Tour season behind him, Chris Thompson returned to his hotel room in Panama City, Panama and shifted from competitor to TV spectator with a strong rooting interest.
"What a finish, huh?" Thompson said by phone from Panama, after watching Gary Woodland earn his third PGA victory by defeating Wichita-born Chez Reavie in a sudden-death playoff in the Phoenix Open. "I watched him play the last couple of holes and the extra hole."
Thompson, 41, was a two-time All-American at Kansas. He earned a spot on the Web.com tour for the first time in 11 years (it was called the Nationwide Tour then) by making it through Q school. Woodland, 33, has been on the PGA tour since 2009 and earned victories in 2011 and 2013. The two have played many rounds of golf together at Lawrence Country Club.
"That'll be great for him, give him some confidence," Thompson said of Woodland's victory. "And it's always nice to get one early in the year. He can freewheel it from here."
Woodland looked so calm in reeling off three consecutive birdies on 15, 16 and 17 on his way to a 30-34 64, the lowest Sunday round of anyone in the field.
"He always looks calm," Thompson said.
Woodland earned a first-place prize of $1,242,000 to bring him to $1,777,915 on the season, which places him eighth on tour. He ranks fifth in the FedEx Cup standings.
Woodland's putter betrayed him late in multiple Sunday rounds last season, but it carried him through the weekend as he made clutch putt after clutch putt this time. The five birdie putts he drained on the front ranged from 9 feet to more than 14 feet.
Thompson's Sunday round meant a great deal to his season as well.
Carding a 66, tied for second-best final round in the Panama Championship, Thompson had a 10-hole stretch in which he carded eight birdies, a bogey and a par. He finished the tournament 2-under par, five shots behind winner Scott Langley.
A Lawrence resident, Thompson earned an $18,900 check, which vaulted him into 25th play on the Web.com money list three tournaments into the season.
"I can set a schedule for the rest of the year now," said Thompson, who will next play in the El Bosque Mexico Championship (March 8-11).
By making it through Q school, Thompson had earned a guaranteed spot in the first eight events of the season. His winnings Sunday give him enough to ensure a spot the rest of the way. The top 25 finishers on the money list at season's end earn cards for the PGA tour and the top 75 retain their spots on the Web.com tour.
Woodland survived a triple-bogey Friday, his only score of worse than bogey for the tournament. That was the same day that Thompson had to use a 3-wood for his final three tee shots because his caddie, a 15-year-old from Panama, discovered that his driver was broken.
"It's kind of a mystery," Thompson said. "My caddie pulled it out of the bag and the head came off the shaft."
Thompson uses a Callaway driver, but for the final two rounds borrowed a TaylorMade from friend Chip Lynn, who had missed the cut. He made it work for him.
From Arizona to Panama, it was one Super Sunday for KU golfers.