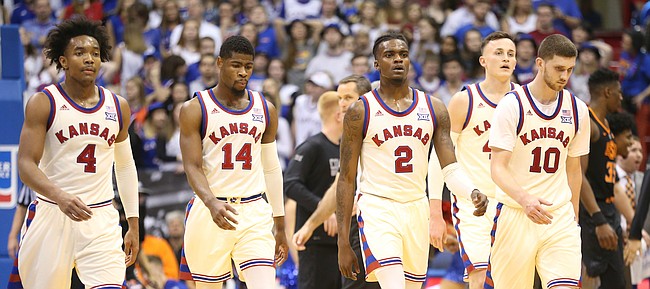 The goal coming into Saturday's 84-79 home loss to Oklahoma State was for the Kansas men's basketball team to find a way to bring back to Allen Fieldhouse the same kind of energy, effort and focus that had staked them to a 4-1 start on the road during Big 12 play.
It didn't happen.
Instead of playing to the home crowd and using 3-point shots, big time blocks and highlight-reel slam dunks to incite an Allen Fieldhouse riot, the Jayhawks fell behind early, dug a hole the size of the Grand Canyon and used a rope ladder to try to climb out.
It almost happened, of course. Because that's just what this team does. But this time, instead of flipping the switch in time to save the day, the Jayhawks watched Oklahoma State make all the plays late and marched back to the locker room stewing over their third Allen Fieldhouse loss of the 2017-18 season.
It marked the first time since KU dropped three games in their home venue during the 1998-99 season that Kansas had lost three at Allen Fieldhouse. The 1993-94 team also lost three games in Allen Fieldhouse.
To put that number in even greater perspective, the Jayhawks lost just four times total at Allen Fieldhouse during a stretch of 10 seasons from 2007-08 through 2016-17.
"It's very frustrating, you know," said Graham, who lost for the fourth time at Allen Fieldhouse, three this season and just once during his first three seasons combined. "You're supposed to win your home games and it's supposed to be really tough on the road. We've have it flip-flopped this year. We just need to find a way to come out and crush teams like they put their foot on our throat (Saturday)."
While Kansas entered the game with the clear talent advantage, the Cowboys' winning recipe featured a handful of interesting facts.
• The 13-point halftime deficit, which seemed manageable given OSU's 18-point lead with 3:23 to play in the half, was KU's largest of the season and the biggest since West Virginia led by 14 in March of 2015.
• Oklahoma State's 51.6 percent shooting marked just the 27th time in 527 games during the Bill Self era that a Kansas opponent topped 50 percent for the game.
• In scoring 84 points, OSU became the fifth team to top 80 against the Jayhawks this season, something only three of Self's 15 KU teams have allowed.
Those weren't the only ingredients in OSU's upset. Far from it. But each played a big part in KU's latest loss and Self was far from surprised by any of it.
"We didn't do very many good things at all," Self said. "We got what we deserved."
Be that as it may, both Graham and Self were visibly bothered by the way Saturday's loss happened more than the end result.
"That was a tough one and one that we will certainly study and look back (at)," Self said. "It's one thing to get beat, but to get beat when the other team is obviously better (is tough)."
The key now will be for Kansas (18-5 overall, 7-3 Big 12) to find a way to prevent this year's team from becoming the first team since Roy Williams' first team in 1988-89 to lose four games at Allen Fieldhouse in the same season.
Easier said than done, according to Self, whose team will face another tough test on Tuesday night when TCU comes to town.
"TCU can beat us," Self said. "Anybody in this league can beat us. I've said that all along. This league is a monster when we talk about competitive teams. … We've got to figure out a way to get (the winning mentality) back and certainly I think it starts between the ears. We need to be more prepared to play. That's on me for not getting them ready. It's also on me for allowing us to be so soft. We've got to improve on that."