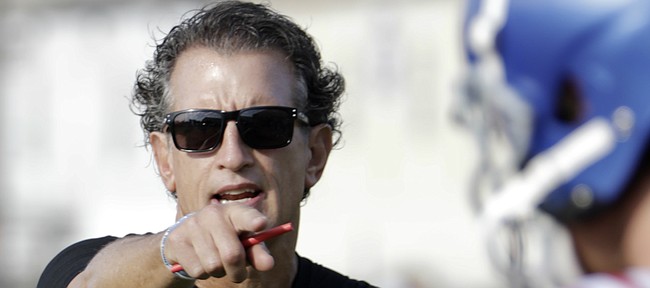 TCU has filed a motion for the university to be removed from a lawsuit that claimed head football coach Gary Patterson and some of his assistant coaches harassed former receiver Kolby Listenbee into returning from an injury too soon, according to the Fort Worth Star-Telegram.
TCU countered that Listenbee's lawsuit — which named then-TCU co-offensive coordinator Doug Meacham, now offensive coordinator and receivers coach at Kansas — should not include the university because the two doctors listed in it were independently working on health services contracts for TCU student-athletes.
Listenbee alleged that in 2015, following a September injury to the receiver, Patterson and other coaches "continuously pressured, humiliated and harassed" the player in hopes of getting him back in the lineup more quickly.
The university filed a petition for declaratory relief in which it claims Listenbee "failed to return to TCU to complete an exit exam," after completing the 2015 season.
Listenbee alleged that after injuring the cartilage that holds the pelvic bones together during a touchdown reception against SMU in September of 2015, he was pressured to return to the field before he fully recovered.
He missed three games during TCU's 11-2 season. Upon returning to the lineup in October that year, he played in the Horned Frogs' final seven games.
Listenbee's suit claims playing through the injury cut short his NFL career.