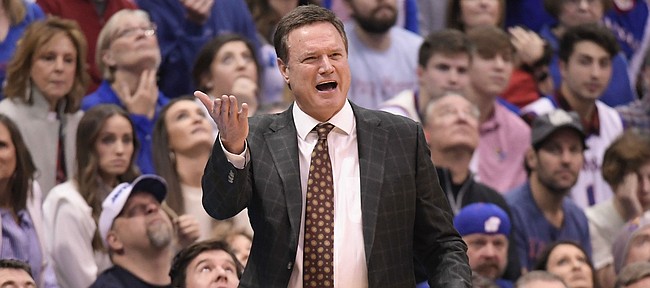 Although the second semester does not start for another three weeks, the winter break is officially over for the Kansas men's basketball players.
While many of their classmates are still home for the holidays and enjoying the freedom of having no schedules or responsibilities for most of the month, the fifth-ranked Jayhawks will play seven Big 12 basketball games before the first day of the spring semester arrives.
And while that will force the Jayhawks to be on their toes in terms of things like focus and preparation, it also will give them the better part of three weeks — save for a few mandatory off days — to really lock in on shifting to the next gear, with an eye on success in the Big 12 and peaking in the postseason.
"We really haven't had a chance to get into that as much as you would think," KU coach Bill Self said Monday. "We had almost a week of practice before Arizona State, but we really didn't add anything. And since we've been back, we've added a little bit, but, really, the majority of the practice sessions come from this point forward."
It's during that time, even with game prep mixed in there, that Self believes the Jayhawks (11-1) will be able to take their traditional step forward that typically comes over winter break.
"The first couple of practices after getting back is kind of review, get back in shape and you still, by NCAA rules, have to give them off a day a week, even during the break time, which I don't understand," Self explained. "So the reality of it is, we're just now getting into the practice time. I think we'll know a lot more in the next 10 or 12 days. That'll be our best practice sessions, I hope."
Dok update
With the Jayhawks enjoying an off day Sunday, Self said Monday that he had not seen KU junior Udoka Azubuike since his 20-minute return from an ankle injury that kept him out of five games before last Saturday.
And according to Self, that was good news because the KU coach saw all he needed from the 7-foot center against Eastern Michigan to know he's OK.
"I went recruiting Saturday night, and I haven't talked to him," Self said. "So I'm not going to approach like there's anything wrong at all. He played. He looked like he was close to 100 percent. This is 48 hours later, so why wouldn't he be even better? I'm not going to ask him how he's doing. He may say, 'Not very well.'"
Dotson honored
KU point guard Devon Dotson on Monday earned Big 12 Newcomer of the Week honors for his role in the Jayhawks' runaway win over Eastern Michigan last Saturday at Allen Fieldhouse.
Dotson, who has started all 12 KU games this season and is averaging 31.5 minutes per game, was 5-of-7 shooting with four assists, three steals, one blocked shot and three rebounds in the 87-63 win over the Eagles.
The Charlotte native's .714 shooting percentage was his best of the season and his three steals and blocked shot tied his season highs. Dotson has scored in double figures in each of his last two games and eight times total so far in 2018-19. He leads Kansas with 37 assist and his 18 steals are tied for first on the team.
Dotson becomes the fourth different Jayhawk to earn Big 12 weekly honors this season, joining redshirt junior Dedric Lawson, who has earned both player and newcomer of the week honors, senior Lagerald Vick, a two-time player of the week, and freshman Quentin Grimes, who was named the Big 12 newcomer of the week on Nov. 12.

Jayhawks still No. 5
It was a pretty uneventful final day of 2018 in the Associated Press poll, where the Jayhawks stayed in the No. 5 spot and the Top 12 remained unchanged.
Duke, Michigan, Tennessee and Virginia, in spots 1-4, fell in line ahead of KU in holding onto their spots from a week ago, with Nevada, Gonzaga, Michigan State, Florida State, Virginia Tech, Texas Tech and Auburn filling out spots 6-12.
Kentucky, which jumped three spots from No. 16, was the first team to shake things up in this week's poll, which included three Big 12 programs — KU, Texas Tech and No. 23 Oklahoma, which climbed two spots from a week ago and will travel to Lawrence for the Big 12 opener on Wednesday night.