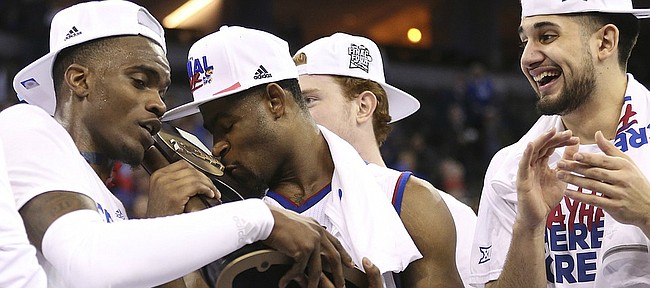 Another year has come and gone for Kansas athletics and, like so many years before it, 2018 offered a wide range of good moments and bad ones, memorable names and faces, and a few accomplishments that will live in KU's history books forever.
When reflecting back on the past 12 months of happenings for the Jayhawks, it's mostly highlights that come to mind. And the following list provides a quick glimpse back at the year that was in KU sports, moments and memories that will have people talking well into 2019 and beyond.
1 – Jayhawks make another Final Four run
Sure, it has happened 15 times in school history, but each Final Four the Jayhawks make is a new experience unto itself and is treated in Lawrence like the first time all over again.
That certainly was the case in 2018, when the Jayhawks entered the NCAA Tournament as a 1 seed for the 14th time, yet were being counted out by national pundits, who picked No. 2 seed Duke and No. 3 Michigan State to come out of the Midwest regional. However, behind some red-hot shooting from Malik Newman, Svi Mykhailiuk, Lagerald Vick and Devonte' Graham, the Jayhawks rolled to the Elite Eight for the third year in a row and knocked off Duke in overtime in Omaha — in an all-time classic game — to advance to San Antonio and the Final Four for the first time since 2012.
The Jayhawks lost to eventual champ Villanova in the national semifinal, but racked up a ton of memorable moments along the way.
2 – College basketball corruption probe
As good as the Final Four run was, a cloud of sorts hung around the KU program for most of 2018, with the federal investigation into corruption in college basketball being part of the story throughout the year.
While the KU program was mentioned in a pair of indictments that set the stage for the probe, a three-week trial in October in New York City was where things really came to a head. Former Adidas employees and recruiting middlemen took the stand and, in one way or another, often mentioned KU, its players or coaches in their testimony. On Oct. 24, a guilty verdict was handed out, signaling that the jury believed that the men on trial acted alone and without any kind of assistance from any college coaches.
While the end of the trial put things on the back burner a bit, KU sophomore Silvio De Sousa, whose guardian was alleged to have taken money from both Under Armour and Adidas during his recruitment, was withheld from competition throughout the nonconference portion of KU's 2018-19 schedule and enters the new year uncertain of his status for Big 12 play.
In addition, former KU forward Billy Preston, who came to KU before the 2017-18 season as a highly touted, five-star prospect from Oak Hill Academy, also was held out as KU and the NCAA sought clarity on payment for the car he was driving during a one-car, noninjury accident. Preston left KU without ever playing a single official game for the Jayhawks.
3 – Beaty fired, Miles hired
Despite making it through nine games of his fourth season — a notable feat given the fact that KU's previous two head coaches did not even make it halfway through a third — Kansas football coach David Beaty was fired with three games to play during a 3-9 2018 season.
Beaty was given the opportunity to coach out the remainder of the season and, despite being more competitive in his final three games than they were during most of his time as their head coach, the Jayhawks lost all three games to bring Beaty's final record at Kansas to 6-42 overall and 2-34 in Big 12 play.
With one week still to play, new Kansas Athletic Director Jeff Long, after a two-week search, introduced former LSU coach Les Miles as the Jayhawks' next coach, six days before the final regular-season game of 2018.
Miles, who won a national championship at LSU in 2007, was introduced on Nov. 18 and immediately started trying to put together his coaching staff and making up for lost time in recruiting.
The Miles hire — as well as the Beaty firing — were celebrated loudly by disgruntled KU football fans who had grown tired of KU's permanent residence in the basement of the Big 12 standings since Mark Mangino's final year in 2009.
4 – Zenger fired, Jeff Long hired
Several months before the start of the 2018 football season and nearly six months before Beaty was let go, Kansas Athletic Director Sheahon Zenger, who was in his seventh year at KU, also was fired by KU Chancellor Douglas Girod, who said at the time, "... the department continues to face a number of challenges, and progress in key areas has been elusive. To achieve the level of success we need and expect, a change in leadership is necessary."
While KU enjoyed success in a handful of nonrevenue sports and continued to compete at a high level in men's basketball during Zenger's time in charge, his two football hires — Charlie Weis and Beaty — sent the program in the wrong direction and ultimately cost him.
After a two-month search to find Zenger's replacement, Jeff Long was introduced as KU's next athletic director in mid-July.
Long came to KU after several years as the AD at Arkansas and with experience at Michigan, Pitt and Oklahoma on his resume.
5 – Pooka Magic
Although the 2018 Kansas football season led to another sub-par record, it also marked the birth of something known as Pooka Magic.
Named for dynamic freshman running back Pooka Williams, the latest in a line of Louisiana recruits who have breathed life into the KU program, Pooka Magic single-handedly kept KU in games and made the Jayhawks' offense one of its best and most exciting units in years.
The 5-foot-10, 170-pound running back from New Orleans earned first team all-Big 12 honors by the Associated Press and also was named the Big 12 Conference's newcomer of the year after racking up nearly 1,500 total yards and 10 touchdowns as a true freshman.
In early December, that "magic" lost its luster when Williams was arrested and charged with domestic battery, which earned him an immediate suspension from the team. His status remains uncertain heading into 2019 and neither Miles nor Williams has spoken about the incident.
6 – KU football snaps road losing streak
It had been one of the biggest eyesores in a program full of them, and in 2018, it finally was put to bed.
KU's 31-7, Week 2 win at Central Michigan snapped a 46-game road losing streak, which dated back to September of 2009 and was the longest in college football history among major college programs.
The win came after a disheartening, season-opening home loss to Nicholls State, but brought a momentary burst of sunshine to a program that had experienced nothing but disappointment on the road for the past decade.
"I'm excited to be on the team that broke it for sure," said Joe Dineen Jr., KU linebacker, first team all-Big 12 and second-team All-American, after the victory. "That's crazy. It's a long time coming and I'm really excited for our team and really excited for our fans. Big-time win."
7 – Vick returns after initially leaving
Fresh off of helping the Jayhawks reach the Final Four, junior guard Lagerald Vick announced his intention to leave Kansas early in pursuit of a professional career.
As the weeks went on, however, and Vick's prospects of being drafted into the NBA looked bleaker, the Memphis native began exploring the idea of a return to KU for his senior season.
With the help of his mother, LaLa, Vick made sure to maintain his eligibility the entire time — first, by not hiring an agent and, later, by withdrawing his name from the underclassmen draft pool by the proper date.
That paved the way for Self and the Vick family to open up discussions about a return, and on June 29, Self and KU announced that Vick would be back. His return came with a list of rules and requirements — one of which was to wear a new number (24) since his old number (2) was already taken — and the senior sharp-shooter, in 12 games so far, ranks second on the team in scoring (15.8 points per game), leads the team in 3-point shooting at 47 percent and has recorded four games of 27 points or more in helping the Jayhawks race out to an 11-1 start.
8 – Devonte' Graham racks up honors
Nobody expected that following in the footsteps of National Player of the Year Frank Mason III to be easy, but KU senior Devonte' Graham did it with flash and style.
After taking the reins from Mason, with whom he teamed to help Kansas reach back-to-back Elite Eights in 2016 and 2017, Graham took over as the unquestioned leader and face of the 2017-18 Jayhawks, turning in a monster season along the way.
After helping guide the Jayhawks to an NCAA-record 14th consecutive Big 12 regular-season title, Graham was named the Big 12 Player of the Year after finishing the regular season with averages of 17.6 points, 7.2 assists and 4.0 rebounds per game. Not long after that, Graham started racking up the national awards, earning consensus first-team All-American honors and becoming the 30th consensus first-team All-American in KU history, which ranks first among all Division I basketball programs.
A couple of months later, Graham joined longtime friend and teammate Svi Mykhailiuk in becoming the 81st and 82nd KU players drafted into the NBA, 24 of whom have come under Self's guidance.
9 – Sharon Lokedi just keeps winning
Those athletes and coaches in the Big 12 track and cross-country circles sure will be happy to see KU star Sharon Lokedi finally graduate later this year.
That's because for the past several years, Lokedi has won at a rapid rate, racking up several KU firsts and breaking many of her own records in the process.
Her run of incredible success continued in 2018, when Lokedi, a native of Kenya, recorded two first-team All-American honors at the 2018 NCAA Indoor Championships; became the Big 12 Indoor champion in the 3,000- and 5,000-meter runs; helped break the KU women's indoor distance medley relay record; won the 5,000- and 10,000-meter runs at the Big 12 championships and qualified for nationals in the 5,000; broke a 30-year-old meet record in the 10,000 at the NCAA Outdoor Championships to win her first career national title and qualified for a fourth consecutive season for the NCAA Cross Country Championship, where she finished 45th overall, just five spots shy of earning All-American status.
10 – Going For More
While several individuals who represent the Jayhawks competed in postseason events in 2018, three Kansas teams joined KU's men's basketball squad in competing for the big team prize at the end of their seasons.
KU's men's golf team advanced all the way to the NCAA championship in May and finished 23rd in the team standings after three rounds at Karsten Creek Golf Club, in Stillwater, Okla.
Seniors Daniel Sutton, who just missed out on advancing as an individual, and Daniel Hudson finished in the top 50 on the leaderboard.
The Jayhawks, with the help of sophomore Andy Spencer's 8-under showing and top-five finish a week earlier, won a regional championship in Stockton, Calif., to qualify for the NCAA finals. It marked the 10th team victory for sixth-year KU golf coach Jamie Bermel.
The Kansas women's soccer team reached the NCAA Tournament's second round for the second time in three seasons with a 2-1 overtime thriller against St. Louis.
Junior Katie McClure produced both scores for KU, including the golden goal in the 104th minute.
Coach Mark Francis' team finished 12-6-3 on the year and went 5-4 in regular season Big 12 play.
And the Kansas women's tennis team picked up the program's first NCAA Tournament victory in 19 years in May, when the Jayhawks beat Denver 4-3 in Malibu, Calif.
Sophomore Maria Toran Ribes' three-set win sealed it for coach Todd Chapman's group and KU finished the season 16-7 after losing to Pepperdine in the second round of the tournament.