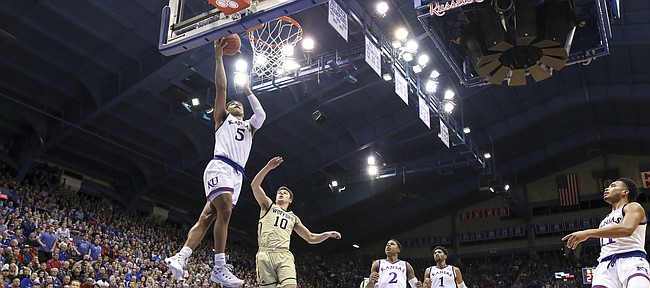 Ranked No. 5 in the nation and boasting an 11-1 record entering conference play, the Kansas basketball team, for as well as it has played, has not yet exhibited its full capacity on the court.
The Jayhawks have a potential to play at an even higher level, and Quentin Grimes is talented enough to take them there.
A sturdy 6-foot-5 freshman guard, Grimes arrived at KU as a McDonald's All-American and potential top-10 pick in the 2019 NBA Draft.
However, after bursting onto the scene with 21 points in his college debut against Michigan State, Grimes' production proved unpredictable through the majority of the nonconference schedule. The Woodlands, Texas, native put up 10 points in his second game, against Vermont, only to finish in double figures just one more time in the following nine games.
KU's Saturday victory over Eastern Michigan, though, seemed to be a beacon that he's adapting. Grimes' 16 points were the most for him since the season opener, and in going 2 for 4 from 3-point range he connected on multiple shots from beyond the arc for the first time since KU's victory over Vermont on Nov. 12.
Although Grimes scored nine of his points (a 3-pointer, four free throws and a layup) in the final seven minutes against EMU, with Kansas in control, experiencing those small successes should be constructive for the freshman shooting guard's progress.
Head coach Bill Self appreciated that Grimes both knocked down a couple of 3-pointers and attacked the paint in KU's final warmup before Big 12 play.
"I thought he did some good things. I do think there's value," Self said of making some strides in the game's latter stages.
Grimes' teammates took note of his latest showing, too.
"He was great," fellow freshman guard Devon Dotson offered. "He made the right plays when it was needed and shot the ball pretty well."
KU's best player, junior forward Dedric Lawson, complimented Grimes for how the freshman kept practicing at a high level through his ups and downs. During those non-televised situations when players put in the work that helps them shine, Lawson said Grimes continually knocked down shots and got to the lane before adding, "I don't know if people know this," while lauding the guard's passing skills and overall creativity on offense.
According to Lawson, it was "definitely important" to see Grimes go 4 for 6 from the floor and score 16 points.
"It's about time for Quentin to be consistent with scoring and I have faith in Quentin," Lawson made sure to point out, "to go out there and give us that every night."
It wasn't too long ago that Self was subbing Grimes (8.1 points per game, 13-for-42 3-point shooting on the season) out of games because of his offensive mistakes and/or struggles. Never one to overreact to one game, KU's 16th-year head coach, while bullish on Grimes' improvements, wasn't ready to declare the freshman past the miscues that characterized his mercurial start to the season.
"They played zone every possession," Self added of EMU and trying to evaluate Grimes' headway off of one game alone, "so all the shots come off the catch as opposed to attacking the basket like you'll have to against somebody who plays man-to-man, which OU will."
With No. 23 Oklahoma visiting Allen Fieldhouse on Wednesday, the freshman couldn't have picked a much better time to begin rounding into form.
The man who has a better handle on Grimes' growth than anyone, Self said the freshman guard has practiced better of late and the coach senses Grimes playing with not only confidence but also momentum as the Jayhawks hit their league schedule.
"You're not going to expect a guy to come out and make every shot and all that stuff. But he's due to have one of those games," Self predicted, "where he gets on a little bit of a roll."
Grimes' basketball barometer is pointing in the right direction. A breakthrough game seems to be on the horizon, and once the freshman experiences one it should further bolster his confidence.
A dependable Grimes is just what KU needs to take another step toward becoming an impressive and more complete team, one capable of living up to the program's always lofty March standards.