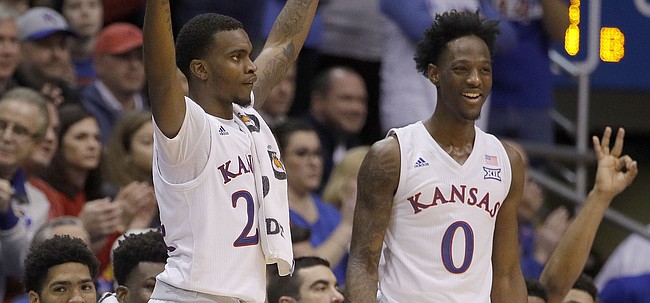 Saturday's return of KU junior Udoka Azubuike had ripple effects felt throughout the Jayhawks' lineup.
One day after Kansas basketball coach Bill Self talked about easing up on the high volume of minutes he had been giving KU guard Marcus Garrett in Azubuike's absence, the sophomore from Dallas returned to the bench for the opening tip and played just 18 minutes in the Jayhawks' 87-63 win over Eastern Michigan at Allen Fieldhouse.
A steady option off the bench if ever there were one, the 6-foot-5 Garrett, who had played mostly at the 4 with Azubuike injured, was back in a primarily perimeter role in KU's win over the Eagles. And he figures to stay there for the foreseeable future.
"Oh yeah. He's always a guard," Self said. "You know, I viewed Svi (Mykhailiuk) as a perimeter player last year when he defended the 4. So (Garrett's) a guard. He didn't play as well today, but I do think he's a really good player."
In his first sub-20-minute game since the season opener, Garrett attempted just two shots — 0-for-2 from 3-point range — and hit one of two free throws while grabbing four rebounds and dishing three assists to go along with three turnovers.
Photo Gallery
Kansas basketball vs. Eastern Michigan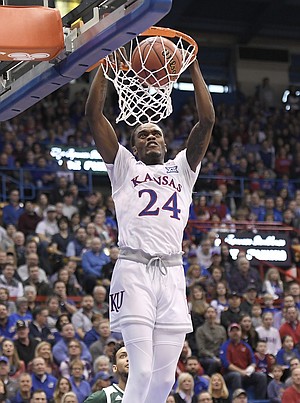 View a gallery of images from Saturday afternoon's game between the Jayhawks and Eagles at Allen Fieldhouse.
After one assist, a perfect entry pass to from the left wing to Azubuike in the paint on the far side of the lane in the second half, it was Self from the bench, and not Azubuike, who pointed at Garrett as if to say, "Nice pass," while clapping with approval.
Selfless plays such as those, and Garrett's knack for caring first and foremost about the success of the team, make him the perfect flexibility option for Self to use as he sees fit.
"Whether or not he starts or doesn't start, I do think he's better in the role that we have him now rather than being a starter and playing 35 (minutes) a game," Self said. "I don't think that's best for our team. Even though it's great for him, I'm not sure that'll play out to be good for us."
One big reason behind that premise is Self's desire to see exactly what his team looks like when Azubuike and leading scorer Dedric Lawson, who still is averaging 19.6 points per game despite an eight-point outing on Saturday, are on the floor together.
Although the Jayhawks had six games to show that look before Azubuike's ankle injury, they just barely scratched the surface of what that can mean for KU's offense.
"We need to see Dedric and Dok play together because that's going to be the guys that are out there the vast majority of minutes," Self explained Saturday.
That does not mean Self will totally abandon any four-guard looks. It just means that when all other circumstances allow for it, Azubuike and Lawson will be out there together and fifth-ranked Kansas (11-1) will adapt from there as necessary.

"I think it's our best offensive team, to play two bigs," Self said. "And I think it's arguably not our best defensive team so we'll probably just have to wait, depending on (the) situation. Like against OU, that'll be a lot harder guard because they play (Brady) Manek at the 4. So now ball screens become a factor and things like that. So we'll see how that plays out."
Barring any setbacks between now and Wednesday, that's how the Jayhawks will start defense of their 14 consecutive Big 12 regular season titles when No. 25 Oklahoma comes to Allen Fieldhouse for the 2018-19 conference opener for both teams. Tip time is slated for 8 p.m. on ESPN2.