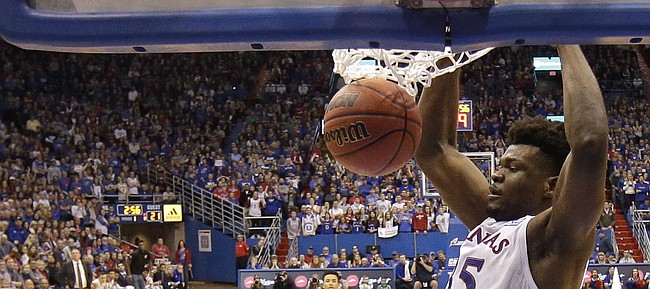 With the new year and the Jayhawks' Big 12 schedule on the horizon, Kansas basketball coach Bill Self isn't ready to completely abandon the concept of a four-guard lineup and leave it behind in 2018.
However, KU's two most effective offensive players happen to be bigs, so Self will lean on a less modern look and not think twice about doing so.
After a close to five-game stretch of Dedric Lawson serving as the focal point and lone big man in the offense, Udoka Azubuike is back and ready to command the paint, as the massive center displayed while crushing Eastern Michigan for 23 points and nine rebounds in 20 minutes on Saturday.
Not many teams can boast a lineup featuring both a 6-foot-9 potential All-American such as Lawson and a powerful 7-footer like Azubuike. So Self is wisely banking on the advantages they bring rather than worrying too much about how KU will matchup with teams that use four perimeter players and one post.
Photo Gallery
Kansas basketball vs. Eastern Michigan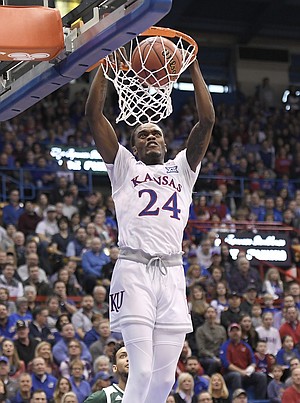 View a gallery of images from Saturday afternoon's game between the Jayhawks and Eagles at Allen Fieldhouse.
"I think it's our best offensive team to play two bigs," Self said. "And I think arguably not our best defensive team. So we'll probably just have to wait, depending on the situation."
When KU (11-1) does go with four guards, it will be out of necessity. For example: Lawson or Azubuike is in foul trouble or KU has to get stops against an opponent going small.
No matter the situation, sophomore sixth man Marcus Garrett is the man for that fourth guard job, because of his sound floor game and defensive versatility.
But most of the time, as was the case in KU's first six games, before Azubuike sprained his right ankle, and on Saturday when the junior center came back, the Jayhawks will ride their two frontcourt starters as far as that duo can carry them.
After going more than three weeks with a four-guard look while Azubuike recovered, freshman point guard Devon Dotson noticed the contrast upon the center's return. Dotson thought a two-big approach went smoothly, in part, because EMU plays a half-court zone.
"Dedric can play the high post and Dok is down at the block. So once we get it to Dedric, you can dump it off to Dok for the lob," said Dotson, who finished with 15 points and four assists. "I feel like we did that because of the zone and it worked out really well."
Most opponents won't play a zone defense all game, though. So smooth sailing isn't guaranteed.
"Right, right. You just have to adjust," Dotson said of facing some new challenges against man-to-man defenses. "And when Dok gets his feet back under him he'll be fine. He was great (Saturday) and it's just us."
As Dotson alluded to, this traditional two-big, three-guard lineup isn't a midseason revolution for Kansas. It's the configuration Self figured would serve the Jayhawks best all along.
With Saturday's victory over Eastern Michigan, the starting lineup of Dotson, Quentin Grimes, Lagerald Vick, Lawson and Azubuike improved to 7-0 on the season.
Lawson doesn't foresee the Jayhawks having too difficult of an adjustment when they face the man defenses of Big 12 foes.
"We'll just get back to playing how we were playing earlier in the year," Lawson said. "That high-low action, guys come up, drive and knock down the open shot when they're given, things like that."
The true trials for KU are likely to come on the defensive end of the floor, as soon as Wednesday's conference opener against Oklahoma (11-1).
Self, during his postgame comments Saturday, already foreshadowed what sort of challenges the Sooners could provide, because OU plays 6-9 Brady Manek, a tall wing who will gladly fire away from 3-point range, at the 4 spot. Throw in some on-ball screens against KU bigs on the perimeter and you've come up with a bona fide test for Lawson and Azubuike.
Whether KU's starting bigs pass or fail in those situations in the weeks ahead will ultimately determine the extent to which Self uses a four-guard lineup, which this year lacks the 3-point weaponry of recent seasons, when shooters such as Frank Mason III, Devonte' Graham and Svi Mykhailiuk could bail the offense out.
If the Jayhawks can prove themselves relatively successful on defense with Lawson and Azbuike playing together, it will allow Self to stick with his most impactful offensive lineup.