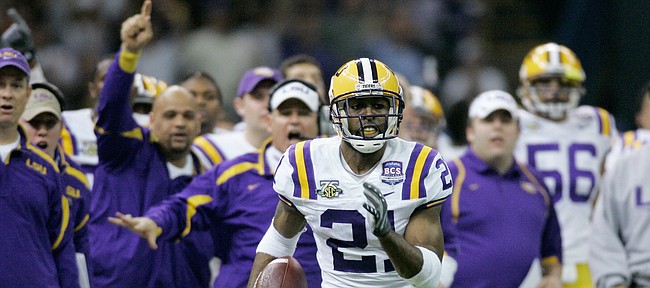 Back in his playing days at LSU, when Chevis Jackson was a cornerback helping the Tigers and their head coach Les Miles win both an SEC and BCS championship, he didn't exactly spend any of his spare time pondering the idea of one day becoming Miles' colleague.
But Jackson's career got on that track back in 2015, when LSU needed a graduate assistant. And now, Miles and Jackson are back together at Kansas, where the one-time All-SEC corner will coach the Jayhawks' defensive backs.
"I never really thought about it actually. It just kind of happened," Jackson admitted to Brian Hanni, KU director of broadcasting and play-by-play voice of the Jayhawks, during a recent interview.
Once Jackson's NFL career came to a close, he went to South Alabama to work on his master's degree and become a graduate assistant from 2013-14.
KU's new defensive backs coach, who has not yet been made available for interviews with local media outlets, told Hanni he wasn't expecting a few years back for LSU defensive backs coach Corey Raymond to call him up and ask him to return to Baton Rouge, La., as a grad assistant on Miles' staff.
"It ended up being a good thing for me, being under him, coaching, just seeing the other side of him," Jackson said of his first stint on a Miles staff. "It's totally different."
Now, Jackson will be working even more closely with Miles at KU. Even before he became a full-time assistant in Lawrence, Jackson said that part of his recruiting responsibilities at his last job with Ball State (2016-18) included Louisiana. So he came to Kansas already aware of a couple of the team's defensive backs.
Jackson knew all about the prep exploits of two players he'll now get to coach, safety Mike Lee and cornerback Corione Harris, both from New Orleans' Landry-Walker High.
"We have a good group, a solid group," Jackson said of KU's secondary for 2019. "A lot of retuning starters and everything like that."
Along with Lee and Harris, the Jayhawks also return Bryce Torneden, Hasan Defense, Ricky Thomas and others in the secondary.
On the recruiting front, Jackson said he'll be on the lookout for defensive backs that remind him of himself when he was making plays in LSU's secondary. The 33-year-old assistant went as far as to say he wants to make Kansas the "DBU" of the Big 12.
"So I just want the guys that are long, physical and can tackle. Guys who can cover," Jackson explained, adding that the ability to play multiple positions would help a prospect's chances. "The more things you can do, the better."
During Jackson's three years as a regular contributor at LSU, Miles' Tigers went 34-6 from 2005-07. The Jayhawks, coming off nine consecutive seasons of three or fewer wins, are a long way from racking up those types of numbers.
Still, Jackson is excited about this next stage of his career and the opportunity to work for his former head coach.
"We had a good tenure together," Jackson said, "and it's great to be back reunited."