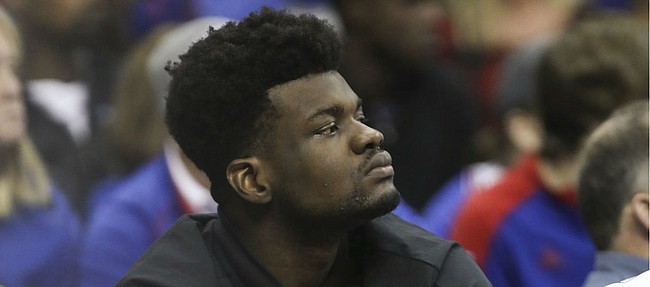 If injured junior Udoka Azubuike returns to action on Saturday, when the fifth-ranked Kansas basketball team hosts Eastern Michigan to close out the calendar year, he won't be playing at 100 percent.
KU coach Bill Self said on Thursday — during a break in the holiday kids clinic that attracted more than 500 young hoopers — that Azubuike was still recovering from the right ankle sprain that cost him most of the Wofford game and the four games that followed during the past few weeks.
Azubuike, who has slowly been making progress and had hoped to return before the Jayhawks open Big 12 play on Tuesday, practiced Wednesday night and again on Thursday morning, but was not able to go full speed.
"He's out there (practicing), but he's probably 60 or 70 percent still," Self said. "I don't think he trusts it; I don't think he's quite ready to play in a game yet. Hopefully, he can play Saturday, but, if he does, I don't think he'll be 100 percent."
With Azubuike out, the Jayhawks have started sophomore guard Marcus Garrett at the 4 and junior forward Dedric Lawson at the 5, electing to play small instead of trying to plug junior forward Mitch Lightfoot or freshman big man David McCormack into the starting lineup.
Both Lightfoot and McCormack have seen their minutes increase in Azubuike's absence, but Self said he was eager to get Azubuike back so the Jayhawks (10-1) can have a better idea of what kind of team they'll take into Big 12 play, where they will be gunning for an NCAA record 15th consecutive Big 12 regular-season title.
"I'd like for him to get out there just because he needs rhythm," Self said. "Eastern Michigan can play about as big as anybody we've played so far, so it'd be nice to have another body out there and it'd be nice just for him to get some reps going into conference play, even if they are limited."
Self said the next couple of days would determine Azubuike's availability for Saturday and the goal, in a big-picture sense, is to crawl closer to that 100 percent mark by the end of next week.
"He was better this morning," said Self, noting that Azubuike was able to practice both days since the Jayhawks returned from winter break. "Hopefully, in the next week or so, that'll be the case."
Counting the Wofford game, when Azubuike played just four minutes before injuring the ankle, the Jayahwks are 4-1 without Azubuike, who started all seven games he played in before the injury and is averaging 12.9 points and 6.1 rebounds in 20.1 minutes per game.