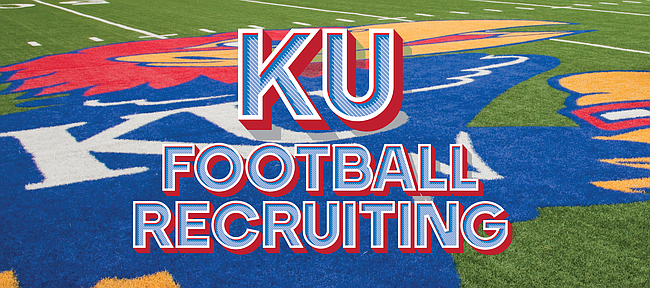 While much of the buzz surrounding the Kansas football program this past week focused on the commitments and signings Les Miles and his staff were able to land for the Class of 2019, KU's coaches also put in some work for the extended future of the program.
Even as many high school and junior college prospects were signing their national letters of intent for next season, other prospects picked up offers from Miles and the Jayhawks — both for 2019 and 2020.
In some cases, KU's new coaches simply established with younger recruits who had been offered a scholarship by the previous coaching regime that Miles and his assistants were still interested.
That's what happened when Free State High Class of 2020 offensive tackle Turner Corcoran spoke with KU coaches this week.
A 6-foot-6, four-star offensive lineman according to Rivals, Corcoran tweeted out on Wednesday that he had been re-offered by KU. Corcoran mentioned Miles, offensive coordinator Chip Lindsey and offensive line coach Luke Meadows in the post.
Corcoran is considered one of the top offensive tackle prospects in the nation, and previously picked up offers from many marquee programs, including Auburn, Clemson, Michigan, Notre Dame, Nebraska, Georgia and others.
Similar to Corcoran, a tweet came out Wednesday from Ky Thomas, an all-purpose running back from Topeka, announcing KU's interest.
Rivals rates the 5-11 Class of 2020 prospect from Topeka High as a three-star recruit.
Hayden Pauls, a three-star offensive tackle from Emporia, tweeted Thursday he received a re-offer from KU, as well.
Here's a rundown of some other recruiting targets who recently received scholarship offers from KU:
• Velton Gardner — 3-star athlete, Dallas (2019)
• Ray Vohasek — 3-star juco DE, College of Dupage (2019)
• Ryan Fitzgerald — 2-star kicker, Moultrie, Ga. (2019)
• Zack Sessa — kicker, Venice, Fla. (2019)
• Robby Ashford — 4-star dual-threat QB, Hoover, Ala. (2020)
• Brendon Lewis — 3-star dual-threat QB, Melissa, Texas (2020)
• Quinshone Bright — 3-star RB, Cedar Hill, Texas (2020)
• Nate Matlack — 3-star DE, Olathe East (2020)
• Savion Williams — 2-star WR, Marshall, Texas (2020)
• Kevontre Bradford — Athlete, Lancaster, Texas (2020)
Former Kansas D.C. Young retires
The defensive coordinator at Tulsa the past four years, former KU football D.C. Bill Young announced his retirement this week.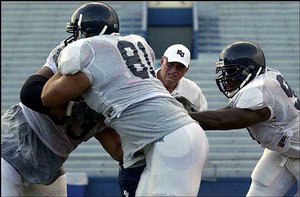 Young worked for head coach Mark Mangino at Kansas during one of the most successful stretches in program history.
Young was the Jayhawks' defensive coordinator in three different bowl games: Tangerine (2003), Fort Worth (2005) and Orange (2007).
"Coaching has been good to me, a great experience," Young told the Tulsa World. "I can't imagine doing anything else and having enjoyed it as much. I started off as a high school coach, then worked my way into college. It's been fantastic. I've had the opportunity to work with some unbelievably good coaches and people. I think a little bit of all of them rubbed off on me, and hopefully helped me become a better coach."
Through the years, Young also worked at Oklahoma State, Miami, USC, Ohio State and Arizona State, as well as with the Detroit Lions.