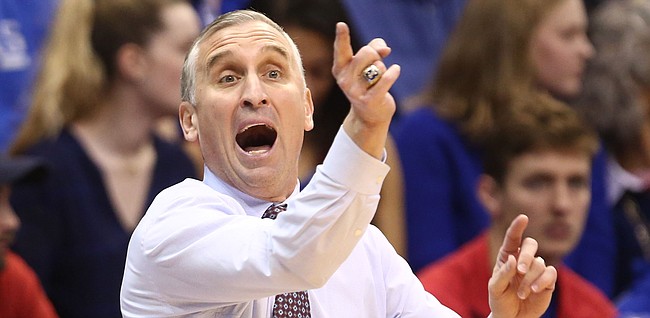 Tempe, Ariz. — It's been since 1981 and has only happened once in school history.
Suffice it to say, beating — or even just playing — the No. 1 ranked college basketball team in the country does not happen all that often around the Arizona State campus.
But that's exactly what the 18th-ranked Sun Devils (8-2) will get an opportunity to do at 8 p.m. Saturday night, when top-ranked and unbeaten Kansas (10-0) comes to town for a Top 20 clash at Wells Fargo Arena.
Not that anyone needed the reminder, but there has been a noticeable buzz surrounding the program this week, with the showdown and rematch of last year's ASU win at Allen Fieldhouse looming.
"Since preseason, once our nonconference schedule came out and everybody saw we had Kansas at home, it's been the most-talked-about game all year," senior transfer Zylan Cheatham said Thursday. "It doesn't hurt that we're both ranked right now. They're No. 1, undefeated, so I'm expecting it to be a big time game, big time atmosphere, big time players doing what we love."
ASU coach Bobby Hurley said the opportunity to face Kansas was a chance for his players, along with everyone in and around Phoenix, to see what elite-level basketball looks like, up close and personal.
"I just think it's a great thing for our fans, for the university, for college basketball," Hurley said of having the country's top-ranked team in town. "It's a spotlight game. It's going to be a big time atmosphere and our players are juiced for it."
Asked to elaborate on what Bill Self's squad brings to the matchup, Hurley talked first of KU's consistent success.
"It's special because of what they've done and what they're all about," he said. "Their program is what a lot of programs are striving to be on a consistent basis. And to see that opponent here and have an opportunity to play them is a great experience for us.
"They bring so much to the table. The ranking is one thing, but (also) the players they have in the locker room and a Hall of Fame coach. … I'm so looking forward to it. I know what it'll be. I know what the energy and electricity (will be) in the crowd and we've got to hold up our end of the bargain. … We want to see two heavyweights going at it and we're looking forward to seeing where we stand."
Added Cheatham, who redshirted last season, was still in Phoenix when ASU upset KU in Lawrence and also was a part of a San Diego State team that played No. 1 Kansas a few years back: "Obviously we know what's at stake (and) we know what kind of team we've got coming in here. Two ranked teams battling it out, Saturday evening, prime time hours; I think it's going to be a show."