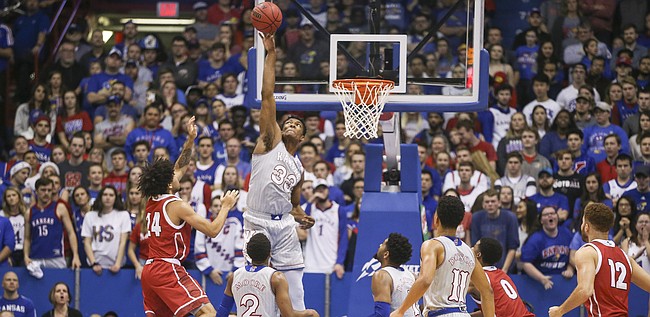 For a basketball coach who values attitude and effort over just about everything, what Kansas coach Bill Self saw from freshman forward David McCormack during Tuesday's 89-53 victory over South Dakota at Allen Fieldhouse was about as good as it gets.
Of course, given that Self has been around McCormack routinely, morning, noon and night, since August, the freshman's breakout performance was not all that unexpected.
"(There's) the old adage, your performance is usually a direct reflection of your attitude and, for a kid that hasn't played (and was) a McDonald's All-American and everything, his attitude's been a 10 every day," Self said of McCormack after top-ranked Kansas cruised to an easy win thanks to a strong second half. "It's really good to see those guys stay positive whenever things haven't gone their way from a playing time standpoint."
Prior to Tuesday's tipoff, Self had an inkling that some of his deeper reserves could get a few extra minutes provided the Jayhawks could take care of business against the Coyotes.
Photo Gallery
Kansas basketball v. South Dakota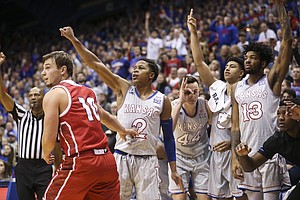 View a gallery of images from Tuesday night's game between the Jayhawks and Coyotes at Allen Fieldhouse.
As it turned out, McCormack actually played a key role in putting away a scrappy South Dakota team instead of just benefitting from the lopsided score on the scoreboard.
"The second half, there's no question that we were at our best when David and Charlie were both in the game," Self said after the victory.
For sophomore Charlie Moore, the extended playing time was nothing new, even if hitting six of nine from 3-point range was. Through his first nine games as a Jayhawk, the Cal transfer and back-up point guard had played at least 16 minutes seven times, making his 21-minute outing against the Coyotes rather routine.
But for McCormack, the 17-minute sweat session was not only a season high but also more minutes than he had played in the past six games combined. Talk about a good night for the step counter on the old Fitbit.
The 6-foot-10, 265-pound bruiser from Norfolk, Va., has talked team-first since the day he arrived on campus. And even Tuesday, after tallying 12 points, six rebounds and two blocks while drawing serious praise from his head coach, McCormack was more interested in how his play impacted the team's goals rather than celebrating his strong effort by smiling back at himself in the mirror.
Not that he's had any trouble keeping his head up even while struggling to find minutes and flow on game nights. McCormack credits his teammates for at least part of his positivity and has said repeatedly that he enjoys the idea of embracing the grind on the way to becoming a better all-around basketball player.
"When you've got teammates like I do, they give you a positive mindset always," McCormack said. "So if you start out slow they're always going to cheer you on and get you in the flow rather quickly."
Nothing about McCormack's nine first-half minutes suggested that big things were ahead in the second half. He played too fast, missed three of the four shots he attempted and looked, more or less, like the same player KU fans had seen in spot duty during the first nine games of the season.
But Self stuck with him, McCormack stuck with it and, together, they helped the big man turn a corner.
"I didn't think David played particularly well in the first half," Self admitted. "But in the second half, after he kind of calmed down, I thought he did really good. And he's going to be really good. You know, he's sped up a little bit now. … He shot an eight-foot, left-handed jump hook, guarded, from outside the paint in the first half and missed a couple of bunnies. He just kind of hurries it. But in the second half there was nothing rushed at all. He was poised and calm and we need to see that side of him."
With junior center Udoka Azubuike out or limited for at least a couple more games, McCormack figures to see opportunities continue to come his way as the season progresses. While not every night figures to be as productive on the stat sheet as Tuesday, if what he delivers, be it in four or 14 minutes, looks more like Tuesday's second half than the first, McCormack's ability to help this team will increase dramatically.
"It definitely was (good to see him have some success)," KU junior Dedric Lawson said of McCormack. "And you never (know) what to expect from guys. We have such a deep team and you never know what guys might do in any given situation. On any given night, any guy can step up and be that guy for us."