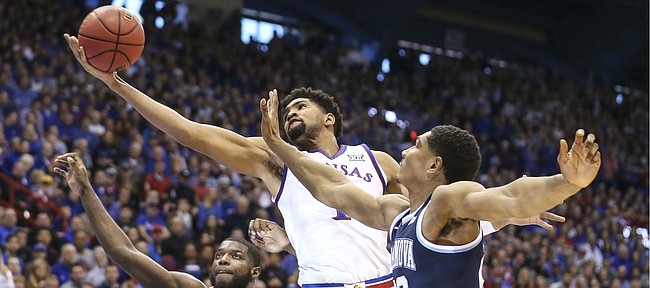 No. 1 Kansas Jayhawks (9-0) vs. South Dakota Coyotes (6-5)
Time: 7 p.m. | Location: Allen Fieldhouse
TV: Jayhawk TV/ESPN+ | Radio: IMG Jayhawk Radio Network
Not going to be home for the game? Sign up for ESPN+ and watch your Hawks on the go.
Log on to KUsports.com for our live game blog coverage and follow the KUsports.com staff on Twitter: @KUSports @mctait @bentonasmith & @SJacksonLJW
Keys for Kansas
1. Create shots for others
After a stretch that saw him record nine assists in four games from Nov. 23 through Dec. 4, freshman point guard Devon Dotson has fallen off of that pace a little during the past three games, recording just six assists in his last three games, including one in last Saturday's win over Villanova.
Dotson currently ranks second on the team with 22 assists through nine games, two behind junior forward Dedric Lawson's 24 and one ahead of freshman guard Quentin Grimes, who recorded 10 assists in a single game earlier this season.
In this offense, the role of creating shots — or easier shots — for others does not fall solely on the shoulders of the point guard and, as a whole, the Jayhawks have not done a great job of setting each other up since the calendar turned to December.
During the past four games, Kansas has averaged just under 12 assists per game on 28 made field goals. While that has not hurt the Jayhawks in the win/loss column or in KenPom's efficiency numbers, where KU's offense currently ranks seventh in the country, it has been a little uncharacteristic for a Bill Self-coached team.
Self said recently that part of the reason the number has dipped some could be because of the fact that Lawson, who Self has said is the team's best passer, has not had a post player to throw the ball in to with junior Udoka Azubuike sidelined with an ankle injury. And Dotson said Monday that finding ways to set up his teammates for easy buckets has "definitely" been an emphasis during the past few practices.
While Self has said setting teammates up in better, easier positions to score is an area in which Dotson can still improve, the KU coach is far from discouraged by his freshman point guard's play through nine games.
"He doesn't have the role Devonte' had last year," Self began, discussing Dotson. "Let's get that clear. But anybody that's handing the ball the majority of the time is going to have a different role than somebody that's not. So he's fulfilled his role quite well. He's not the talker, he's not the leader yet, all those things. He's not the scorer. You know, Devonte' was a first-team All-American. But (Dotson is) certainly playing well and playing to his strengths right now and playing within himself."
2. Pound it inside
Even without Azubuike, who is expected to miss his third consecutive game because of an ankle injury suffered early in KU's win over Wofford, this one looks like a game in which the Jayhawks can do all kinds of damage inside.
Specifically, that means getting the ball to Lawson and letting him do what he does around the basket.
According to KenPom.com, South Dakota ranks below the national average in team height in the starting lineup. Beyond that, the Coyotes rank 338th nationally in blocked-shot percentage, rejecting just 14 percent of opponents' shot attempts, and are getting outrebounded by opponents through 11 games.
That could open things up for Lawson to score a bunch in the paint — on first- and second-shot opportunities — as he uses his length and smooth skills around the rim to get to the bucket with little resistance.
Lawson has been looking to shoot the ball more from the outside during the past few games, but still has three makes in 15 attempts from 3-point range so far this season.
Asked Monday about KU's 3-point shooting prowess and whether the Jayhawks need more players to step up and make shots on the perimeter, sophomore guard K.J. Lawson cut to the chase before the question was even finished.
"That's not our identity," K.J. Lawson said of 3-point shooting. "Our identity is playing defense and rebounding and getting out in transition and stopping guys, taking guys out of what they do best."
Even if Dedric Lawson is off or South Dakota finds a way to slow him, the Jayhawks should look to get contributions down low from Mitch Lightfoot, Quentin Grimes, Lagerald Vick and David McCormack, all of whom figure to find room to work around the rim, off of set plays, as drivers and hitting the glass.
3. Defense wins
This one has the feel of a game where KU's defense could absolutely smother South Dakota's offense, particularly if the Jayhawks are as keyed up as they were against Villanova.
That might be hard to do, given the fact that the Coyotes are not the defending national champions. But Self's system has never been to worry too much about the opponent as much as to inspire his players to compete with themselves to be better than they were the day before.
South Dakota's offensive woes are two-fold. In addition to ranking just 248th nationally in KenPom's adjusted offensive efficiency rating, the Coyotes are shooting just 28.7 percent from 3-point range, good for 313th in the country.
South Dakota is averaging just 67.4 points per game and has topped 80 just twice during its first two games of the season against York (83-58) and Northern Arizona (90-74).
KU, meanwhile, is holding opponents to 71.3 points per game — against a Top 10 schedule, remember — and 40.7 percent shooting from the floor. South Dakota enters this one shooting slightly better than that, as a team, at 43.7 percent overall during its first 11 games.
Mega Matchup
KU's general mindset vs. South Dakota's underdog mentality
Fresh off of a win over recent-rival and defending national champion Villanova, in which Allen Fieldhouse was rocking and the KU fan base brought a postseason buzz to the arena, the Jayhawks will have to find a way to get up for a South Dakota team that is just a game above .500 and, just three seasons ago, was struggling to finish the season with that kind of winning percentage.
None of what helped get Kansas up for its 74-71 win over the Wildcats last weekend will be in KU's corner this time around, and the Jayhawks will jump back into the familiar role of the hunted instead of the hunter.
No national television audience. No Jay Bilas courtside. No Final Four rematch.
Self on Monday was asked if there was any concern about following up such a high-energy, marquee matchup — so quickly — with a game against a lesser-known program from the Summit League, and after a brief moment of hesitation, he gave into the reality at hand.
"You know what? Yeah, I guess there is," Self said. "But I can't believe it'll be (an issue). Our guys know we need to play better. Our guys know we need to get some offensive rhythm. I mean, they know that and everything."
Recent close calls against New Mexico State (63-60) and Stanford (90-84 in overtime) offer evidence that KU has had a tendency to play down to its competition at times this season. The Aggies (No. 93) and Cardinal (No. 109) both ranked near triple digits in KenPom's rankings entering their matchups with the Jayhawks.
One reason Self believes the Jayhawks will be ready to roll when the ball goes up in this one, however, comes from the fact that the team had Sunday off to rest their bodies and minds.
"We had gone for like six straight days," Self said. "So I think we'll be re-energized and ready to go."
Jayhawk Pulse
No, Kansas did not play South Dakota last season. That was South Dakota State, with all-world forward Mike Daum, who finished the season averaging 24 points and 10 rebounds a game for the 28-win Jackrabbits.
This is South Dakota — the Yotes — and tonight's clash will be the first-ever meeting between these two programs.
The Jayhawks are 18-5 all-time against members of the Summit League and knocked off two Summit League foes a season ago in South Dakota State and Omaha.
But Todd Lee's Coyotes bring a much different team to town than either of those squads. Balanced top to bottom, with 10 players notching 10 or more minutes per game, Lee's squad is led by senior forward Trey Burch-Manning, who averages 13.5 points and 7.1 rebounds per game, while also leading the team in steals (20) and 3-pointers (17).
According to KenPom's predictions, this is one of two remaining games on KU's schedule that would be considered an easy win. Eastern Michigan, at Allen Fieldhouse on Dec. 29, is the other and KenPom has KU slated to win both games by more than 20 points.
The guys in Las Vegas see things about the same, with Kansas slated as a 22-point favorite in this one.
Probable Starters
No. 1 Kansas
G – Devon Dotson, 6-2, 185, Fr.
G – Quentin Grimes, 6-5, 210, Fr.
G – Lagerald Vick, 6-5, 190, Sr.
G – Marcus Garrett, 6-5, 195, Soph.
F – Dedric Lawson, 6-9, 235, Jr.
South Dakota
G – Cody Kelly, 5-11, 190, Jr.
G – Triston Simpson, 6-2, 190, Jr.
G – Tyler Peterson, 6-4, 210, Jr.
F – Trey Burch-Manning, 6-6, 215, Sr.
F – Dan Jech, 6-9, 230, Sr.