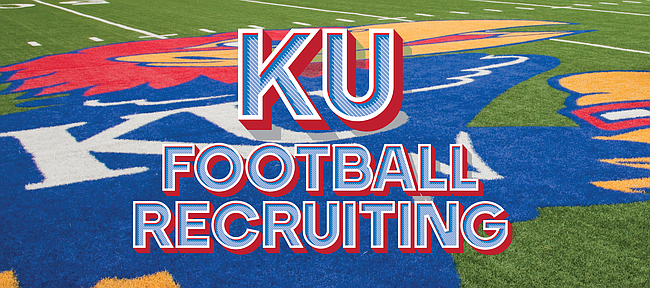 There are signing ceremonies and then there is what's in store for Kansas football recruit Jayden Russell.
The first prospect to commit to the Jayhawks after head coach Les Miles took over, Russell won't be in the St. Thomas Aquinas gymnasium in Overland Park on Wednesday when he signs his national letter of intent.
No, the three-star defensive back will be in Mexico City for the Pro Football Hall of Fame's World All-Star Bowl.
As part of the showcase game's festivities, Russell will sign alongside dozens of other prospects in a large-scale ceremony that was pitched to the athletes like a "red carpet event," Russell said during a phone interview with the Journal-World before flying south for the game.
"We're all going to be dressed in suits and blinged out and things like that," Russell said.
The only prospect from the Sunflower State and the lone KU recruit chosen to play in the prep all-star event, Russell will join standouts such as Nebraska commit Luke McCaffrey, Penn State commit Michael Johnson Jr. and many other players tied to marquee programs such as Clemson, Auburn, Oklahoma, Texas and Georgia. The signing extravaganza will be televised by CBS Sports Network as part of a three-hour special episode of "Inside College Football," which begins at 9 a.m.
"I'm excited," Russell said of the spectacle. "That's something I've always dreamed of. Obviously, playing Division I football, but also playing in a bowl game and being able to sign on TV. So, literally, everything I've dreamed of as a little kid is basically coming true."
A Class 5A state champion at St. Thomas Aquinas as a senior, Russell plans to FaceTime with Miles and the KU coaching staff after making his commitment to the program official.
Over the past several weeks, Russell has used his phone to actively recruit other potential KU signees, through social media apps and texts. Rarely does a day go by that Russell isn't on Twitter congratulating a new member of KU's 2019 recruiting class or encouraging other targets to join forces with him.
On the day he committed to KU, less than two weeks ago, Russell tweeted "I need all of you guys to come join me and change the culture" to several prospects, including three-star athlete Valerian Agbaw (Powder Springs, Ga.), four-star LSU commit Donte Starks (New Orleans) and three-star junior college receiver Ezra Naylor (Iowa Central Community College).
Naylor committed to KU earlier this week, while Agbaw, a potential cornerback at the college level, and Starks, a linebacker, are expected to announce their decisions and sign on Wednesday, the first day of college football's three-day early signing period.
Russell is enjoying serving as a KU representative through the recruitment process.
"I just want to be the head of the class, kind of be the head guy," he said. "Why not try to lead us to something special?"
While KU heads into the early signing period with seven commitments in place, Russell said the unattached recruits he is most excited about included Starks and Agbaw. He hopes next year to be playing with both of them at KU.
According to conversations Russell has had with both Miles and defensive backs coach Chevis Jackson, he'll likely play safety as a freshman. But Jackson told Russell he wants to give the 6-foot-2, 190-pound back a look at cornerback, too, "just to see."
And, depending on how the next few years play out, Miles mentioned the possibility of another position.
"Because of my body frame, if I get pretty big," Russell shared of Miles' thoughts, "they might move me to outside linebacker."
Pro Football Hall of Fame's World All-Star Bowl will be played on Saturday at Estadio Azul, in Mexico City. It is set to air on CBS Sports Network at 6 p.m. on Dec. 27.
KU football's 2019 recruits entering early signing period
(ratings from Rivals)
• 3-star St. Thomas Aquinas DB Jayden Russell (6-2, 190)
• 3-star Mesa C.C. (Ariz.) QB Thomas MacVittie (6-5, 225)
• 3-star Iowa Central C.C. WR Ezra Naylor (6-4, 210)
• 3-star Golden West Coll. (Calif) CB Justin Ford (6-1, 180)
• 2-star Coahoma C.C. (Miss.) DL Caleb Sampson (6-4, 285)
• 2-star Iowa Central C.C. WR Andrew Parchment (6-2, 185)
• 2-star Meridian H.S. (Miss.) DL Da'Jon Terry (6-3, 345)
• 2-star Andale High athlete Mason Fairchild (6-5, 250)