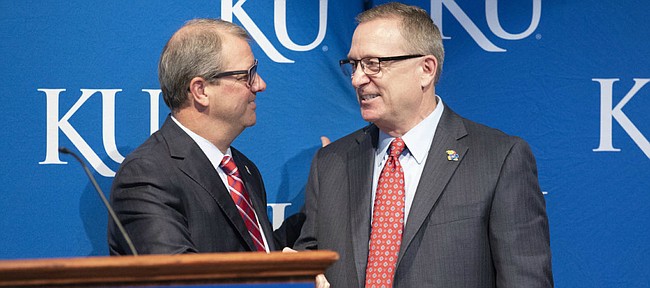 University of Kansas Chancellor Douglas Girod has said KU is officially in "stand-down mode" when it comes to figuring out whether KU basketball coaches acted improperly in the recruiting scandal that is gripping the sport.
The reason, Girod told the Journal-World in November, is because the University of Kansas was awaiting direction from the NCAA. But now, university officials are struggling to show that the NCAA ever asked KU to stand down in the matter or otherwise delay launching its own internal investigation into basketball recruiting practices.
After Girod made his comments in November, the Journal-World began asking for additional details about the instructions the NCAA had given KU. Ultimately, the Journal-World filed an open records request seeking any documents that directed KU to refrain from launching its own investigation.
KU officials this week responded by saying that neither the university nor the athletic department had any such documents from either the NCAA or the U.S. Department of Justice, which is responsible for prosecuting the case and which thus far has netted convictions of three individuals connected to KU's apparel sponsor, Adidas.
Prior to filing the open records request, the Journal-World sought to clarify Girod's statements with Girod himself. A Journal-World reporter sought to ask Girod about the issue following the November meeting of the Kansas Athletics Inc. board of directors, which Girod chairs. However, an attorney for Kansas Athletics stepped in and said she needed to immediately talk to the chancellor, and the two quickly left the athletic department building.
When the Journal-World submitted written questions to the chancellor's office about the matter, a spokesman declined to comment but rather pointed to a joint statement Girod and Athletic Director Jeff Long released shortly after the federal trial concluded in late October. That statement did not address whether KU had been directed to stand down in the matter or whether KU simply had chosen to do so on its own. Rather, the statement said KU was awaiting direction from prosecutors and promised to "vigorously" review new information from the trial once it was cleared to do so.

Stephen Hill Jr. was the former U.S. attorney who oversaw the prosecution of Kansas City summer basketball coach Myron Piggie, who was convicted in the late 1990s for illegally paying college basketball recruits. Hill said he would be surprised if KU officials truly weren't already looking into the matter. He said the fact that Silvio De Sousa, whose guardian is at the center of pay-for-play allegations, has been held out of competition thus far is a sign that KU is trying to "put its best foot forward."
Hill, who is in private practice in Kansas City and not involved in this case, said KU almost certainly is receiving expert legal help on this matter and understands that the NCAA values schools that seek out violations and self-report them.
"In any situation, including college sports, organizations benefit from being able to demonstrate they can find a problem, fix a problem and take steps to lessen the likelihood that it will happen again," Hill said. "I'm not an NCAA expert, but I think that is a powerful statement for any school caught up in this."
Nationally, though, NCAA leaders are starting to get questions about whether schools, like Kansas, are doing enough to take action regarding players or coaches who have been publicly implicated.
"We need to make sure that schools are fulfilling their role and holding everybody accountable," NCAA President Mark Emmert said last week when asked by reporters at a New York sports forum. "But the NCAA as an association of member schools is built upon the notion of collaboration and collegiality, and there's a notion among the schools that they will all hold themselves accountable. So to the extent that doesn't happen, I think all of the members are not happy with that."
Emmert went on to say that he expects investigations in the matter will last quite some time, and won't be complete before this season's Final Four. Frustration is growing among some in the sport that the process is taking too long. Mark Few, coach of the Gonzaga Bulldogs, told Yahoo! Sports this week that it is important for schools to be held accountable in a timely manner.
"I'm disappointed. I don't think this is something the NCAA needs to take their time on," Few told Yahoo! Sports. "There's teams out here who are competing for Final Fours and national championships and they don't need to stall this thing out. They need to make decisions and roll with it. I think that's on Emmert. Emmert needs to step up and be a leader and make some quicker decisions."
Emmert did confirm that investigations into schools have begun, but it is unclear whether an investigation into KU's recruiting practices is underway. The NCAA doesn't comment on specific investigations, and a spokesman for Kansas Athletics on Friday did not answer a question about whether the NCAA is currently investigating KU basketball.
KU's position of being in stand-down mode, though, has slowed university leaders in getting answers to some questions. Girod surprised some in November when he confirmed that he had not yet sought an explanation from KU assistant basketball coach Kurtis Townsend about allegations raised against him during the the federal trial. A month earlier, the federal trial had revealed Townsend was caught on a wiretapped phone call that included discussions of a high-profile recruit and the suggestion by an Adidas representative that the recruit likely would have to be paid to attend KU. Rather than objecting, Townsend made comments that have created questions about whether he was willing to participate in a pay-for-play scheme to land the recruit, who ultimately attended Duke.
At other points in the trial, evidence was introduced that raised questions about whether Townsend and head coach Bill Self had improperly interacted with Adidas officials in an effort to land recruits.
Back on the KU campus, people are wondering whether KU leaders would be in such a cautious mode if the allegations involved a member of the faculty rather than a basketball coach.
"I think you know the answer to that one," said Kirk McClure, president of KU's Faculty Senate. "If a faculty member or staff member was involved with anything like this, they would be in considerable trouble."
The basketball matter is the latest in a string of incidents that has created a divide between the athletic department and the broader university community, McClure said.
"The faculty's attitude is pretty much who is working for whom?" McClure said. "Is the athletic director working for the chancellor or is the chancellor working for the athletic director? It is an issue of considerable distress for the faculty."
In fairness, though, McClure said the basketball scandal hasn't been the driving force of discontentment with the faculty. He said the $20 million in proposed budget cuts to the Lawrence campus has been a far bigger issue. He said there has been frustration that athletics isn't sharing in more of those cuts. The department has taken about a 6 percent cut in funds it receives from the university's general budget, but the university hasn't sought additional revenues from Kansas Athletics — such as ticket revenue or television rights — to help with the overall budget shortfall.
"They are a different kind of entity, and we're all kind of jealous," McClure said of the split between athletics and the general university. "They have all been given raises for many years. But I also remind people that I have never had 16,300 people buy tickets to my class."