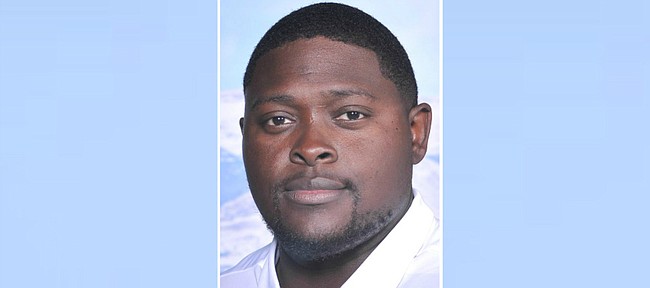 When Kwahn Drake decided to follow defensive coordinator D.J. Eliot from Colorado to Kansas, the Jayhawks' new defensive line coach signed a four-year term sheet worth a maximum of $1.47 million.
While the first two years of the deal are guaranteed, KU holds options on the back half of the agreement, for the 2021 and 2022 seasons.
Drake's deal with Kansas Athletics will pay him a base salary of $225,000 in every year that he works at KU, as well as "personal services" payments of $115,000 in 2019, for a total first-year salary of $340,000; and $125,000 in 2020, reaching a total salary of $350,000.
If KU exercises its option for Year 3, which it must do by Dec. 15, 2020, Drake's total salary for 2021 would jump to $380,000. By KU exercising the fourth year on or before Dec.15, 2021, Drake would be paid $400,000 in 2022.
According to USA Today's list of assistant coach salaries for 2018, Drake made $200,625 this year at Colorado, his first with the program.
The terms of Drake's deal with KU state Kansas Athletics would be owed nothing if he left the program to become a head coach at either the FBS or FCS level.
However, if he were to leave to coach elsewhere in any other role, the buyout would be $225,000 during not only the two guaranteed years, but also the final two option years.
If KU were to fire Drake without "just cause," he would be owed his remaining base salary, via release payments over the course of 12 months.
Terms of Ekeler's deal
When Les Miles hired his one-time LSU graduate assistant, Mike Ekeler, to become KU's special teams coordinator, Ekeler signed a three-year term sheet worth a maximum of $1 million.
Kansas Athletics holds the option for the third year of the deal, which must be exercised on or before Dec. 15, 2020.
Ekeler will be paid a base salary or $225,000 in each year of the deal, including the third if KU exercises its option.
His "personal service" payments are set at $100,00 in the two guaranteed years and at $125,000 in 2021, should KU bring him back for the final year of the deal.
According to USA Today's list of FBS assistant salaries, Ekeler made $325,000 at UNC in 2018.
Ekeler can opt to leave KU without Kansas Athletics being owed any money if he takes an FBS head coaching job or is hired as a defensive coordinator "with play calling duties" in the AAC, ACC, Big Ten, Pac-12 or SEC.
However, if Ekeler were to leave for any other coaching role, KU would be owed:
• $225,000, if he left before Dec. 15, 2019
• $112,500, if he left in Year 2, before Dec. 15, 2020
• $67,500, if KU exercised his third year, and he left before Dec. 15, 2021
Should KU choose to terminate the deal without "just cause," Ekeler would be owed the sum of his remaining base salary and "personal service" payments, in installments over the course of 23 months.