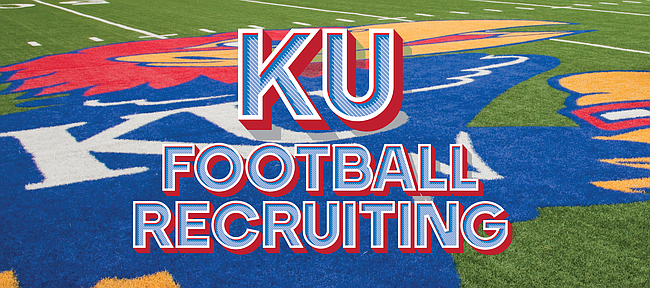 Cole Mueller finally has some company on the Kansas football program's Class of 2019 commitment list.
On a busy Sunday for new head coach Les Miles, KU picked up verbal pledges from two in-state recruits: St. Thomas Aquinas defensive back Jayden Russell and Andale athlete Mason Fairchild.
A three-star defensive back according to Rivals, Russell was one of the first prospects Miles began targeting when he became the Jayhawks' head coach in November.
The 6-foot-1 defender from Overland Park announced his decision Sunday evening, with a tweet that read, "I'm home," accompanied by a minute-long video that concluded with Russell walking into David Booth Kansas Memorial Stadium and announcing, "Rock chalk. I'm staying home."
Previously, Russell reportedly had picked up offers from programs such as Iowa State, Kansas State, Boston College, Duke and others.
Russell told Jon Kirby of Jayhawk Slant he felt as though Miles made him a "priority" the past few weeks.
"When I talked to him he told me to come to KU and let's change the culture," Russell told Jayhawk Slant. "Once he was announced as the head coach I was the first person he called. It just showed me how much they really wanted me. I decided KU was the perfect fit for me."
KU's new defensive backs coach, Chevis Jackson, who played for Miles at LSU, also helped recruit Russell, of 2018 Class 5A champion St. Thomas Aquinas, to KU.
A couple hours before Russell announced his intentions of signing with KU, Fairchild became the first recruit since Miles took over to announce his commitment to the program.
A 6-5, 255-pound athlete from Andale, who previously had committed to South Dakota, Fairchild decided to go with the Jayhawks instead during a visit to KU this weekend.
Fairchild lined up at various positions as a standout defender for Andale and played on offense, as well.
According to what Fairchild told Jayhawk Slant, Miles said he would begin his KU career as a tight end.
Russell and Fairchild join Mueller, a two-star running back from Wentzville, Mo., who committed to KU this past July, in Miles' first recruiting class.
All verbal pledges are non-binding. College football's early signing period runs from Dec. 19-21.