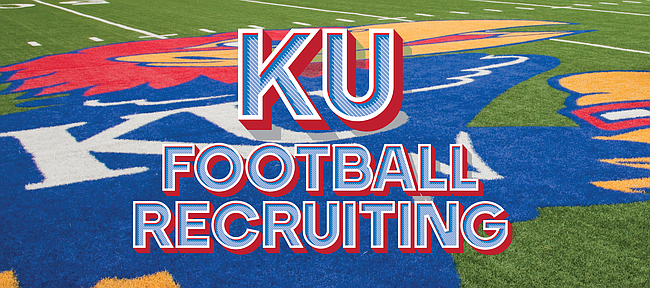 As college football's December early signing period approaches, new University of Kansas head coach Les Miles and his not yet fully assembled staff have targeted some potential additions for the program's currently minuscule 2019 class.
The lone player committed to KU at this juncture, Cole Mueller, recently told Jon Kirby of Jayhawk Slant he plans to sign his letter of intent during the upcoming signing dates, Dec. 19-21.
The number of players who end up joining Mueller, a 6-foot-1, 205-pound two-star running back according to Rivals, as December signees could depend on how the next several days play out.
Jayden Russell
While Mueller is from the western Missouri city of Wentzville, one prospect Miles targeted early upon arriving at KU is an in-state defensive back from Overland Park.
Rated a three-star cornerback by Rivals, Jayden Russell of Class 5A state champion St. Thomas Aquinas received a phone call from Miles during the new KU coach's first days on the job.
Russell learned Miles wanted to re-extend a previous scholarship offer from KU and the senior defensive back and his family visited campus this past weekend.
After that trip, which included a tour of the facilities and a photo shoot, Russell spoke to Jayhawk Slant about the time he spent with Miles.
"We actually broke down my film and what I need to work on to improve," Russell said. "Then he taught me things, and actually demonstrated what I could do better. It was a good learning session."
Over the past week-plus, Russell also has welcomed KU staffers — both Tony Hull and new defensive backs coach Chevis Jackson — for in-home visits.
According to Russell, Jackson said he didn't yet know whether KU would use him at corner of safety, should the St. Thomas Aquinas standout end up playing for the Jayhawks.
"He talked about the defense and they want to attack people. Coach Jackson said they want to be aggressive," Russell told Jayhawk Slant.
Valerian Agbaw
Russell isn't the only corner KU has its sights on. Jackson also is recruiting Valerian Agbaw, a three-star prospect from Powder Springs, Ga.
Jayhawk Slant reported Agbaw plans to visit KU the weekend of Dec. 14.
Agbaw already knew Jackson, who had recruited him previously to Ball State, where the former LSU cornerback worked before reuniting with Miles at Kansas.
"Me and Coach Jackson are close and I talk to him almost everyday," Agbaw told Jayhawk Slant. "He told me I can get a chance to show my talent at a high level and get an education while I'm doing it."
Committed prospects visiting
A handful of recruits are expected to visit KU this weekend.
One of them, a four-star prospect from New Orleans, Donte Starks, is ranked the No. 7 linebacker in the country by Rivals.
Starks, who committed to LSU in July, tweeted about his official visit on Friday morning. He followed that up by posting to Twitter his plans to wait until National Signing Day, in February, to make his college choice official.
A three-star receiver from Lawrence, Free State High senior Keenan Garber, who committed to Kansas State this past June, also is expected to visit KU.