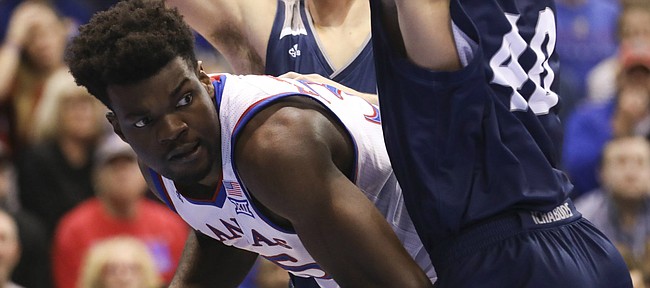 One hundred percent by Big 12 play.
That's the general goal for Kansas junior Udoka Azubuike, who will be sidelined "indefinitely" because of an ankle sprain suffered during Tuesday's win over Wofford.
Kansas coach Bill Self, who did not see Azubuike on KU's day off Wednesday, detailed on Thursday his hopes for the KU center's recovery during the next few weeks.
"He is not going to put any weight on it, or very little weight on it, the next couple of days," Self explained. "But I don't see any reason why he can't be up and at 'em by the end of the weekend. And by that, I mean walking in a boot and being active and that kind of stuff."
According to Self and a couple of Azubuike's teammates, the 7-foot junior, who has been walking with crutches the past couple of days, has maintained a good attitude about bouncing back from the injury.
Azubuike's right ankle sprain is the third significant injury of his three-year KU career. As a freshman, the native Nigerian played in just 11 games — starting six — and missed the final 25 games of the 2016-17 season because of torn ligaments in his left wrist. And last season, he missed all three games of the Big 12 tournament because of a sprained MCL in his left knee.
Self has said on multiple occasions that Azubuike's positive attitude about a quick return played a huge role in the KU junior overcoming the knee injury before the start of last season's NCAA Tournament. And Self believes the same approach this time around would help, as well.

"He seems to have good spirits," Self said Thursday.

Added KU freshman Quentin Grimes a couple of hours later: "I text him (after the injury happened), just checking up on him, making sure he's good. And I think he's doing pretty good."
Self re-emphasized Thursday that the team was not holding out any hope for a miraculously speedy recovery and that they were ready and willing to let team doctors and time treat Azubuike's injury.
"It is going to be (an) extended (absence)," Self said. "I said when it happened, and I don't know anything scientifically, if he is 100 percent by conference (Jan. 2 vs. Oklahoma), that would be OK. I am not saying he would have to miss everything up until that point, but just to be confident and 100 percent, I don't think that would be a bad wish."