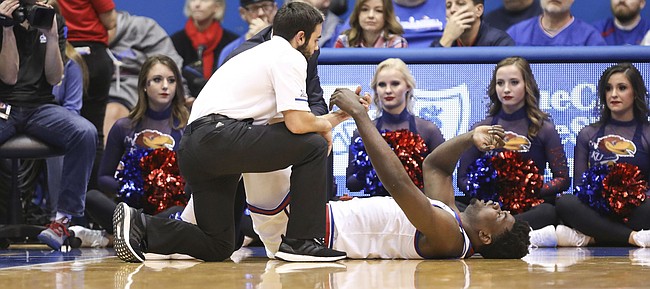 At 6-foot-10, 265 pounds, Kansas freshman David McCormack is the closest thing, sizewise, that the Jayhawks have on the roster to replace injured junior Udoka Azubuike, who is expected to be sidelined at least a couple of weeks with a severe ankle sprain.
But just because McCormack weighs in five pounds lighter and an inch shorter than KU's mammoth starting center does not mean he will inherit all of Azubuike's minutes.
At times, he will. And Kansas coach Bill Self explained when that might occur following Tuesday's win over Wofford.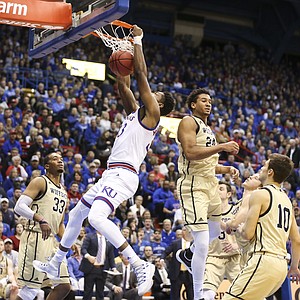 "I told him in the locker room his role's going to totally change now because he's going to have to guard a heavy guy," Self said. "I don't know how many teams will have a heavy guy between now and when Dok comes back, but he's going to get a chance to play more minutes."
There's little doubt that McCormack is ready for the opportunity.
On Tuesday night at Allen Fieldhouse, long before the second-ranked Jayhawks had ripped off that wild, 27-0, second-half run that buried Wofford, McCormack was up off the bench even before the 7-foot, 270-pound Azubuike had regained his feet after rolling his ankle.
McCormack, who has played just 27 minutes total in six of KU's seven games so far this season, checked in for three minutes immediately following Azubuike's injury, and then did not play again until the game was decided in the final two minutes. Instead, Self employed a four-guard lineup, with sophomore Marcus Garrett playing the 4 and Dedric Lawson at the 5. That's the way the Jayhawks will start on Saturday, too, when they take on New Mexico State at 7:30 p.m. at Sprint Center in Kansas City, Mo.
But options are good for any team, and McCormack gives Kansas the ability to pick and choose how it wants to handle life without Azubuike.
In addition to versatility being good for the team, the opportunity figures to be good for McCormack's individual development.
"I think it gives David McCormack a chance to go out there and play more and gives him an opportunity," Lawson said Tuesday. "That's something he's been wishing for. He played great. That's my roommate, so I'm always cheering for him to get in. … He's a great person and a great player."
McCormack, who spoke with the media before Thursday's practice, said his focus was on keeping things simple and continuing to put in the work required to help the team.
"It's just kind of been the same for me," the freshman forward said of the 36-48 hours since Azubuike's injury. "Sticking to the program, sticking to the schedule, doing whatever I can. I don't think it's any pressure. If you just stick to what you know how to do and do it well, you can help the team."
While McCormack and Azubuike have a few skills in common — most notably their massive size and desire to hurt the rim every time they go to dunk — the two players are not exactly the same.
"They play the same," noted KU freshman Quentin Grimes before explaining the difference. "They have similarities. I think Dave has a (few) more post moves, more touch in there in the paint. Dok is just a monster. He's going to bully you, he's going to dunk on you. David kind of has a little more skill in the post. He still can dominate you for sure, though."
One advantage Grimes believes McCormack brings to the floor — at least for the next couple of games — is the benefit of being a mystery to KU's opponents.
"Teams probably don't have a lot of scouting report on him, don't know all his moves he has, and I feel like he can definitely use that to his advantage," Grimes said. "He's always been ready. He's in the gym with me. When I'm leaving, he's coming in (to) put in that extra work and he was ready when his name was called (Tuesday)."
It's hard to envision McCormack's emergence reminding anybody of what Silvio De Sousa did as a freshman during the Big 12 tournament last March.
For one, the whole adjusting to college basketball thing is still brand new to McCormack and, two, even without Azubuike, the Jayhawks have more options up front this season than they did when De Sousa had to replace Azubuike for three games last postseason.
"We can still go big and play David and Dedric together or David and Mitch (Lightfoot) or Dedric and Mitch," KU assistant coach Kurtis Townsend said Wednesday night on "Hawk Talk." "So we're going to still have options to go big."
McCormack, no doubt, will be a part of that plan and both his minutes on game day and his time with the first team in practice figure to increase in the next couple of weeks, regardless of how big of a role the freshman plays in the grand scheme of things.
One thing's for sure, though: The Jayhawks believe they'll be able to survive the temporary absence of Azubuike, and McCormack is a big reason they're all so confident.
"Yeah, definitely," said Grimes when asked if the Jayhawks would be OK without Azubuike. "I think you all saw that (Tuesday)."
Added Self of McCormack's chances of picking up the slack: "I just think he needs some reps."
McCormack said Thursday that he and Azubuike had not yet talked much about what comes next. But the freshman also said he was confident that Azubuike would be there if he needed any advice.
"He's sad about what happened," McCormack said. "But he still has a bright spirit and wants what's best for the team."
The fact that McCormack now may play a bigger role in this team's efforts was something he said he was "really looking forward to," but not something that figures to change his approach.
He certainly is not going to hit the floor trying to be Azubuike. And, beyond that, he has no plans of letting his new role go to his head.
"That's not me," McCormack said. "(I don't) try to go play like any other person or impersonate anybody else's game. Even with more minutes, I know I'm going to stick to what I do well, stick to a role and, if I do that well, it not only benefits me, but it benefits the team."