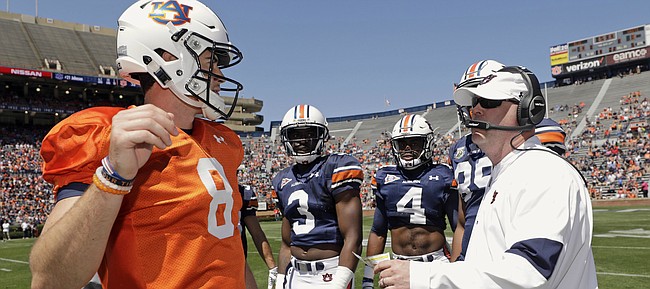 New Kansas football coach Les Miles officially has his offensive coordinator.
As reports from the Journal-World and other outlets indicated Monday, former Auburn offensive coordinator and quarterbacks coach Chip Lindsey was Miles' choice.
KU announced Lindsey's hiring Tuesday morning.
"It is a great day when you can add a coach like Chip Lindsey to your staff," Miles stated in a release. "He has a proven track record of putting exciting, electric offenses on the field and he also has built a strong reputation of developing his players. With the returning players we have on offense and the pieces that we are putting together now in recruiting, we have the potential to be much improved."
So far, KU has announced just two members of Miles' first staff: Lindsey and defensive backs coach Chevis Jackson.
While no announcement has been made, Tony Hull, KU's running backs coach under former head coach David Beaty, has been actively recruiting since Miles' arrival, and appears a likely candidate to remain on board in some capacity.
Lindsey's Twitter bio lists him as KU's offensive coordinator and quarterbacks coach. But a KU official said Tuesday morning the team hadn't made any official decision on which position group Lindsey would oversee.
Lindsey, who reportedly also interviewed for the offensive coordinator position at Tennessee before leaving Auburn for KU, spent the past two years in the SEC. The Tigers are 7-5 this season, with victories over Pac-12 champion Washington, which is currently ranked No. 9, and Texas A&M;, now ranked No. 19.
This season, Auburn ranked 11th in the SEC in total offense (373.6 yards a game) and averaged 28.3 points per game.
The Tigers fared far better offensively in 2017, when Auburn went 10-4 and the team became the first in program history and just the eighth in the annals of SEC play to rush and pass for 3,000 yards in the same season.
The Tigers also ranked 26th nationally in total offense and set an Auburn record by scoring 327 points in SEC play, winning the SEC West in the process.
Under Lindsey's guidance, All-SEC QB Jarrett Stidham, the second Auburn QB ever to throw for 3,000 yards in a season, led the SEC and ranked ninth nationally in completion percentage (66.5 percent) in 2017. Running back Kerryon Johnson (1,391 rushing yards) was SEC Offensive Player of the Year, and Ryan Davis (815 receiving yards) set an Auburn receiving record with 84 catches.
This past season at KU, the Jayhawks' offense was coordinated by Doug Meacham the first six games and by former head coach David Beaty in the final six, once Beaty fired Meacham.
KU finished ninth in the Big 12 in points per game (23.8) and yards per game (350.8).
Lindsey's first stint at Auburn came as an offensive analyst during the Tigers' SEC Championship and BCS National Championship in 2013.
Lindsey returned to Auburn in January of 2017, after working as the offensive coordinator and QBs coach at Arizona State in 2016. That year, the Sun Devils started 5-1 before three of their quarterbacks suffered injuries and they dropped their final six games. ASU running back Kalen Ballage tied an NCAA record early on that season, by scoring eight touchdowns in one game, a 68-55 win over Texas Tech.
As offensive coordinator at Southern Miss from 2014-15, Lindsey developed the Conference USA 2015 Offensive Player of the Year, QB Nick Mullens, who ranked second in the league in passing yards (4,145) and TD passes (36), and ranked in the top eight in the nation in both categories.
The Southern Miss offense broke five single-season school records in 2015: completions (312), passing yards (4,263), total offense yards (6,758), touchdowns (67) and points (528), as the Golden Eagles went 9-5, won the Conference USA West and played in the Zaxby's Heart of Dallas Bowl against Washington, losing 44-31.
Lindsey's 2015 Golden Eagle offense ranked fifth in the nation in total touchdowns, seventh in total points, eighth in total passing yards and completions, and 12th in points per game and passing yards per game. The 2015 Golden Eagles racked up more than 4,200 passing yards and just under 2,500 rushing yards. The national leader with 102 explosive plays, they were just the second school in FBS history with a 4,000-yard passer, a 1,000-yard receiver and two 1,000-yard rushers.
Lindsey served as quarterbacks coach at Troy University in 2010, after working his way up through the prep ranks from 1997-2009, in both football and baseball. At Troy, he coached the 2010 Sun Belt Freshman of the Year Corey Robinson.
Prior to his time at Auburn as an analyst, Lindsey was the head coach at Spain Park High (Ala.) from 2011-12, leading the school to its first Class 6A regional championship.
A native of Madison, Ala., Lindsey graduated from Bob Jones High School, where he was a three-sport letterman. Lindsey and his wife, Cecily, have four children: Claire, Caroline, Cooper and Conner.