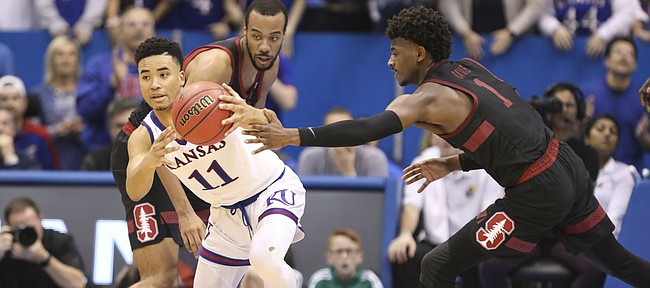 No. 2 Kansas Jayhawks (6-0) vs. Wofford Terriers (6-2)
Time: 7 p.m. | Location: Allen Fieldhouse
TV: Jayhawk TV/ESPN+ | Radio: IMG Jayhawk Radio Network
Not going to be home for the game? Sign up for ESPN+ and watch your Hawks on the go.
Log on to KUsports.com for our live game blog coverage and follow the KUsports.com staff on Twitter: @KUSports @mctait @bentonasmith & @SJacksonLJW
Keys for Kansas
1. Get a hand up
The Terriers are known as a rock-solid 3-point shooting team, but it's not their 39.3 percent total that stands out as the most impressive aspect of their efforts behind the arc.
It's the importance Wofford places on the 3-point shot and the rate at which it shoots it that has Kansas coach Bill Self paying the most attention.
"They're good," Self said Monday. "They're one of the better teams we've played this year. Obviously, well-coached, well-drilled, they can score inside. But, primarily, you know, you've got to defend the arc. They've got some guys that can really shoot it."
Beyond the nearly 40 percent clip that Wofford shoots is the fact that more than 42 percent of their points come from the 3-point shot.
Wofford is averaging 11 makes in 28 attempts and the Jayhawks and their struggling 3-point defense figure to be busier than ever in this one.
"What appears to be maybe a marginal shot or bad shot are great shots for them," Self added.
2. Nothing for free
Wofford is one of the worst teams in Division I at getting to the free-throw line, ranking 338th among 353 DI teams.
Just two players have attempted more than 20 free throws this season — in eight games — and the Terriers, who don't even shoot free throws all that well (69.3 percent), are averaging just 14 free-throw attempts a game.
Anything higher than that number in this one will be a gift from Kansas, which is sending teams to the line an average of 17.5 times per game so far this season.
Kansas should be able to do much better than that in this one, and one of the most obvious places to look is junior center Udoka Azubuike, who not only needs to foul less to keep teams off the line, but also to allow himself to stay on the floor.
Azubuike has played more than 28 minutes just one time this season and has finished with four or more fouls in four of KU's six games.
3. Time to use that depth
This could be a great game for Kansas to utilize its much heralded depth that was talked about all offseason.
Through the first six games of the season, KU is giving just 26 percent of available minutes to its bench, a number that ranks 278th nationally and is four percentage points behind the national average.
Too many times this season, starters Lagerald Vick, Devon Dotson and Dedric Lawson have had to play big minutes, which makes sense considering the fact that KU has trailed by eight points or more in its last five games, yet still comes back to win each one by at least five points.
With Marcus Garrett and Charlie Moore as regulars in the backcourt rotation, the biggest question here is whether someone beyond those two can emerge from the remaining group of three — Mitch Lightfoot, K.J. Lawson and David McCormack — to give Kansas good minutes off the bench.
Lightfoot makes the most sense given his experience and skill set, but with Kansas going with the four-guard lineup so often this season, the opportunity might be there for K.J. Lawson like it was against Tennessee.
The flow of the game will dictate how that all plays out, but there's no doubt that Self would not mind seeing his starters playing closer to 30 minutes than 40 minutes moving forward.
Mega Matchup
KU freshman Dotson vs. Wofford's deliberate pace
The Terriers know how to pull upsets and the formula they use is perfect for doing so.
Shoot — and make — a high percentage of 3-pointers and limit possessions. On the flip side, as the favorite, Kansas always wants to push the tempo and play as fast as possible because Self, among dozens of other coaches, believes that more possessions favors the more talented team.
Don't get this confused with Self being OK with bad possessions. He still wants all of his philosophical principles to be followed, with extra passes, throwing it inside and good ball movement being the most important among them. But he'll live with a few misses or missteps if they come from an attacking mindset.
Enter Dotson.
With the ability to push the ball from end to end with just four or five dribbles, Dotson could very well be Wofford's worst nightmare in this one. Not only is he a load to handle in the open floor, but his speed creates a situation where the Jayhawks can get multiple possessions and open looks in transition.
"I just try to pick my spots and read the defense, really," Dotson said Monday when asked about his attacking style. "It's pretty much instinct. If I see the opening, I attack. But if it's not there, I know not to force it."
Not forcing it might be a good general strategy, but in this one, even forcing a possession or two could benefit Kansas, with Wofford ranking 277th in the country in overall tempo, at 67.7 in KenPom's tempo ratings. KU's rating is nearly six points higher at 72.6, good for 58th nationally.
Jayhawk Pulse
After surviving a thriller against Stanford over the weekend, the Jayhawks will be right back in the action quickly on their home floor.
Tonight's meeting is the first between KU and Wofford, but the Jayhawks are 11-0 all time against current members of the Southern Conference, with the most recent win coming in 2012, when Kansas defeated Chattanooga, 69-55, in the CBE Classic at Sprint Center in Kansas City, Mo.
The distance between Southern Conference meetings and the fact that KU has not played Wofford did nothing to diminish the Jayhawks' respect for the Terriers.
After knocking off North Carolina a year ago, Wofford recently won at South Carolina by 20. Beyond that, the Terriers have played UNC (78-67) and Oklahoma (75-64) to 11-point games on the road already this season.
"I'm aware of how they beat North Carolina at North Carolina last year," said Dotson, a Charlotte native. "They've had some great games, and we know that they're a pretty good team, so we can't take them lightly. It should be a fun game."
Las Vegas lists Kansas as a 15.5-point favorite.
Probable Starters
No. 2 Kansas
G – Devon Dotson, 6-2, 185, Fr.
G – Quentin Grimes, 6-5, 210, Fr.
G – Lagerald Vick, 6-5, 190, Sr.
F – Dedric Lawson, 6-9, 235, Jr.
C – Udoka Azubuike, 7-0, 270, Jr.
Wofford
G – Storm Murphy, 5-11, 180, Soph.
G – Fletcher Magee, 6-4, 200, Sr.
G – Nathan Hoover, 6-4, 185, Jr.
F – Cameron Jackson, 6-8, 250, Sr.
F – Keve Aluma, 6-9, 230, Soph.