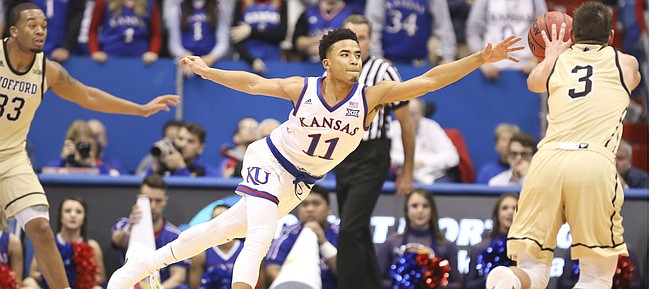 Over the past few years, Wofford head coach Mike Young has found senior guard Fletcher Magee to be as steady a shooter as they come.
The reigning SoCon Player of the Year, Magee has drained 3-pointers and averaged double digits since he arrived in Spartanburg, S.C., in 2015.
But Tuesday night at Allen Fieldhouse, the Terriers' chances of upsetting Kansas faded as the Jayhawks' perimeter defenders made sure Magee never found himself open for long, holding the 6-foot-4, 200-pound senior to 1-for-14 shooting and an 0-for-9 night from 3-point range.
"I've never seen it," Young replied, when asked how out of the ordinary those numbers were, following Magee's 7-point night. "I've never seen it," the coach repeated.
With freshman Quentin Grimes, senior Lagerald Vick and sophomore Marcus Garrett all responsible for chasing and harassing Magee in a 72-47 Kansas win, Wofford's leading scorer (17.9 points per game entering the night) failed to hit a 3-pointer for just the fifth time in his 108-game career and saw just one shot from the floor fall for only the third time — and first since his freshman season.
Photo Gallery
Kansas basketball v. Wofford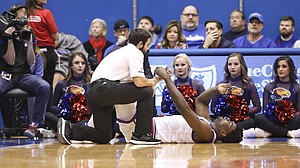 View a gallery of photos from Tuesday night's game between the Jayhawks and Terriers at Allen Fieldhouse.
Magee entered the nonconference matchup averaging 10.9 3-point attempts a game and hitting 37.9 percent (33 for 87) from beyond the arc, so KU's guards knew their defensive effort would have to reach new levels.
Grimes opened the game with the assignment, tracking Magee through a screen to contest a 3-pointer and set the tone.
When Vick, who played as a substitute because he showed up late to KU's shootaround, had his first crack at Magee, the Terriers' typically reliable shooter already showed a hint of fatigue, misfiring when he had space.
Once Magee became Garrett's responsibility, getting open became even tougher. It wasn't until the final three minutes of the first half that Magee made a shot, a deep 2-point jumper at that, with Charlie Moore defending him off a switch.
It seemed a safe bet that Magee's 1-for-7 first half wouldn't come with a repeat performance in the second, but KU's defenders kept pursuing and working and contesting.
Sure, Magee got fairly open for a few looks, but the most serious mistake by a Jayhawk guarding him came when Grimes fouled the Wofford veteran on a 3-pointer at the 14:20 mark. Magee sunk all three free throws, pushing his season total at the foul line to 23 for 23.
KU coach Bill Self liked the way his defenders worked to make Magee's night uncharacteristically tough.
"If you take nine, I would say that he would still make three, even on an average day, even if we guard him well, because he can make guarded shots," Self said. "He still got a couple open looks, but he didn't get many."
The previous two days of KU practices, freshman guard Devon Dotson shared, prepared Grimes, Vick and Garrett for their relentless defensive work.
"We knew that he liked to shoot, come off of different actions. He's a great shooter, we knew that coming in," Dotson said. "They did a great job."
Given that Wofford (6-3) came into the fieldhouse with a 39.3 3-point shooting percentage in its first eight games, Self was pleased to see the Jayhawks' backcourt hold Magee, Storm Murphy and Nathan Hoover to combined 1-for-17 shooting from behind the arc. The Terriers shot 5 for 26 (19.2 percent) from 3-point range overall.
"I thought that's the best we did as far as pressuring out and making them catch the ball a little bit further out," Self said, referencing KU's recent struggles defending the arc. "I thought our shows off ball screen and stuff like that was the best it's been. So, yeah, that was by far the best we've done."
A rarity so far this season, the Jayhawks (7-0) showed how effective their athletic guards can be as defenders.
"They've got big, long guys now," Young said. "I was impressed with Grimes."
Self, of course, said he didn't want to get "too excited," citing Stanford's 12-for-34 3-point shooting against KU three days earlier.
"But that was a different type of team," Self added, noting Stanford's guards were drivers and the Terriers shot off the catch. "We'll obviously have to do a better job of guarding against teams that drive it downhill."
Even so, showing marked improvement in one defensive area doubled as substantial progress for a still evolving team that has more upside than it has shown and, by the way, is undefeated and ranked No. 2 in the nation.