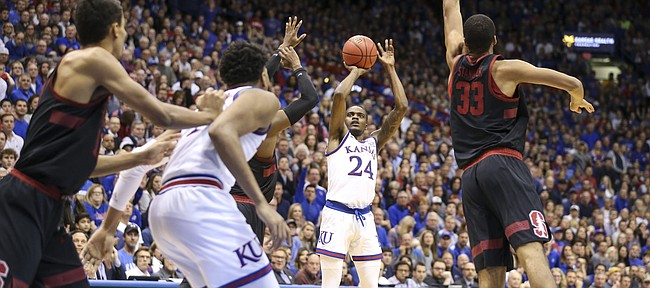 In the aftermath of KU's 90-84, overtime victory over Stanford on Saturday at Allen Fieldhouse, Jayhawk hero Lagerald Vick was asked if he ever thought about passing instead of pulling the trigger on a game-tying 3-pointer with less than 10 seconds to play in regulation.
"No," said Vick with a sly grin and look of confidence matched only by the way he is currently playing. "I was putting that one up."
Up — way up — it went, and down it came, splashing through the net with 6.8 seconds to play to give second-ranked Kansas life in a game KU coach Bill Self said the Jayhawks (6-0) were "lucky" to win.
Luck certainly had a little to do with it. But Vick played a bigger role.
Photo Gallery
Kansas Basketball v. Stanford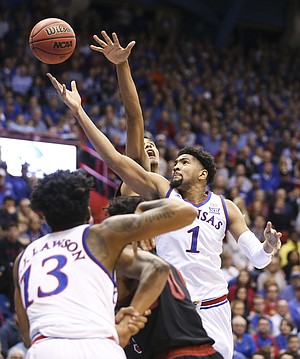 View a gallery of images from Saturday's game between the Jayhawks and Cardinal at Allen Fieldhouse.
And even though Self divulged after the game that the final play was supposed to run through junior forward Dedric Lawson, no one's even the least bit upset with Vick for taking the shot. More importantly, just six games in, Vick now has established himself as the clear answer to the question, "Which Jayhawk do you want taking the final shot with the game on the line?"
"You know, we've said a lot of times, 'Who do you want to go to?'" Self said. "Even when we won the national championship, everybody said, 'Who's our go-to guy, who's going to take the shot at the end,' and that kind of stuff."
So did Self believe Vick, the senior who came oh-so-close to leaving KU after his junior season, could play himself into that role this season?
"After I've seen it, I don't think there's any question he can be that guy," Self said. "... He's probably not the one to get fouled because he doesn't shoot a lot of free throws. But if you need a 3, he's definitely the guy that you want taking it."
In 38 minutes per game so far this season — far more than anybody expected any single Kansas player to average — Vick has done that 28 times in 47 attempts (59.6 percent), and so many of those 3s have been crucial, whether to tie a game, win a game or simply keep the Jayhawks in the game.
It's hard to imagine exactly what this Kansas team would look like had Vick elected to stick with his decision to leave school early, but Self and his coaching staff haven't spent much time thinking about that during Vick's stellar start.
"Of course, we're happy (he came back)," Self said. "That goes without saying. But that's water under the bridge. That was stuff that happened six, seven months ago. Trust me, we're not going to have a staff meeting to (discuss) how lucky we are. We'll have a staff meeting to talk about how we can play better and maybe try to get him some more shots."
So many of Vick's shots this season — in big moments and otherwise — have come in the flow and rhythm of KU's offense, with Vick taking what he can get instead of trying to force the issue.
While explaining that very thing about his 27-point outburst against Stanford, Vick said he was simply trying to let the game come to him. He then added: "And when it came, it came."
Both the decisions and the explanation point to a player with extreme confidence who appears to be more comfortable than ever. And it's those things that continue to inspire Self to sing Vick's praises whenever asked.

"I think (saying they're happy Vick's back is) a pretty obvious answer because his attitude and everything's been terrific," Self said. "But the bottom line is, when the decision was (made) to come back, forget about the past. It's a new chapter."