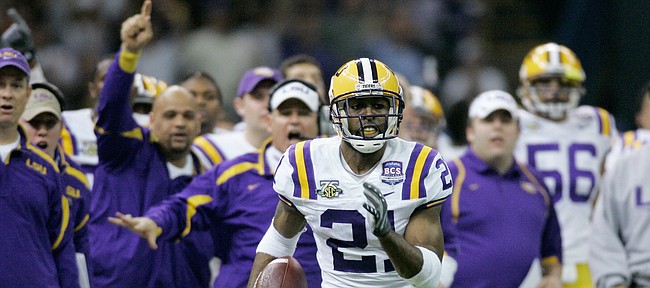 In his first official move as Kansas football coach, Les Miles didn't name an offensive or defensive coordinator. Miles began assembling his staff by hiring a position coach he knows well.
Chevis Jackson, an All-SEC cornerback at LSU in 2007, when Miles and the Tigers won the national championship, will coach the Jayhawks' defensive backs, KU announced Sunday night.
Jackson spent the past three seasons coaching defensive backs at Ball State, where he served as the program's lead recruiter.
"Chevis is one of the top young coaches in the game," Miles stated in a release. "He works hard to make a positive impact both on and off the field with the student-athletes he works with. He knows what it takes to be successful on the greatest stage in college football and will help instill that mindset to our program."
In 2017, 247Sports.com named Jackson the Mid-American Conference Recruiter of the Year.
Ahead of his first full-time college coaching job, Jackson was a graduate assistant on Miles' LSU staff in 2015. Prior to that, he spent two years as a defensive grad assistant at South Alabama.
A third-round pick of the Atlanta Falcons in 2008, Jackson spent time with Atlanta, Jacksonville, New England, Denver and Carolina before his playing career ended.
During his college days in Baton Rouge, La., Jackson was a three-year starter at corner for Miles from 2005-07. In the 2008 BCS National Championship Game, Jackson made two tackles and an interception as LSU beat Ohio State.
Jackson becomes the first of 10 full-time assistants (including two coordinators) for Miles' 2019 staff.
In David Beaty's final season as KU's head coach, defensive coordinator Clint Bowen coached the cornerbacks and Cassius Sendish was the safeties coach.
KU has yet to announce whether certain members of Beaty's staff will be retained by Miles — although early indications point toward running backs coach Tony Hull being a likely candidate to remain in place in some capacity.