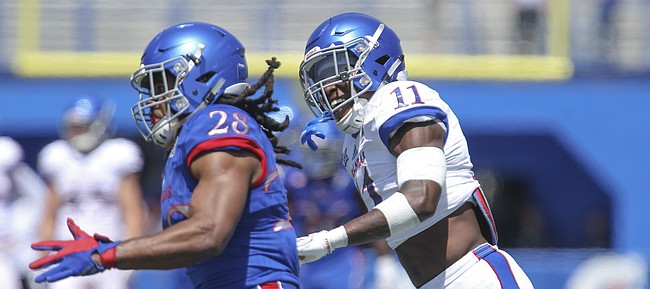 University of Kansas safety Mike Lee knows too much about football players from his hometown of New Orleans to disregard the Jayhawks' season-opening opponent, Nicholls State.
The Colonels, ranked No. 17 in the FCS preseason coaches poll, have 32 players from The Big Easy and surrounding communities, including two of Lee's former high school teammates.
"Seems like Mike knows everybody," KU head coach David Beaty joked.
Lee's former Landry-Walker High teammates — 6-foot-3, 295-pound senior defensive lineman Emanuel Dayries, a transfer from Arizona State; and 6-4, 315-pound senior offensive lineman Alex Anderson, a transfer from Texas — are just the beginning.
KU's hard-hitting junior defensive back also is well acquainted with a Nicholls player with whom he's likely to cross paths, 6-4 sophomore receiver Dai'Jean Dixon, who attended Edna Karr High, in New Orleans.
Podcast episode
KU football beat writer Benton Smith leads a discussion on the Jayhawks' upcoming 2018 debut against Nicholls State, with Tom Keeagn, Matt Tait and Shane Jackson. Topics include: how much backup quarterback Miles Kendrick will play and who among KU's projected starters will keep their jobs all season. Plus: the ...
"I know what Dai'Jean Dixon can do," a smiling Lee said earlier in the week. "Big guy, big physical guy, strong hands. He breaks tackles. But I know how to tackle. I know how to tackle big people."
When Nicholls quarterback Chase Fourcade targets Dixon and Lee is closing in, the junior Jayhawk expects his fellow native of "The Boot" will do all he can to make Lee miss.
"You gonna try to do something to stand out and talk about at home and I'm gonna try to do something for me to stand out and talk about at home," Lee predicted. "We'll go back and forth."
A two-year starter at safety, Lee also anticipates his counterpart has reviewed plenty of game footage of Lee, ahead of their Week 1 encounter.
"When the game comes, we'll see who really was watching more film," Lee said.
Both Lee and KU true freshman cornerback Corione Harris played for Landry-Walker, as did Nicholls' Dayries and Anderson. KU freshman running back Ryan Malbrough and Colonels freshman running back Devin Briscoe both played at Cecelia.
Other New Orleans area natives on KU's roster are offensive lineman Malik Clark, running back Pooka Williams and receiver Takulve Williams.
"1-0 would be a big deal," Lee said, "because Nicholls State is not a bad team. Like we can't overlook no team. We've got to go into the game thinking, 'OK, they want to win just like we want to win.' We've gotta beat them, we've gotta be competitive, we've gotta bring a lot of energy."
The safety wasn't done with his mandates there.
"We've gotta have less penalties," Lee emphasized, pounding the table at which he sat. "If we get penalties that could lose the game for us. So we go into the game not jumping offsides, doing everything right, we'll come out with a victory."
Ceremonies accompany opener
During halftime of the Jayhawks' 2018 debut (6 p.m. kickoff), KU will officially rename its football venue Kansas David Booth Memorial Stadium.
In September of 2017, Booth announced his intention to donate $50 million — the largest gift in the history of Kansas Athletics — to help transform KU's football program. The first phase is taking shape west of the stadium, where KU's new indoor football practice facility is currently under construction.
That won't be the only break in the action set aside to honor someone connected with the program. Between the first and second quarters, former KU cornerback Chris Harris Jr. will see his name added to the Ring of Honor.
Plus, during the first timeout of the second quarter, KU will recognize members of the 2008 football team, which finished 8-5 and won the Insight Bowl.
New pregame option for KU fans
Kansas Athletics, in partnership with IMG Jayhawk Sports Marketing, is bringing updates to the Kansas football pregame experience, highlighted by a new tailgating option this fall called Gameday On The Hill.
The area, located immediately south of the stadium at the base of Campanile Hill, will feature food, beverages, retail and live music. It is free and open to the public.
Fans over the age of 21 will find Coors Light, Miller Light, Blue Moon, and red and white wine for sale. Picnic tables will be provided throughout the area.
Gameday On The Hill will open three hours before kickoff for home games that start after noon and two hours prior to kickoff for any games starting before noon.